ESPN.com's preseason top 10
Originally Published:
November 9, 2009
ESPN.com
TEN TEAMS TO WATCH
It's no surprise that the defending champion UConn Huskies top our top 10 after a perfect season in 2008-09. The Huskies -- already No. 1 in the preseason ESPN/USA Today and AP rankings -- were unanimously tabbed as our preseason favorite by ESPN.com's panel of contributors -- columnists Mechelle Voepel, Graham Hays and Charlie Creme and editor Melanie Jackson.
Ranking
2009-10/
Points/
(Hi/low*)
Analysis
1. Connecticut


39-0

40

(1/1)
Simply put, you could split the roster in half, recruit some intramural players to fill out the benches and still come away with two top-10 teams. -- Hays

Gee, the Huskies don't have much to live up to … just the attempt to repeat perfection. But they know what they're getting into. -- Voepel
2. Stanford


33-5

36

(2/2)

When Tara VanDerveer toys with a skyscraper lineup of Jayne Appel, Kayla Pedersen, Nnemkadi Ogwumike and Joslyn Tinkle, but could alternatively use a three-guard set with JJ Hones, Jeanette Pohlen and Rosalyn Gold-Onwude, balance is an understatement. -- Hays

A lot of size and versatility inside make Cardinal the main team out there able to scare UConn. -- Voepel
3. North Carolina


28-7

31

(3/4)
The Tar Heels graduated Rashanda McCants, and Jessica Breland's status is up in the air. But North Carolina has many other key components back, plus add in a strong five-player freshman class. -- Voepel

Freshmen, including highly regarded rookie Tierra Ruffin-Pratt, make up a third of the roster, but the Tar Heels are long and athletic, a good fit for Sylvia Hatchell's system. -- Creme
4. Notre Dame


22-9

26

(4/5)
Health might be the biggest area to watch in South Bend. If Devereaux Peters and Brittany Mallory can return from injuries to a well-established roster that also now includes elite freshman guard Skylar Diggins, the Irish will stay in the top 10 and perhaps give UConn a scare. -- Creme

Last season ended rather disastrously, but adding Skylar Diggins to a roster that returns everyone makes the Fighting Irish legitimate Final Four contenders. -- Hays
5. Ohio State


29-6

21

(3/5/NR)
Led by All-American candidate Jantel Lavender and premier point guard Samantha Prahalis, the Buckeyes are easy to believe in during the regular season, winning or sharing the Big Ten title for five consecutive years. -- Jackson

The Buckeyes return the Big Ten's best player, best freshman and top defender from a year ago. However, conquering the conference won't be enough this season. -- Creme
6. Duke


27-6

20

(5/8)
Center Chante Black is gone, but the Blue Devils still have size and depth … plus that feeling, finally, that they are really Joanne P. McCallie's team. -- Voepel

Rarely has such praise been handed to a team whose leading returning scorer averaged 10.2 ppg and which lost in the first round of the NCAA tournament. But if the Blue Devils can shoot a lick, there is too much size, depth and skill to ignore. -- Hays
7. Baylor


29-6

15

(6/9)
Brittney Griner is bound to get all the publicity, but senior Morghan Medlock and juniors Melissa Jones and Kelli Griffin will run the show. -- Voepel

Rutgers reminded us last season that highly touted freshman classes don't always pay immediate dividends. But in coming together after losing Danielle Wilson to injury late last season, Kelli Griffin, Melissa Jones and Morghan Medlock looked the part of leaders ready to welcome Brittney Griner and friends. -- Hays
8. Tennessee


22-11

14

(6/9)
Pat Summitt is always going to get the benefit of the doubt, but beyond the coach, there is too much depth and size (and yes, perhaps too much fire and brimstone from the bench) to allow conference foes to shoot better than 40 percent again. -- Hays

There are still a lot of unknowns after last season's unprecedented first-round NCAA tournament exit, but Shekinna Stricklen, Glory Johnson and Angie Bjorklund will provide a lot of answers. -- Jackson
9. Michigan State


22-11

6

(8/10/NR)
Erase the last minute of the Sweet 16 game with Iowa State, and it was a great 2009 NCAA tournament for the Spartans, who return a lot. -- Voepel

The Spartans are deep, physical and experienced. The return of Brittney Thomas from a knee injury should only add to the confidence earned during March's Sweet 16 run. -- Creme
10. Xavier


25-7

4

(9/10/NR)
The Musketeers lose two prolific outside shooters but get Amber Harris back healthy in the post. If Tyeasha Moss, Alesia Barringer, freshman Katie Rutan and underrated point guard Special Jennings can replace the outside cover, defense and post play are givens. -- Hays

Amber Harris (6-foot-5) and Ta'Shia Phillips (6-6) form a frontcourt duo with the greatest combination of size, defensive intimidation and offensive production in the country. -- Creme
* Refers to the highest and lowest votes a team received from ESPN.com's contributors; NR indicates the team was "not ranked" by at least one contributor
SPONSORED HEADLINES
MORE WOMEN'S BASKETBALL HEADLINES
MOST SENT STORIES ON ESPN.COM
2009-10 Season Preview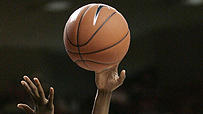 Get ready for 2009-10 with ESPN.com's women's college basketball preview.
Friday, Nov. 13
•
ESPN.com's Preseason All-America teams
•
Moore is preseason player of year (again)
•
Voepel: Baylor's Griner set for debut
•
Voepel: Spartans ready to move on in Big Ten
Thursday, Nov. 12
•
Voepel: UConn's Charles all-business
•
Hays: Greene fits holes, roles for Huskies
Wednesday, Nov. 11
•
Top five players at each position
•
Voepel: A difficult decision
•
Hays: Players to watch
•
Voepel: OU shifts to guard-oriented attack
Tuesday, Nov. 10
•
Hays: Appel leads Stanford
•
Voepel: Academics first for Ogwumike
•
Hays: Mid-major top 10
Monday, Nov. 9
•
ESPN.com preseason top 10
•
Voepel: Five questions
•
Hays: Teams to watch