ESPN.com's top five at each position
Originally Published:
November 11, 2009
ESPN.com
BEST IN THE BUSINESS
What's more difficult than finding a flaw in Maya Moore's game? Getting four people to agree on the top five players at each position in women's college basketball. But we crunched the numbers (over and over, as Mechelle Voepel details the process, which took some tinkering after learning North Carolina's Jessica Breland will likely redshirt). Defending champion UConn and Stanford each have three representatives, while Gonzaga, Ohio State and Xavier each put two players on the lists. The player listed first below was voted the top player at her position, as determined by a panel consisting of ESPN.com's Voepel, Graham Hays, Charlie Creme and Melanie Jackson. The other four honorees are listed alphabetically.
Point guard
Shooting guard
Small forward
Power forward
Center
Danielle Robinson
Oklahoma
5-9, junior



Probably as quick with the ball as anyone in the women's college game.
-- Mechelle Voepel
Monica Wright
Virginia
5-11, senior



Long overshadowed in ACC but was league's top '08-09 scorer.
-- Melanie Jackson
Maya Moore
Connecticut
6-0, junior



No player in college right now makes difficult things look easier.
-- Mechelle Voepel
Amber Harris
Xavier
6-5, junior



Ready to re-establish herself as one of game's most versatile bigs.
-- Charlie Creme
Jayne Appel
Stanford
6-4, senior



One of a kind; seamlessly blends imposing size and intricate skill.
-- Graham Hays
Cetera DeGraffenreid
North Carolina
5-6, junior
Alexis Gray-Lawson
California
5-8, senior
Alysha Clark
Middle Tennessee
5-10, senior
Heather Bowman
Gonzaga
6-2, senior
Tina Charles
Connecticut
6-4 senior
Samantha Prahalis
Ohio State
5-7, sophomore
Tiffany Hayes
Connecticut
5-10, sophomore
Danielle McCray
Kansas
5-11, senior
Kelsey Griffin
Nebraska
6-2, senior
Jantel Lavender
Ohio State
6-4, junior
Andrea Riley
Oklahoma St.
5-5, senior
Allison Hightower
LSU
5-10, senior
Kayla Pedersen
Stanford
6-4, junior
Ify Ibekwe
Arizona
6-2, junior
Ta'Shia Phillips
Xavier
6-6, junior
Courtney Vandersloot
Gonzaga
5-8, junior
Jeanette Pohlen
Stanford
6-0, junior
Shekinna Stricklen
Tennessee
6-2, sophomore
Jacinta Monroe
Florida State
6-5, senior
Carolyn Swords
Boston College
6-6, junior
The following players received at least one vote from our contributors: Angie Bjorklund, Tennessee; Allyssa DeHaan, Michigan State; Tyra Grant, Penn State; Rachele Fitz, Marist; JJ Hones, Stanford; Ashley Houts, Georgia; Glory Johnson, Tennessee; Allison Lacey, Iowa State; Jene Morris, San Diego State; Nnemkadi Ogwumike, Stanford; Brittainey Raven, Texas; Angel Robinson, Georgia; Jenna Smith, Illinois; Helena Sverridottir, TCU; Kalee Whipple, Utah.
SPONSORED HEADLINES
MORE WOMEN'S BASKETBALL HEADLINES
MOST SENT STORIES ON ESPN.COM
2009-10 Season Preview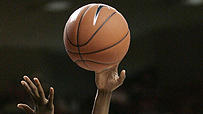 Get ready for 2009-10 with ESPN.com's women's college basketball preview.
Friday, Nov. 13
•
ESPN.com's Preseason All-America teams
•
Moore is preseason player of year (again)
•
Voepel: Baylor's Griner set for debut
•
Voepel: Spartans ready to move on in Big Ten
Thursday, Nov. 12
•
Voepel: UConn's Charles all-business
•
Hays: Greene fits holes, roles for Huskies
Wednesday, Nov. 11
•
Top five players at each position
•
Voepel: A difficult decision
•
Hays: Players to watch
•
Voepel: OU shifts to guard-oriented attack
Tuesday, Nov. 10
•
Hays: Appel leads Stanford
•
Voepel: Academics first for Ogwumike
•
Hays: Mid-major top 10
Monday, Nov. 9
•
ESPN.com preseason top 10
•
Voepel: Five questions
•
Hays: Teams to watch