9:00 PM ET, April 1, 2003
Maples Pavilion, Stanford, California
STANFORD, Calif. (AP) -- Jody Conradt cut the final strand and tossed the net down toward her jubilant Texas players. Heather Schreiber snatched it high out of the air, barely leaving her feet in one graceful movement.
Schreiber's timing rarely was less than perfect at Maples Pavilion -- and along with her Hall of Fame coach, she led Texas back to the Final Four after a 16-year absence.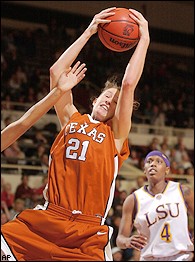 Heather Schreiber scored a career-high 32 points for the 'Horns.
Schreiber had a career-high 32 points and eight rebounds, and Stacy Stephens had 14 points and 12 rebounds as the second-seeded Longhorns beat top-seeded LSU 78-60 Tuesday night in the West Regional final. Led by Schreiber's remarkable offensive versatility and Stephens' inside power, the Longhorns got a blowout victory in what many expected to be the NCAA tournament's most competitive regional final. It shocked Conradt, who has learned to take nothing for granted during the Longhorns' absence from the sport's biggest showcase. "What can I say to describe how it feels to be with a team that's playing the way we played tonight?'' Conradt asked. "This team really played about as well as a team could play. It seemed as if we took advantage of every opportunity to distance ourselves. I couldn't be more proud.'' Conradt, who has won more games than any women's coach except Tennessee's Pat Summitt, reached her third Final Four at Texas -- but her first since 1987, when the Longhorns made back-to-back trips following an undefeated season and a national championship in 1986. The victory was her 700th at Texas. "When we won that first championship, you just assume we're going to do it again,'' Conradt said. "But things never happen the same way. ... I've gone into a lot of seasons thinking, 'This team is talented enough to get to the Final Four.' I can't say I ever thought that far ahead with this team. "Sometimes, the surprises are the best ones.'' Tai Dillard added 12 points for Texas (29-5), which won its 17th straight game and earned a meeting with Connecticut (35-1) at the Georgia Dome in Atlanta on Sunday. Football-crazy Austin will have basketball fever this week, with the men's team heading to New Orleans for that other Final Four. Texas led by 30 midway through the second half and coasted to the victory in front of a small but ecstatic cheering section that chanted "Final Four!'' as the clock wound down. Schreiber, Texas' all-Big 12 sophomore forward, went 13-for-21 from the field and embarrassed every defender put in front of her at Maples Pavilion. She was relentless, scoring on post-up moves and 18-foot jumpers with equal ease. "I haven't really been shooting very well in the tournament,'' Schreiber said. "The more shots I made, the more confidence I got. I took the ball to the basket. I wanted the ball in my hands.'' DeTrina White scored 14 points for LSU (30-4), the only No. 1 seed that won't be in Atlanta. It was a heartbreaking loss for Tigers coach Sue Gunter, who's never made the Final Four. She has 681 career victories but has lost all three regional finals she's reached at LSU. Conradt and Gunter, whose friendship stretches over four decades, shared a long hug at center court. "It's really gut-wrenching,'' Gunter said. "I would have bet my life that they'd go out tonight and really compete. That just didn't happen. It hurts to get this close. ... Sure, I'd like to go, but it's really about the kids. The only way I'm going to get to go is if some of them go.'' After a slow start, Schreiber and Stephens overpowered the Tigers _ with plenty of help from their teammates, of course. Trailing 11-4 after the first five minutes, the Longhorns scored 18 straight points and held LSU scoreless for nearly six minutes while building a comfortable lead they never lost. "You can't let yourself get in a hole every game and expect to come back,'' said LSU point guard Temeka Johnson, who led the Tigers' rally from a 17-point deficit to beat Louisiana Tech in the semifinals. "We pretty much helped them until it was too late.'' The Longhorns also had a 42-33 rebounding edge, and Stanford transfer Jamie Carey had 12 points and six assists while shutting down Johnson. Texas followed its 18-0 run with a 19-7 run to end the first half. A 19-9 run midway through the second half sealed it. Seimone Augustus, the Tigers' freshman star, had just eight points. Johnson, still playing with a black eye and two broken bones in her face, finished with nine points, seven rebounds and seven assists. Carey got another standing ovation from the tiny crowd. She was a freshman star at Stanford three years ago before a series of concussions forced her to switch schools. "Since I was in the seventh grade, I dreamed of cutting down the nets here at Stanford to go to the Final Four,'' Carey said. "I've never been on a team that's working as well together as we did tonight.''
Copyright by STATS LLC and The Associated Press