Commentary
UConn will overcome Baylor, Griner
Originally Published:
April 1, 2010
By
Charlie Creme
| Special to ESPN.com
It's the sport's most dominant team against the sport's most physically dominant player. That's not to say that this is just the Huskies against Brittney Griner (Baylor is every bit a team and will need to be that much more of one to have a chance in this matchup), but the 6-foot-8 Baylor freshman and UConn happen to be the biggest, most discussed and most interesting two stories of the entire 2009-10 season. That makes it pretty fitting that they would collide in San Antonio.
[+] Enlarge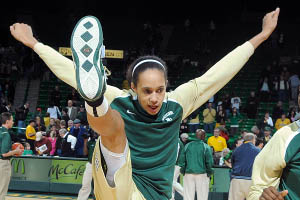 AP Photo/Rod AydelotteAs soon as Baylor secured its Final Four bid, everyone began wondering how 6-foot-8 Brittney Griner might challenge UConn and Tina Charles.
Strengths
This story would be far too long if it listed everything that makes Connecticut so good, so much better than everyone else. The Huskies have the game's two best players; they shoot it more accurately than anyone in the country; they never get beat on the glass; their complementary players can be ferocious … should we keep going?
Still, defense is the singular reason the win streak has reached 76 and the margin of victory in the tournament has been an astounding 47 points per game. As good as the Huskies are running their sets and attacking the offensive boards, they still get a third of their offense off turnovers. That's defense. No team in the country allows shots to go into the basket less frequently (29.9 percent). That's defense. Opponents manage fewer points against UConn than against any other team (46.2 ppg). That's defense.
But it's still more than just being physically better (which the Huskies generally are). The Huskies will work harder. They have another gear of intensity. Connecticut rarely gets out of position. That comes from being fully aware of responsibilities and understanding that each of those responsibilities has a purpose. In other words, this is a team with more physical gifts and a higher basketball IQ than anyone else.
Baylor's defense is equally noteworthy. Tennessee's 62-point tally was the most any tournament opponent has scored on the Lady Bears. With Griner in the middle, Kim Mulkey probably has the second-most intimidating defense in the country. But it's more than just Griner. Baylor gets after it on the perimeter. Remember Georgetown making jump shots at a rate that could only make solar eclipses proud?
The Lady Bears have young athletes (Jordan Madden, Kimetria Hayden) and veteran smarts (Morghan Medlock, Melissa Jones), and Mulkey has meshed the two effectively in the tournament. Arguably the most important play of Baylor's season combined the two. Jones' ball pressure led to a Hayden steal and baseline balancing pass back to a perfectly positioned Jones for the layup that brought the Lady Bears within one of Duke and permanently rattled the Blue Devils. Mulkey will use some man, some zone. There will be full-court pressure and three-quarter-court traps. All is meant to confuse and contain. Given Baylor's challenges when it has the ball, the Lady Bears' defense will need to somehow confuse and contain UConn, as well. No task in the game is more difficult.
Key matchup

Charles

Griner
Much of the focus and attention in this game will be on the Tina Charles vs. Griner clash. Player of the year versus player of the future. Why not? It's the kind of clash of the titans that puts eyeballs on the TV screen.
However, it's Baylor's much shorter players who will have a keener impact on whether the Lady Bears can stay in the game or just become another mosquito on the UConn windshield. Kalana Greene, Tiffany Hayes, Caroline Doty and Lorin Dixon are going to pressure, harass and genuinely make uncomfortable the lives of Kelli Griffin, Melissa Jones and Shanay Washington. If the Baylor perimeter players, most importantly Griffin because she is the primary ball handler, fall prey to UConn's relentlessness, Griner won't even become a factor on the offensive end, thus rendering the more-hyped matchup a mere occasional sideshow.
Backcourt/frontcourt edge
Griner has been the most discussed individual player in the tournament thus far. Maya Moore has been the best. Charles isn't too far behind. Moore has single-handedly ended the hopes and dreams of two good teams in Iowa State and Florida State with consecutive torrid starts. She has scored more points than minutes played in her past three games and is shooting 70 percent from 3-point territory in the tournament. All this in the midst of becoming just the fourth three-time All-American in the history of the women's game. Moore, Charles and Greene make up the country's best all-around frontcourt, and there is no second place. Medlock gives Griner a solid running mate, but neither she nor Jones in that swing spot on the wing can match the sheer athletic prowess and assassin mentality of Moore and Greene.
[+] Enlarge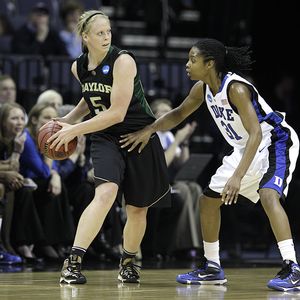 AP Photo/Mark HumphreyMelissa Jones is Baylor's "glue" and the team's "only reliable jump-shooting threat."
UConn's attack against Baylor might very well all begin with the guards' ability to penetrate. If Hayes and perhaps Dixon -- who could see a bigger role in this game as a result -- can get into the lane, draw Griner to them and then feed Charles or simply put up shots that Griner has to contest, which would leave offensive rebounding lanes wide open, then the Huskies have just added another massive weapon. At the same time, Griner's defensive effectiveness is minimized. And that is another reason Connecticut is so dominant -- the ability of its backcourt players to be chameleons. Hayes can be that penetrator or a top-of-the-key 3-point markswoman. Doty can be that drifting, disruptive defender or merely another deep threat. Dixon can handle the ball out top or be the finisher in transition. And then there's Kelly Faris, probably the Huskies' best passer. The versatility is unmatched.
With Washington, Hayden and Madden, the Baylor backcourt has a tremendous future, but right now the athleticism doesn't match the basketball acumen. Mulkey said it after Sunday's Final Four-clinching victory: Freshmen will be spectacular one minute and drive you nuts the next. This group also doesn't shoot well -- which ultimately makes Jones and Griffin so important. They are the veterans, and Jones is really the only reliable jump-shooting threat the Lady Bears possess. She is also Baylor's glue. Injuries limited Jones to just 21 of the season's 36 games. The Lady Bears lost just two of those 21. Unfortunately for Baylor, Jones' leadership is nowhere near enough to offset another huge UConn advantage.
X factor
Griner. This seems obvious and it is, but that's only because Griner is so unique. She automatically becomes the focal point of the opponent and all the eyeballs watching the game. However, she becomes even more in focus in this game even if she never touches the ball on offense. Her length and athleticism provide Griner with the ability to do what no single other player in the country has been able to do: make Tina Charles uncomfortable. Charles might have to change her offensive approach to get her points. Griner also provides her Baylor teammates with a bailout on offense. In the regionals, she became the fulcrum of the Lady Bears' attack, and, against UConn's high pressure, high-intensity defense, she can be the place the Griffins and Haydens throw the ball to get relief. No Big East team had that option against the Huskies.
The other area to watch is foul trouble. Although Charles might not be able to score in her traditional way against Griner, she does have the ability to get the "next big thing" to commit a couple of early fouls. Griner on the bench means Charles can have her way and Baylor has no reasonable way to score.
Who wins
Connecticut. With Baylor's Jones back playing regular minutes and Griner having taken huge strides, this pretty closely resembles the Baylor team many thought it might be throughout the season. Unfortunately for the Lady Bears, the Huskies have exceeded their preseason expectations, and those were already skyscraper high. With Griner and her talented classmates in the fold for three more years, Baylor's day might very well come. In fact, there might be more than one day, but that day won't be Easter Sunday 2010. Mulkey finished the Elite Eight win over Duke with three freshmen on the floor. UConn's amazing streak ending against such youth seems impossible. We will see the Huskies on Tuesday night.
Charlie Creme can be reached at cwcreme@yahoo.com.
Women's College Basketball
Charlie Creme projects the women's NCAA tournament bracket for ESPN.com.
NCAA WOMEN'S TOURNAMENT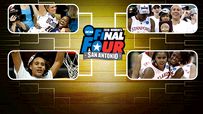 NATIONAL CHAMPIONSHIP
VIDEO
FINAL FOUR
TOURNEY TOOLS
MORE WOMEN'S BASKETBALL HEADLINES
MOST SENT STORIES ON ESPN.COM