Commentary
Seminoles look to pull improbable upset
Florida State will embrace its imperfections in effort to knock off UConn
Originally Published:
March 29, 2010
By
Graham Hays
| ESPN.com
DAYTON, Ohio -- Florida State knows better than most teams that beating Connecticut requires an almost perfect performance. The Seminoles twice played good games against the Huskies during UConn's 75-game winning streak, including a game earlier this season in which the prohibitive favorite led by just six at halftime.
[+] Enlarge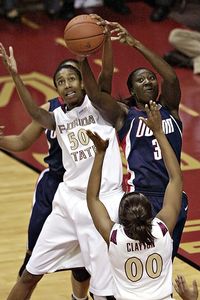 AP Photo/Steve CannonIf Florida State is to end Connecticut's streak, it will have to do better than the 21 turnovers committed when the two played in December.
Yet twice Florida State also ended up on the wrong end of a double-digit margin.
But as the third-seeded Seminoles prepare to play the tournament's top overall seed Tuesday for a spot in San Antonio (ESPN/ESPN360.com, 7 p.m. ET), they hope that by embracing their imperfections earlier this season they found a catalyst not only for advancing to the first regional final in program history but also for finding that one flawless game.
Knowing thy enemy won't be a problem. That isn't nearly the same thing as knowing how to solve the enemy, especially an enemy that can't miss from the 3-point line of late and just shut down Iowa State, a team that (like Florida State) ranked near the top of the NCAA in outside accuracy.
But the reality of Connecticut is difficult enough to contend with on its own. The Huskies don't need any help dismantling opponents, but they often get it from teams which beat themselves before the game even begins.
55-29, 55-12, 42-14.
Those aren't football scores from the glory days of Bobby Bowden's reign in Tallahassee; they're the halftime scores in Connecticut's first three NCAA games.
"I think if I put myself in the mind of an 18- to 22-year-old, and I've watched Connecticut annihilate people, I think there would be trepidation as you approach it," Florida State coach Sue Semrau said. "The fact that we haven't just watched it, but we've been in a game with Connecticut, I think it will help us in our approach."
AURIEMMA ON PARITY
It was a softball question and UConn coach Geno Auriemma knocked it out of the park -- even though the sport being discussed was, of course, college basketball.

Question: When will we get the kind of parity in the women's game that we see in the men this year?
Auriemma: "Never."
Auriemma didn't stop there: "The reason it's happening on the men's side is you're always trying to put together a new team. You mean to tell me if the players stayed four years, Kentucky wouldn't be great again? In the women's game, the best teams are always the best teams."
Auriemma went on to explain that, in the women's game, it's rare for a team other than a traditional power to be a No. 1 or 2 seed, hence there's very little question about how they'll handle the unfamiliar role. The top seeds on the women's side "have been there."
Being Auriemma, he didn't stop there: "We'll probably never have a 5- or 6-seed in the [women's] Final Four, though, unless the women start leaving early, or start doing like the men and not showing up sometimes, or do what the guys do and have a son and two daughters."
Parity isn't dead on the women's side. Auriemma says it's getting stronger "from 5 to 35" but simply doesn't get the publicity that the men's game gets. "If this was men's basketball, Xavier would be Butler," he said.
• Florida State's players know the odds of knocking off No. 1 UConn and ending its 75-game winning streak are not in their favor. And the Seminoles say they kind of like that.
Said Jacinta Monroe said: "I don't know if we're the 'substantial underdog' … but we like the idea of shocking the world, or the media."
Alysha Harvin echoed that sentiment, saying, "I like to be the underdog in any situation."
-- ESPN's Sandra Rosenbush
Knowing how to be something other than their own worst enemies. Now there was the rub for Florida State.
Opening the season with high expectations, the Seminoles climbed as high as No. 6 in the Top 25 shortly before Christmas, but subsequent losses to DePaul, Miami and Connecticut were part of an extended funk that culminated in an embarrassing 73-43 loss at Duke late in January. That's when Semrau and her staff, instead of gripping ever more tightly as a season slipped away, decided to let an athletic team be itself.
"The reality was that our team was playing paralyzed, our team was playing a little bit afraid to make a mistake," associate coach Cori Close said on the eve of the Sweet 16 in Dayton. "And it wasn't good for the character of this basketball team. And the coaching staff had to say, 'You know what, we're going to have to let go of how we want to do it and figure out what is best for this particular group of young ladies.'
"So we sort of took the reins off a little bit and said, 'You know what, if you're open, and you can shoot that shot at game speed 60 percent of the time or better when you're shooting in the gym, then go shoot it. If that's a good shot for you, go shoot it.'"
What followed was an unbeaten February, including wins at North Carolina, Georgia Tech, Virginia and Maryland, ending a 12-game home winning streak for the Yellow Jackets and handing the Terrapins their worst home loss in seven years. And as the moments grew tense in the NCAA tournament, down five with less than two minutes to play against St. John's in the second round and down two with three minutes left against Mississippi State in the Sweet 16, the Seminoles proved at ease time and again.
Semrau is too good a coach and too good a tactician to have completely abdicated control, but the sense of freedom within the system appealed to the players.
Or as Angel Gray put it more bluntly of the shift, "Players, of course, we were like, 'Oh yeah, game time!'
"But I think just the fact they had so much trust in us made us want to work harder," Gray continued. "You don't want to have the reins pulled again. So we were working harder, we were watching more film, we were getting extra shots up in the gym when nobody was watching. It's those extra things we did, outside of the coaches being there, that brought us together."
And the personnel does make Florida State interesting. Connecticut's last loss, albeit by a team noticeably different than the current one, came at the hands of Stanford, the same team that led the Huskies at the half in Hartford earlier this season. Like Stanford, Florida State has a steady hand on the ball in Courtney Ward, good shooters on the perimeter in Alysha Harvin, Alexa Deluzio and Ward, and multiple big bodies with skill to match UConn's size in Jacinta Monroe and Cierra Bravard. Monroe is a constant, but Bravard's play against Mississippi State after an up-and-down regular season was crucial to pulling that game out.
Semrau wasn't willing to say her bigs could pose problems for the Huskies, but at least it's an alternative to Iowa State's perimeter flameout. Earlier this season, despite getting only 15 minutes from Bravard as she battled fouls, Connecticut finished with only three more rebounds than Florida State. When the teams met last season, the deficit was two rebounds for Florida State.
Florida State vs. Connecticut
Florida State and Connecticut met earlier this season in Tallahassee, with the Huskies getting their 50th straight win. Tina Charles scored 16 of her 24 points in the second half of the 78-59 victory while Jacinta Monroe led the Seminoles with 14 points. Recap
"She takes some of the load off [Monroe] and opens things up for our perimeter players," Semrau said of Bravard, the 6-foot-4 sophomore who averaged 7.3 points and 4.6 rebounds this season. "But I don't know that that helps us necessarily against UConn, because when Maya [Moore] plays the 4 [position], that makes them a little more agile. … It will be interesting."
You could say the odds are stacked against the Seminoles on Tuesday, except that in reality, they're such underdogs you might find it difficult to find anyone willing to offer odds. If they come out and make the Huskies beat them, well, that's probably precisely what will happen. But that's still more than most teams manage.
Not to mention that if you're looking for that one perfect game, it's not a bad idea to start by embracing your own imperfections.
"Most teams already kind of beat themselves knowing they just see UConn and automatically get scared," Harvin said. "You got to go out and you got to play your game. And that's what we've got to go out and do."
Graham Hays is a regular contributor to ESPN.com. E-mail him at Graham.Hays@espn3.com.
espnW.com
Graham Hays covers college sports for espnW, including softball and soccer. Hays began with ESPN in 1999.
SPONSORED HEADLINES
MORE WOMEN'S BASKETBALL HEADLINES
MOST SENT STORIES ON ESPN.COM
NCAA WOMEN'S TOURNAMENT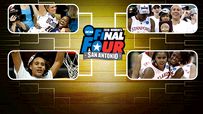 NATIONAL CHAMPIONSHIP
VIDEO
FINAL FOUR
TOURNEY TOOLS