Commentary
Needing more than Moore, Charles?
Doty, Hayes shot a combined 1-for-14 Sunday, missing all eight 3-point attempts
Originally Published:
April 5, 2010
By
Graham Hays
| ESPN.com
SAN ANTONIO -- Holding court with the media Monday afternoon, Geno Auriemma explained away his unblemished 6-0 record in national championship games by saying that with the exception of the 2000 final in Philadelphia, he had the advantage of deploying the best player in the country each time.
In typical fashion, he also suggested someone reiterate the part about his perfect record for the benefit of Connecticut president Michael Hogan and athletic director Jeff Hathaway, both in attendance at the Alamodome.
[+] Enlarge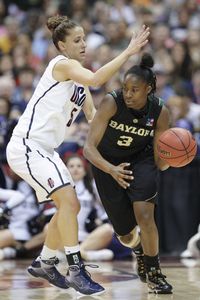 AP Photo/Eric GayCaroline Doty shot 0-for-6 from the field and missed all four 3-point attempts Sunday.
It's a familiar refrain for the architect of Connecticut's success, like explaining away the last title run before the current streak of perfection by saying he had Diana Taurasi and the rest of the country didn't. It pays to have the best player on the court, whether it's Taurasi or Sue Bird for the Huskies, Candace Parker or Chamique Holdsclaw for Tennessee, Sophia Young for Baylor, Sheryl Swoopes for Texas Tech and on and on ad infinitum.
But it's also a bit of a ruse when it comes to the reason Auriemma is within a win of title No. 7.
The Huskies certainly benefited from an edge at the top of the playbill in Sunday's semifinal against Baylor. Maya Moore and Tina Charles combined for 55 points, outscoring Brittney Griner and the Lady Bears all on their own in a 70-50 win. Connecticut's two All-Americans hit 23 shots; the rest of the team hit five. Moore and Charles missed 20 shots; the rest of the team missed 19.
Sophomores Tiffany Hayes and Caroline Doty bore the brunt of the poor shooting performance, combining to hit just 1 of 14 shots and missing all eight of their 3-point attempts.
"We've got two young kids that didn't make any shots," Auriemma said after the game. "This is Caroline's first Final Four. And she's a very emotional kid and tried too hard, probably. And Tiffany, Tiffany is -- she's good when she's falling down. And so if I can get her to shoot 3s while falling down, she'll make a couple of them. She will. She only gets to the line and scores when she's falling down or getting hit."
During the regional in Dayton, the coach said it would be difficult for any team to beat his team if its two stars are on top of their games. The question entering Tuesday's final against Stanford -- the one team with the least reason to fear Connecticut after leading the Huskies by two points at the half in Hartford before losing 80-68 earlier this season and playing them in the Final Four each of the last three seasons -- is whether the Cardinal face a difficult task or an impossible task.
Beating Moore and Charles is one thing. Beating Moore, Charles, Kalana Greene, Hayes, Doty and the bench is something else entirely.
"We know we're playing a different team, a better team," Hayes said. "And just knowing how that game was in the first game -- knowing how much of a battle it was -- we know we're going to need contributions from everybody, including us two [she and Doty]. So we just have to bounce back."
"

We knew that we didn't play as well as we should have [Sunday]. And Tuesday's a new game; we know what we need to do. And we don't really need to have anybody come tell us what we did wrong. We already know, just from learning everything this past year. So we know what we need to do, and we know how to do it.

"

-- UConn's Caroline Doty
Even in his comments after beating Baylor, Auriemma was coaching for Tuesday. He held off taking any shots at Doty, noting only her inexperience on the court in the Final Four. He has pushed the sophomore, who is playing somewhat out of position at point guard for the good of the team, all season to control the frustration that sometimes sends her into momentary funks or fits of pique. And you get the feeling he knew that by this point in the season, she would offer harsher criticism of her own performance than any he could muster.
Little more than 12 hours later, Doty already sounded a little exasperated with looking back.
"We know what we need to do, and we knew that we didn't play as well as we should have last night," Doty said. "And Tuesday's a new game; we know what we need to do. And we don't really need to have anybody come tell us what we did wrong. We already know, just from learning everything this past year. So we know what we need to do, and we know how to do it."
Hayes, on the other hand, earned a fuller share of Auriemma's sarcasm, perhaps an attempt to push whatever buttons need to be pushed for a player who can slow herself far more easily than any opponent can hope to. When Connecticut rallied from its halftime deficit against Stanford in December, Hayes was front and center. She put up 12 points, 4 rebounds and 2 assists after the break as the Huskies pulled away for the win. After that game, Hayes said the coach's message to her at halftime was pretty simple: Be more aggressive.
And when Doty lets the game come to her and Hayes takes it to the opponents, Connecticut takes on a completely different look.
"I think what makes them unique is they handle -- I feel like they handle the pressure pretty well," Stanford point guard Jeanette Pohlen said. "As two starting guards playing with Tina and Maya, just being in the starting five, I feel like they really handle the pressure well. And they look for each other really well. They play together so well, and they find each other in the open court. They make the extra pass, they can be aggressive when they want to. You really have to guard both of them because all five of them can really score, and even though Maya and Tina are the two main ones people always pay attention to, I think all five of them can really go off at any point."
That's the conundrum. The Huskies didn't get good games from Doty and Hayes on Sunday night and still beat Baylor by 20 points, albeit in a game more tightly contested than the score might indicate. They can win with four players playing well, they can win with three players playing well. As long as it's the right two players, they can win even with only a pair playing well.
But the team's greatest strength is being more than the sum of its parts -- more than two great players.
"I don't really worry about them; they're competitors," Moore said of Doty and Hayes. "And then also, we're going to find a way to win. If they're struggling tomorrow, even though I don't think they will, they're still going to find a way to help because [there are] situations in practice where you're frustrated, things aren't working, and then Coach points out or one of us points out to them that you still have to contribute somehow. And them learning that in practice and throughout the year, I think they get that now. Even though their shots weren't falling in, they still were out there contributing, making passes or taking charges, contributing somehow.
"So I don't think the ball not going in for them, that that's just going to ruin our team. They're still going to come in and contribute."
How much they do so might determine if beating Connecticut is difficult or impossible.
Graham Hays is a regular contributor to ESPN.com. E-mail him at Graham.Hays@espn3.com.
espnW.com
Graham Hays covers college sports for espnW, including softball and soccer. Hays began with ESPN in 1999.
SPONSORED HEADLINES
MORE WOMEN'S BASKETBALL HEADLINES
MOST SENT STORIES ON ESPN.COM
NCAA WOMEN'S TOURNAMENT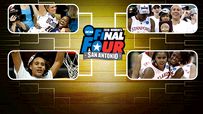 NATIONAL CHAMPIONSHIP
VIDEO
FINAL FOUR
TOURNEY TOOLS
STORIES FROM HUFFINGTON POST