Commentary
It really is anybody's game
Teams such as Nebraska, WVU and Xavier enter tourney with highest seeds ever
Originally Published:
March 19, 2010
By
Mechelle Voepel
| Special to ESPN.com
Oklahoma coach Sherri Coale has had the, um, great fortune of going to the Final Four twice when UConn was finishing a perfect season. This season, her Sooners already have faced three of the NCAA tournament's four No. 1 seeds (UConn, Tennessee and Nebraska), two of the No. 2 seeds (Notre Dame, Texas A&M) and three of the No. 4 seeds (Iowa State, Baylor, Oklahoma State).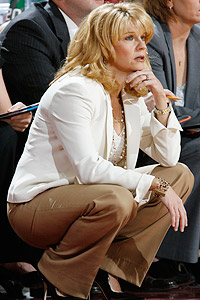 J.P Wilson/Icon SMISherri Coale and Oklahoma play one of the final games of the first round, at 9:30 p.m. ET Sunday against No. 14 seed South Dakota State.
So you have to figure nobody has more firsthand experience about what it will take for Connecticut to win a national championship -- or for anyone else to stop the Huskies -- in San Antonio.
"I knew I was going to get that question," Coale said of evaluating the top teams Oklahoma has gone against this season. "We pretty much have seen them all. And in no way, shape or form does that make me the Einstein of comparing them. They're just too different.
"But I really do think there will be some surprises at the Final Four. UConn, obviously, is in rarefied air, but the rest of them are really good basketball teams with lots of different parts."
Sure, the overwhelming favorite is UConn. But are other teams' odds of advancing further in the tournament actually aided by having faced the Huskies? Coale, whose Sooners are the No. 3 seed in the Kansas City Regional, is one of the coaches who hopes so, as is West Virginia's Mike Carey.
The Mountaineers, the No. 3 seed in the Memphis Regional, met UConn in the regular season (falling 80-47) and the Big East tournament final (losing 60-32). After the latter game, Carey said there was no reason to look at having faced the Huskies as anything but a big positive.
"If you can hold Connecticut to 60 points with all the players they have that can score, you should be in the game," Carey said. "We struggled to score, and I just think somebody is going to have to score with them.
"I said to the team, 'They exposed every weakness we had. Those are things we need to work on going into the NCAA tournament.'"
The women open their tourney after the men's first round is over, so they've seen two days of both upsets and games that go as expected. They've watched how quickly it can all be over and, conversely, how the excitement builds with every day you stay alive.
So as the women begin play Saturday, the fact that one squad has been very firmly in control of the top spot all season shouldn't really matter to any team but Southern, UConn's first-round opponent on Sunday.
Everyone else has their own non-Huskies business to attend to.
"Our team has a very narrow focus: It's only on Austin Peay," said Tennessee coach Pat Summitt, whose Lady Vols help open the tournament with a noon ET tipoff Saturday. "[Our players] have to know the name and number of every one of their players, and they have to know our game plan. We don't want to leave any stone unturned."
[+] Enlarge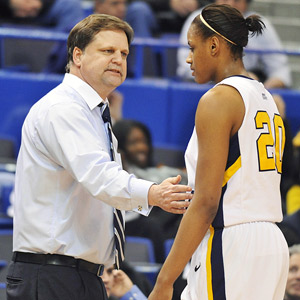 AP Photo/Jessica HillMike Carey and West Virginia, which held UConn to 60 points in the Big East final, have their highest seed ever at No. 3.
If Summitt were worried about getting her players' attention, all she'd have to do is say, "Ball State 71, Tennessee 55." That was the score of her team's tourney opener last year, the first time ever that Tennessee, which had a 5-seed, fell short of the NCAA Sweet 16.
It was one of eight first-round upsets, five of which involved a double-digit seed winning. In all, the 2009 tournament had 16 upsets, the last of which came in the national semifinals in St. Louis, when No. 3 seed Louisville beat No. 1 Oklahoma.
Graduation and injuries clobbered this season's Cardinals, who are not in the NCAA tournament. Their opposite? Nebraska, which didn't make the field last year but this season is a No. 1 seed for the first time in the program's history.
The Cornhuskers are one of the 2010 teams are living larger than they're accustomed to. West Virginia (No. 3 in Memphis Regional) and Xavier (No. 3 in Sacramento) have the best seeds those programs have ever had. Kentucky (No. 4 in Kansas City) is among the top four seeds for the first time since 1983.
With Louisville not in the NCAA tournament but hosting the early rounds, Kentucky will get to be the "home" team there.
"We love that; it just makes things a lot easier from a travel perspective, and I think this time of year you're looking for any advantage you can gain," Kentucky coach Matthew Mitchell said. "We're excited that we'll have a chance to play in front of our home folks."
The give-and-take of predetermined sites, however, always stings some teams. And this year, West Virginia might be one of them. The Mountaineers travel to Austin, Texas, for a Memphis subregional round. There, they will face Lone Star State school Lamar to open play. If they win, they could meet No. 6 seed Texas on the Longhorns' home court.
How long it took for that to register with Carey (instantly) is evident from the picture on West Virginia's Web site of the selection show. While his team is celebrating, Carey appears to have just tasted something unpleasant. Admittedly, Carey does look like Mr. Frowny a lot of the time, but it's quite understandable in this case.
The same thing has happened to several other schools since predetermined sites replaced top-16 hosting in 2003 (the top four seeds in each region used to host the first-and second-round games). Notably last year, Duke as a No. 1 seed at Michigan State and Auburn as a No. 2 at Rutgers both got burned by predetermination.
This year, though, the only better-seeded team that could happen to is West Virginia.
That said, there are other potential second-round games that would project as very close on a neutral court but might not be because the better seed has home-court advantage. That could be the case for No. 5 Virginia at No. 4 Iowa State, No. 6 St. John's at No. 3 Florida State, No. 6 Vanderbilt at No. 3 Xavier, No. 7 LSU at No. 2 Duke and/or No. 6 Georgia Tech at No. 3 Oklahoma.
We should point out, though, that in these cases, it's the same as it would be if the top 16 teams hosted. And at least one of those coaches sees a benefit in her team's potential situation.
Vandy's Melanie Balcomb isn't bugged by going back to her former school, Xavier, which she took to the Sweet 16 in 2001. She instead says it could be beneficial because getting to Cincinnati from Nashville is a more doable trip for the Commodores' fans and family members than, say, going to Albuquerque, N.M., as Vandy did last season or to Spokane, Wash., like in 2008.
"I was [at Xavier] for seven years, and I've been here for eight years, so this is home," Balcomb said of Vandy and Nashville. "I have great memories there, although being in the opponents' locker room will be odd for me.
"But we have two players from Cincinnati on our team. A lot of our players' families weren't able to come out west the last two years. So we are going to have a crowd up there, which we're not used to having in the first two rounds."
Speaking of which, predetermination gives and takes in terms of attendance, too. Crowds should be pretty strong at places such as Tennessee, Iowa State, Oklahoma, Notre Dame, Duke, Xavier, Stanford and Texas. Kentucky's and Bowling Green's presence should help the Louisville site greatly.
UConn -- because it's UConn -- and James Madison, being a Virginia team, will aid Norfolk despite Old Dominion's absence from the field. Nebraska and Northern Iowa fans should help keep Minnesota's Williams Arena from being too empty with no Gophers present, and the hope is that Ohio State fans do the same at not-too-far-from-Columbus Pittsburgh minus the Panthers. Whether Seattle, without the Washington Huskies, can pull in many Gonzaga and Portland State supporters, we shall see.
Cal's site has no Bears but should have many fans come from Fresno State. But in some unfortunate scheduling, the Berkeley games are at the same time as those at Stanford. Perhaps it works for television, but it's completely nonsensical for attendance. And how a matchup like Georgetown, in the field for the first time since 1993, facing Marist in Berkeley -- three time zones away from either school -- helps "grow the game" is anybody's guess.
The most likely "danger" site for attendance is Arizona State because no Sun Devils are playing and Oklahoma State is the "closest" participant.
All the 8-9 games have appeal -- with UCLA-NC State being perhaps the most anticipated -- and the 7-10 matchups stand out, too, especially Mississippi State versus Middle Tennessee.
Coale's Sooners open with a South Dakota State team that last year nearly upset Baylor in the second round. If Oklahoma advances, it will then face Georgia Tech or Arkansas-Little Rock, neither of which is expected to go quietly into the night -- even if the Sooners do have home-court advantage.
"A lot of what happens in the NCAA tournament is going to be based on matchups," Coale said. "If you get a certain style against another style, you could see some lower-seeded teams moving forward. There's just not that much of a difference between teams."
Mechelle Voepel, a regular contributor to ESPN.com, can be reached at mvoepel123@yahoo.com. Read her blog at http://voepel.wordpress.com.
espnW.com
Mechelle Voepel joined ESPN.com in 1996 and covers women's college hoops, the WNBA, the LPGA, and additional collegiate sports for espnW.
NCAA WOMEN'S TOURNAMENT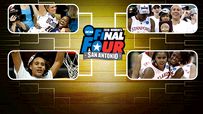 NATIONAL CHAMPIONSHIP
VIDEO
FINAL FOUR
TOURNEY TOOLS
MOST SENT STORIES ON ESPN.COM