Commentary
Huskers live up to seed in opener
Blue-collar Nebraska reminiscent of 2004 Minnesota team that reached national semis
Originally Published:
March 21, 2010
By
Mechelle Voepel
| Special to ESPN.com
MINNEAPOLIS -- Cory Montgomery is from Minnesota, and she does recall the excitement over Lindsay Whalen and the Go-Go Gophers of 2004. But not nearly as well as her Nebraska teammate and basketball junkie Kelsey Griffin does.
"I remember watching that team and thinking, 'I want to go play for Minnesota!'" said Griffin, who -- being from Alaska -- is part of the small percentage of the United States population that would not find Minneapolis especially cold.
Griffin ended up south of the Land of 10,000 Lakes, at Nebraska, but she did get a chance to play Sunday in the home of the Gophers, Williams Arena. She and the top-seeded Huskers made sure No. 16 seed Northern Iowa didn't get any big ideas from its men's team's victory over No. 1 Kansas or from the upsets from the women's side, either.
Nebraska won 83-44 behind Griffin's 22 points and 9 rebounds, and you might say that the Huskers this whole season are bringing back memories of the 2004 Gophers.
"You could just tell the chemistry they had on the court, the love for the game and for each other they had," Griffin said of watching Minnesota on television back then when she was a 16-year-old. "The passion behind it was so fun and contagious.
"To be mentioned as similar to a team like that is flattering. Because I feel like we have that chemistry and that excitement. I'm glad if that's being seen by others."
Nebraska coach Connie Yori said she didn't sleep especially well Saturday night, worrying about the Panthers, who had pulled a couple of upsets in the Missouri Valley tourney to get their automatic bid. One upset came against Yori's alma mater, Creighton, where she coached for 10 seasons before coming to Nebraska.
[+] Enlarge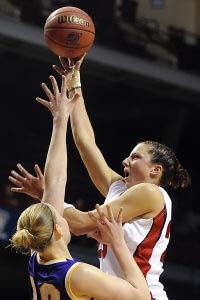 AP Photo/Hannah FoslienKelsey Griffin had 22 points and 9 rebounds as Nebraska advanced to play UCLA.
UNI beat Creighton in the MVC final, and Nebraska had defeated Creighton in December by just 13 points. So maybe Yori -- whose Huskers lost their first game of the season in the Big 12 tourney semifinals to Texas A&M -- had good reason to toss and turn before facing the Panthers.
But the way the Huskers played in their NCAA opener should have ensured that Yori slept pretty well Sunday night before preparing to face UCLA in the second round. Dominique Kelley had 11 points and Lindsey Moore 10; the Huskers made 10 of 20 3-point shots and 20 assists to 11 turnovers.
And for Griffin, it was especially neat to play in the gym they call "The Barn," with its raised floor and intimate atmosphere despite having a capacity of more than 14,600. First opened in 1927 -- it has been renovated and updated a few times since -- Williams is a quirky arena with nooks and crannies and its own unique character.
"I love the old places, the historic gyms," Griffin said. "Places that you see or hear about growing up, and you never really think that you'll play there."
So Williams fit Griffin, and Griffin fit Williams. In fact, the Huskers as a team fit here because they would be appreciated by Minnesotans as being much like that 2004 Gophers team.
Led by stars Whalen and Janel McCarville and a group of role players who all did exactly what was needed, those Gophers captivated the state -- much as the Huskers are doing in their state now -- on their run to the Final Four.
One way, though, they are not alike is seeding. The Gophers were a No. 7 seed in 2004, not because the team really was deserving of that seed, but because the NCAA committee was in a bind over what to do with them. With Whalen, they probably were a No. 2, and no lower than a No. 3. But she suffered a wrist injury in February, and at the time it was feared it had ended her college career.
But -- like a certain 2010 Huskers standout -- she was tough as nails. And she healed faster than expected. The committee seeded the Gophers as if they were without Whalen, but she was back for the NCAA opener, meaning the No. 1 (Duke), No. 2 (Kansas State ) and No. 3 (Boston College) seeds in Minnesota's region were in big trouble. The Gophers beat all of them before finally being stopped by Diana Taurasi and UConn in the Final Four.
Kansas State coach Deb Patterson, who had her best team in 2004, saw the Wildcats taken apart by Minnesota here in Williams Arena. Asked earlier this season about the similarities between Minnesota and Nebraska, Patterson said there were many.
"I think that would be an excellent analogy," she said. "The toughness, the cohesiveness. Each possession, up and down the floor, the matchups are extremely similar. Nebraska has an All-America-caliber player in Kelsey Griffin as their leader; and Minnesota had that in Whalen, who just did everything for them.
"[The Huskers] have a great emotional support in their community right now; there is a wave of momentum. And they have a grittiness that matches that Minnesota team. They're a blue-collar team."
Yori said it was hard not to root for the Gophers back in 2004.
"A lot of those players probably weren't recruited at a real high level, just like our guys," Yori said. "Probably no prima donnas, just like what we have. Just a hardworking group of young women who play for each other."
Although Whalen is a guard -- and will this summer play here in Minneapolis again as she was traded from Connecticut to the Lynx -- and Griffin is a post player, Griffin said she looks to Whalen as a model she hopes to follow.
"What she was able to do for that team -- and has continued to do in the WNBA -- her court presence, her competitive edge, is admirable," Griffin said. "She's someone I would look up to -- and did look up to when I was in high school -- as a really good player and a leader."
It remains to be seen if the Huskers can get to their program's first Final Four the way the Gophers did in 2004. But you could see where perhaps Minnesotans -- whose Gophers aren't in the field this year -- might want to "adopt" the Huskers for this tournament. (By the way, another connection -- Griffin's mother, Jan, is from Minnesota.)
"There was just something about that team that was more than basketball," Griffin said. "It made them so addicting to watch. You just wanted them to do well."
Mechelle Voepel, a regular contributor to ESPN.com, can be reached at mvoepel123@yahoo.com. Read her blog at http://voepel.wordpress.com.
espnW.com
Mechelle Voepel joined ESPN.com in 1996 and covers women's college hoops, the WNBA, the LPGA, and additional collegiate sports for espnW.
SPONSORED HEADLINES
MORE WOMEN'S BASKETBALL HEADLINES
MOST SENT STORIES ON ESPN.COM
NCAA WOMEN'S TOURNAMENT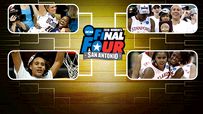 NATIONAL CHAMPIONSHIP
VIDEO
FINAL FOUR
TOURNEY TOOLS