Commentary
Musketeers come thisclose to upset
Xavier does everything right except hit two final shots in taking Stanford to limit
Originally Published:
March 29, 2010
By
Mechelle Voepel
| Special to ESPN.com
Teams always look at second-chance points after games as evidence of how they were either helped or hurt after a missed opportunity. But Xavier might not ever have the heart to look at the second chance it didn't convert in a gut-churning Elite Eight loss to Stanford on Monday.
In the final seconds, Xavier's Dee Dee Jernigan got not one but two open shots right under the basket. But, as if some sort of ghost of Cardinal losses past was sitting on the rim protecting the basket, somehow, almost supernaturally, the ball didn't go in either time.
That gave the Cardinal the ball with the score tied at 53 and just more than 4 seconds left. Stanford needed every tenth of the time as Jeanette Pohlen -- the player who never expected to be the Cardinal's point guard, remember? -- went the length of the court for a layup that left her fingers at the exact microsecond before the buzzer went off.
It went through, Stanford players and fans went berserk, and hearts across the nation went out to Jernigan, sobbing in agony over a first Final Four trip lost for Xavier. Top-seeded Stanford had survived 55-53 and was headed to the Final Four for the third consecutive year and the ninth time in program history.
Do the basketball gods have a grudge against Musketeers basketball? The Xavier men lost in double overtime to Kansas State in what many feel was not only the best game of this year's NCAA tournament but one of the best ever.
Then the Xavier women lost on one of the most improbable, mind-boggling sequences of events you will ever see in basketball.
The game had lived up to advance expectations with Xavier's post game frustrating Stanford and vice versa. Ta'Shia Phillips fouled out for the Musketeers, then Jayne Appel joined her on the sideline for Stanford. Both key players could only watch as the last two minutes twisted viewers into knots as diabolically as any Hitchcock thriller ever did.
Other than a loss against No. 1 UConn in December, the Cardinal had won every game this season, many of them by such a cushy margin that they could have sent in the team managers to finish them out. That included a blowout over Georgia in the Sweet 16 on Saturday.
But Xavier, the Atlantic 10 champion, had not lost since December, either, and it gave the Cardinal all they could handle. With Appel out and Stanford's offense stagnating, the Musketeers seized a spark of momentum and had the Cardinal on the ropes.
But Appel's backup, freshman Joslyn Tinkle, gave Stanford its first basket in nearly four minutes when she scored with 1:12 left and tied the score at 51.
Tyeasha Moss scored for Xavier, then Jernigan got a key steal. Special Jennings was fouled and went to the line to try to give Xavier a four-point lead with 35 seconds left.
But she missed, and Kayla Pedersen -- who ended up being Stanford's leading scorer with 18 points -- hit a jumper with 28 seconds remaining for another tie score.
Then Xavier did about everything right -- except put the ball in the basket. The Musketeers found Jernigan alone twice, but neither time would the ball drop.
After the second miss, Pedersen secured the rebound -- her 10th of the night -- and, after a timeout, Stanford put the ball in junior Pohlen's hands.
It had been a rough night from the field for Stanford, which shot just 35 percent for the game. Nneka Ogwumike uncharacteristically had hit just 5 of 17 shots all night. Pohlen had made just 1 of 6.
But her seventh shot sent Stanford to heaven … or, actually, to San Antonio, while the Musketeers and Jernigan were left in the hell of a crushing loss. Jernigan was 4-of-13 from the field, but the last two misses will be ones the senior unfortunately might see again and again in her nightmares.
Jernigan has been through rough times before; she spent her freshman season at Rutgers, which lost the 2007 NCAA title game to Tennessee, then endured the Don Imus mess. Jernigan then transferred to junior college for a year before going to Xavier.
Stanford has had some rough endings to NCAA tournament games, too, including in Xavier's hometown of Cincinnati in 1997 when the Cardinal fell in overtime in the national semifinals against Old Dominion. Losses in the 2004 Elite Eight to Tennessee and 2006 Elite Eight to LSU also stung Tara VanDerveer's program.
But the sting this time happened to Xavier. And, wow, what a sting. Of course, there's always a chance that Stanford could have scored to tie the score anyway even if Jernigan had hit either of her late chances. Sadly for her and the Musketeers, that likely is not how she and the team will remember it.
Mechelle Voepel, a regular contributor to ESPN.com, can be reached at mvoepel123@yahoo.com. Read her blog at http://voepel.wordpress.com.
espnW.com
Mechelle Voepel joined ESPN.com in 1996 and covers women's college hoops, the WNBA and additional collegiate sports for espnW. Born in Los Angeles, she grew up 40 miles north of St. Louis and is a lifelong Cardinals fan still basking in amazement over their 2011 World Series title.
SPONSORED HEADLINES
MORE WOMEN'S BASKETBALL HEADLINES
MOST SENT STORIES ON ESPN.COM
NCAA WOMEN'S TOURNAMENT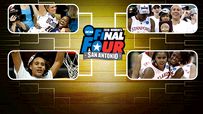 NATIONAL CHAMPIONSHIP
VIDEO
FINAL FOUR
TOURNEY TOOLS