Commentary
Thompson is irreplaceable cog
Forward's journey makes her irreplaceable to Oklahoma
Originally Published:
April 1, 2010
By
Mechelle Voepel
| Special to ESPN.com
KANSAS CITY, Mo. -- Before it could even really feel like an epically bad start, something to be rued throughout the summer -- if not forever -- Amanda Thompson's tea kettle really started to boil.
Her Oklahoma Sooners simply had to get their act together. This was not going to be her last game. There was no chance her team was getting blown out. Sure, the score was 15-2. So what? Where she'd come from in Chicago, lots of people start life down 15-2. And they never catch up.
Thompson left that city, and all that was good and bad about it, to play for Oklahoma's Sherri Coale, someone who would totally understand her. Now, four years later, near the end of her time with Coale, Thompson was looking around the court in the regional final against Kentucky thinking, "What is this nonsense? What are we doing? Since when don't we play defense?"
[+] Enlarge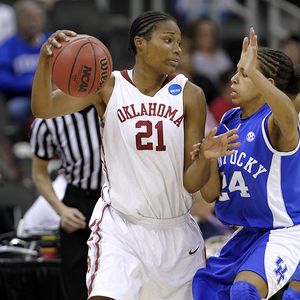 AP Photo/Ed ZurgaAmanda Thompson was named to the all-regional team after combing for 30 points and 25 rebounds in the regional semis and final.
The Wildcats were leading 15-2 when Oklahoma turned the ball over again. Meltdown? Was Kentucky just too hot, and headed for a second consecutive upset? Was it a good but not good enough season for the Sooners?
Kentucky's Keyla Snowden missed a 3-pointer, and Thompson snared the rebound. "Got" is way too tame a verb for her rebounds. "Captured," "seized" and "snatched" better fit the visual of Thompson's working the boards.
OU's Nyeshia Stevenson then missed from behind the arc. Thompson grabbed another rebound, the Sooners reset their offense, and Thompson hit a jump shot.
She nailed a 3-pointer 25 seconds later. Just like that, the Sooners' problems were well on their way to being solved. By halftime, OU would lead 43-39, and the Sooners kept increasing the separation after the break. It ended with an 88-68 Oklahoma victory and a second consecutive trip to the Final Four.
It seems that the 46-second stretch where Thompson score five points and had two rebounds had flipped the switch for the Sooners.
"I was like, 'We are not about to have this,'" Thompson said of her thoughts when Oklahoma trailed by 13 points. "I got a little energy. A rebound, a little jump shot -- just kind of released that pressure a little bit. Everybody fed off that, and we took the lead and didn't give it back."
That tiny snippet of less than a minute could serve as a portrait of her career at Oklahoma. The Sooners were playing poorly, and Amanda Thompson was not about to have that.
"Amanda will be the first to tell you there isn't anything that happens on the basketball court that's really hard for her because of things she's had to experience and get through in her life," Coale said. "This is a game. While things may be challenging, nothing's really hard. And I think that is revealed in the way that she plays."
Thompson, a 6-foot-1 forward, was a cog player her first three seasons at Oklahoma -- the kind of cog that isn't very easy for a coach to find, but very necessary, because the machine can't really run without it.
Thompson played through a painful shoulder injury that required surgery after her freshman season.
During last season's Final Four run, Courtney Paris and her double-double streak was usually the focus of attention. Thompson didn't have numbers like the four-time All-American Paris, nor that "spectacular" stand-out skill like Danielle Robinson's speed, nor the 3-point shooting Stevenson's and Whitney Hand's 3-point shooting.
[+] Enlarge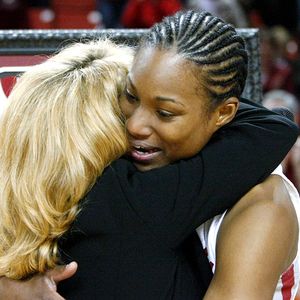 AP Photo/Alonzo AdamsShe may have never been the star for the Sooners, but Thomspon was still a key to Coale and OU's success.
Still, Thompson started most of the Sooners' games, averaging 6.8 points and 4.6 rebounds, and once again she got through pain, as an injured tendon in her foot slowed but did not stop her during the 2009 postseason.
Then Thompson, now a senior, was ready for a bigger role when Coale needed her.
"She is as sincere of a kid as I've ever worked with, just incredibly coachable, a sponge," Coale said. "Wants to learn, wants to work, wants to get better. Wants to do the right thing."
Thompson has an artist's mind; she sketches and paints and sees things probably many around her don't. Athletic and frenetic as she is on the court, she is usually slow and deliberate off it, insistent on getting things right in whatever she's doing in the classroom or just in everyday tasks. You are missing something if you look at Thompson and don't see the layers of depth.
It's almost as if Thompson has been around a long time, as if her experiences reach much further back than even a senior's possibly could. If the Internet, cell phones, iPods and digital cameras were suddenly to vanish, Thompson is the type who would be the quickest to adapt.
There is something pleasantly and sweetly old-fashioned about her. She says the person she dedicates her success to is her mother, Wanda Thompson. It hasn't been easy for Wanda to be at many of Amanda's games in person because of the distance from Chicago. But she was in Kansas City to watch the regional semis and the final. Thompson had a combined 30 points and 25 rebounds in those games and was on the all-regional team.
"She was so happy for me, and I am so glad she got to experience it and I got to show her that I've been working for her," Amanda said. "I've been through a shoulder surgery, foot injuries, little stuff, but I didn't let it stop me. I kept working through it.
"It changed me coming [to Oklahoma] -- everybody is so nice. But I just love it; it has made me grow as a person. I know now how to interact with people, to smile and have fun. It's quiet, and I can just be me. That's helped me as a basketball player and a person."
Coale sees Thompson's maturation in one key area -- leadership -- as a pivotal part of this OU journey to the Final Four.
"She came here and wanted to do the right thing all the time. But she didn't necessarily want to demand it of everybody around her," Coale said. "She was of the mind-set, 'I'm going to take care of my business, and what you do is entirely up to you.'
"Sometimes teaching kids to learn how to demand the same from the people around them as they demand from themselves is as tough as anything. Kids fight that sometimes. A.T. didn't. It was hard for her, but she didn't fight it. And she's become an exceptional leader on our team."
Mechelle Voepel, a regular contributor to ESPN.com, can be reached at mvoepel123@yahoo.com. Read her blog at http://voepel.wordpress.com.
espnW.com
Mechelle Voepel joined ESPN.com in 1996 and covers women's college hoops, the WNBA, the LPGA, and additional collegiate sports for espnW.
NCAA WOMEN'S TOURNAMENT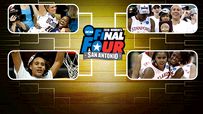 NATIONAL CHAMPIONSHIP
VIDEO
FINAL FOUR
TOURNEY TOOLS
MORE WOMEN'S BASKETBALL HEADLINES
MOST SENT STORIES ON ESPN.COM
STORIES FROM HUFFINGTON POST