What can we expect in Dayton?
Originally Published:
March 18, 2010
ESPN.com
Before the women's NCAA tournament opens Saturday, ESPN.com breaks down the four regionals. Check out the Kansas City, Memphis and Sacramento analysis.
Mechelle Voepel's breakdown


No. 8 Temple vs. No. 9 James Madison (ESPN/ESPNU/ESPN360.com, 2:30 p.m. ET Sunday): The venue will be familiar for the Dukes, who are used to playing Old Dominion in Norfolk. This year, JMU hosted the Colonial Athletic Association tournament and beat top-seeded ODU to win the automatic berth and give standout guard Dawn Evans a bigger spotlight. She is averaging 24.8 points and has 140 assists.
JMU's overtime victory over Delaware on Feb. 18 really propelled the Dukes into a terrific finish to the season, as they won their last eight games.
Will those disappointed ODU fans stay loyal to the conference and root for the Dukes in this game? Or will the crowd advantage actually go to Temple, because UConn fans on hand for the Dukes-Owls matchup will be cheering for former UConn assistant Tonya Cardoza?
She's in her second season at Temple, where she followed former Virginia teammate Dawn Staley and has continued Staley's success. Temple upset Dayton in overtime on the way to the Atlantic-10 title game. There, the Owls fell to favorite Xavier 57-55, also in overtime. Kristen McCarthy has led Temple in scoring this season and was a big factor in the Owls winning 14 of their last 17 games.
Of course, if Temple wins this first-round game, Cardoza will match wits against her longtime boss Geno Auriemma in the second round. (We safely can predict a first-round UConn win over Southern.)
Three stars
• Tina Charles, UConn: The program's all-time leading scorer and rebounder has shared the spotlight with Maya Moore, who'll own it alone next season for the Huskies. Charles has maximized her potential.
• Monica Wright, Virginia: She is not just a scorer but an all-around complete competitor: the ACC's top player and defender this season. Wright makes everything look easy even when it isn't.
• Alysha Clark, Middle Tennessee: Some of the top scorers in the country are all in this quarter of the bracket, including UVa's Wright, James Madison's Evans and Ohio State's Jantel Lavender. But Clark leads the way at 28.7 points per game.
Three under the radar
• Courtney Ward, Florida State: The Seminoles' on-the-court leader is averaging 10.9 points to go with 173 assists and should help FSU bounce back from a disappointing ACC tournament.
• Alexis Rack, Mississippi State: The senior guard was in the top five in the SEC in scoring, assists and steals. She'll need a big performance right away as Mississippi State opens with Middle Tennessee, which should be one of the best first-round games.
• Da'Shena Stevens, St. John's: The sophomore forward has been a steady presence scoring and on the boards all season for the Red Storm, who at No. 6 got their best-ever NCAA tournament seed.
Charlie Creme's take

Who's hot: No. 1 seed Connecticut. The Huskies are the hottest team anywhere, any sport. The questions have turned away from whether anyone can beat them (because the answer is no) to whether all this dominance is good or bad for the women's game. Certainly, it's bad for competitive balance, but at no time in recent years has the women's game gotten as much attention from traditional, mainstream media sources than it has right now. That's good. Period.
Who's not: No. 7 seed Mississippi State. Early this season, some pegged the Lady Bulldogs as a potential Sweet 16 team. Now they are fortunate to have received a No. 7 seed. They lost three of their last five and scored fewer than 50 points in two of those losses. Mississippi State looks to be prime fodder for a hot, high-scoring Middle Tennessee team.
Possible matchup to watch: Monica Wright versus Alison Lacey. The possible second-round meeting between Virginia and Iowa State would pit two of the premier Most Important Players in the tournament. Wright, the likely No. 2 pick in April's WNBA draft, ACC player of the year and defensive player of the year, does everything for the Cavaliers. They would be a borderline WNIT team without her. The Cyclones lost two of their last three games while Lacey was sidelined with pneumonia. Lacey, whose health is still a question mark, is a point guard, but expect Wright to check her plenty if the two teams meet in the second round.
Possible upset: No. 11 seed Princeton over No. 6 seed St. John's in the first round. Princeton is coming off the greatest regular season in Ivy League history and boasts two players in freshman Niveen Rasheed and sophomore Lauren Edwards who could play with the Red Storm's young duo of Shenneika Smith and Da'Shena Stevens. President Obama might not think so, but keep an eye on this game.
SPONSORED HEADLINES
MORE WOMEN'S BASKETBALL HEADLINES
MOST SENT STORIES ON ESPN.COM
NCAA WOMEN'S TOURNAMENT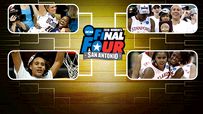 NATIONAL CHAMPIONSHIP
VIDEO
FINAL FOUR
TOURNEY TOOLS