What are the Sweet 16's key factors?
Updated:
March 28, 2010, 4:24 PM ET
ESPN.com
What are the X factors in this weekend's regional semifinals? Where might the No. 1 seeds be vulnerable? ESPN.com columnists Graham Hays and Mechelle Voepel know which key factors could determine who moves on to the Elite Eight. (And click here to see which teams they picked to win.)
Kansas City Regional


No. 3 Oklahoma vs. No. 2 Notre Dame
(ESPN2/ESPN360.com, 7:30 p.m. ET Sunday)
Notre Dame's post play: While the marquee matchup of this game is the two speed-of-light guards -- junior Danielle Robinson for Oklahoma and freshman Skylar Diggins for Notre Dame -- the X factor in the game could be how well the Irish's post by committee competes.
Devereaux Peters has the talent to be a dominant post player, but knee injuries slowed her development and she is not able to play much more than 20 minutes in a game. So the Irish have needed contributions from all their post players -- Peters, Becca Bruszewski and Erica Williamson -- to get the job done.
There isn't really a true dominant rebounder for the Irish the way there is for the Sooners, who are led on the boards by Amanda Thompson (10.5 rpg) and Abi Olajuwon (7.2). Big guard Lindsay Schrader has been Notre Dame's top rebounder this season, averaging 6.9 per game.
So it's going to be the job of the Irish post players to -- if they can't get the rebound themselves -- box out Thompson and Olajuwon as much as possible and look to Schrader and Ashley Barlow to outrebound Oklahoma's guards.
Olajuwon had 19 points and 11 rebounds in the Sooners' second-round win over Arkansas-Little Rock, while Thompson had a rare quiet night on the boards with just three. However, in her three previous games, Thompson had 15, 19 and 18 rebounds.
With the graduation of the Paris twins, the Sooners' ability to rebound naturally took quite a hit. Last season, the Sooners outrebounded their foes by an average of almost 11 per game. This season, Oklahoma does it by an average of four per game -- but that still means the Sooners are usually winning on the glass.
Notre Dame, which has had to go against the rebounding prowess of Tina Charles and UConn three times this season, at least knows no team is going to be any more difficult to stop than the Huskies. -- Mechelle Voepel


No. 4 Kentucky vs. No. 1 Nebraska
(ESPN2/ESPN360.com, 9:30 p.m. ET Sunday)
3-point shooting: When you think of Nebraska, you naturally think of Big 12 Player of the Year Kelsey Griffin, the forward who is the team's leading scorer (20.3 ppg) and rebounder (10.4 ppg).
However, one thing that has been a big factor for the Huskers -- but isn't Griffin's specialty -- is 3-pointers. And after not shooting them very well at all in the Big 12 tournament -- especially not the 1-of 21-performance from behind the arc in the quarterfinals against Kansas State -- the Huskers were very effective from long range in their first two NCAA tournament games.
Nebraska was a combined 18-of-35 from 3-point range (51.4 percent). Second-round foe UCLA found the Huskers' bombs particularly discouraging because it gave Griffin all the more room to work with inside -- and she doesn't need much.
Kentucky has its own post star in Victoria Dunlap, who was the SEC Player of the Year. While she and Griffin battle down low, it will be important for the Wildcats to not let the Huskers get free much outside the arc. If Nebraska is as successful from long range against Kentucky as the Huskers were against Northern Iowa and UCLA, it could be a rough night for the Wildcats.
Kentucky has shut down its NCAA tournament foes thus far from 3-point range, holding Liberty to 2-of-9 and Michigan State to 2-of-12. However, neither of those teams was the 3-point threat that Nebraska is. The Flames made just 84 3-pointers this season, the Spartans 159. Nebraska has made 220. Senior Vonnie Turner has been the top Husker from long range with 81.
Kentucky has made 177 3-pointers this season, led by Keyla Snowden's 47, and has held its opponents to 128. -- Mechelle Voepel
SPONSORED HEADLINES
MORE WOMEN'S BASKETBALL HEADLINES
MOST SENT STORIES ON ESPN.COM
NCAA WOMEN'S TOURNAMENT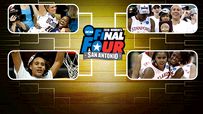 NATIONAL CHAMPIONSHIP
VIDEO
FINAL FOUR
TOURNEY TOOLS