Sunday's semis have heavy favorites
Originally Published:
March 31, 2010
ESPN.com
ESPN.com contributors Charlie Creme, Graham Hays and Mechelle Voepel take a look at the X factors and predict the winners of Sunday's national semifinals.
No. 3 seed Oklahoma vs. No. 1 seed Stanford
ESPN/ESPN360.com, 7 p.m. ET Sunday
Contributor
Pick
Voepel
Stanford over Oklahoma. The Sooners come in after a strong victory over Kentucky (despite the slow start), while the Cardinal enter after barely surviving Xavier. However, not too much should be read into the Cardinal's struggle beyond the fact that the Musketeers had the talent and size to push Stanford -- and did.

Oklahoma doesn't have the big bodies, but it has great quickness and a will to win that can't be understated. However, the zone that the Sooners used to great effectiveness against Kentucky might not work as well against a Stanford team that has better 3-point threats than the Wildcats.

OU's Amanda Thompson has been ferocious on the boards all season, thanks to her desire, strength and quickness. The Cardinal definitely have to be aware of where she is all the time. And while no one has effectively stopped Danielle Robinson from getting to the rim, Stanford will have to try to slow her down. Nyeshia Stevenson had a fantastic Kansas City Regional performance, and she will be another test for Stanford's defense.

But let's not overlook that Stanford has multiple threats; the Cardinal have had a different leading scorer in each NCAA tournament game (Nneka Ogwumike, Ros Gold-Onwude, Jayne Appel and Kayla Pedersen). The Xavier game notwithstanding, Stanford's offense has steamrolled the majority of its foes. For that reason, ultimately, the Cardinal should prevail, even though this might well be another close game.

Hays
Stanford over Oklahoma. It is tempting to pick this upset in a tournament that hasn't lacked for them. Oklahoma plays with the kind of cohesion and energy that carries it well beyond its numbers -- I haven't seen a practice all season with as much noise or focus as the one the Sooners went through in Poughkeepsie, N.Y., the night before a regular-season game at Marist, and that image sticks with me every time I see that Sherri Coale's team has defeated a team with a deeper rotation, more proven scorers and a higher ranking.

But Stanford isn't just any other team -- it has been the other team all season. The Cardinal might not be as infallible as their counterparts from Connecticut -- they wouldn't be in San Antonio if not for a bad shooting night from the 3-point line by Xavier or a couple of late shorter misses from the Musketeers. But they've been dominant by any measure, leading the non-Connecticut nation in scoring margin, ahead of the next-closest competitor from a BCS conference by four points per game.

Oklahoma's defense, while outstanding, isn't predicated as much on forcing turnovers as forcing bad shots. And few teams -- no team other than Connecticut at the highest levels of the game, really -- takes better care of the ball than Stanford. Jeanette Pohlen, Rosalyn Gold-Onwude and JJ Hones make smart decisions on the perimeter and Nnemkadi Ogwumike, Kayla Pedersen and Jayne Appel are all remarkably turnover-averse for frontcourt scorers. Only Ogwumike has more turnovers than assists, and even she is hardly careless at essentially two turnovers per game.

And while the Sooners were outstanding in stopping two different styles of guard-oriented teams in Notre Dame and Kentucky to reach the Final Four, going against Stanford's size will be an entirely different kind of test for Abi Olajuwon and Amanda Thompson inside the 3-point line.

Creme
Stanford over Oklahoma. Outside of UConn's Maya Moore and Tina Charles, the Sooners have the hottest players left in this Final Four in guards Danielle Robinson and Nyeshia Stevenson. Conversely, other than Jeanette Pohlen's now famous 94-foot, four-second streak to glory, the Elite Eight win over Xavier was not the finest of nights for the Stanford backcourt.

However, the Cardinal coaches and players are insightful enough to know they got away with one and will not let that happen again in the pursuit of UConn. Remember, no one other than UConn and Xavier had any luck slowing down the Stanford frontcourt this season, and Oklahoma does not have the depth or athleticism down low to be the third team in that group. As improved as Abi Olajuwon is, Jayne Appel is a much better player (who now has a memory to erase after Monday's forgettable performance). Amanda Thompson will get her rebounds because she always does, but Nnemkadi Ogwumike will have the bigger night scoring and won't have Xavier's Amber Harris and Ta'Shia Phillips to shoot over. It won't be easy because Robinson and Stevenson are red hot and have a quickness advantage over their Cardinal counterparts, but Stanford is deeper and more experienced. The Cardinal should prevail and get one last shot at the Huskies.
No. 4 seed Baylor vs. No. 1 seed Connecticut
ESPN/ESPN360.com, 9 p.m. ET Sunday
Contributor
Pick
Voepel
Connecticut over Baylor. People were running out of words for this Huskies' victory march awhile ago. So you'll have to forgive us in the media if we're sounding frightfully repetitive about the 76-game winning streak, the huge margins of victory, the speeding-locomotive confidence.

But perhaps the key to the Huskies' success is they don't seem to be bored in the least by that repetitiveness. Coach Geno Auriemma has successfully gotten them to embrace the role of crusher, obliterator, destroyer -- not just victor. Hey, when you're this good, you've still got to find ways of motivating, and it seems like that has worked for this year's players: Don't let the opponent break 50 points. None have so far in the NCAA tournament.

Thing is, nobody in the past four games has scored very well against Baylor, either, thanks to the combination of Brittney Griner's intimidation factor inside and her teammates' ability to play off of that. It's one thing to have such a big defensive weapon, and another thing for the other four players on court with her to utilize it as effectively as Baylor is now.

UConn likely is really looking forward to this because the Huskies are not a team afraid of challenges; to the contrary, they relish them. While UConn comes up with a game plan for Griner, the Huskies will also bank on their greater experience factor. But with the way Baylor has played in the NCAA tournament, most fans of the sport probably would say this is the team they want to see face UConn. If for no other reason than Griner gives the seemingly unstoppable Huskies something different to think about.

Hays
Connecticut over Baylor. First and foremost, with all apologies to Tennessee, it's going to be more fun watching a game where the hype surrounds the players on the court more than the coaches on the sideline. And with an athletic young team brimming with confidence and defense at the moment, Baylor does present as compelling a profile as Connecticut has faced since playing Stanford in December. It doesn't hurt that the game will take place a few hours from Baylor's campus.

But intrigue doesn't necessarily add up to upset. Connecticut is so efficient on offense (51.8 percent shooting, 1.36 team assist-to-turnover ratio, both first in the nation by comfortable margins) that even factoring in some slippage in those numbers due to the Brittney Griner effect, it's difficult to see a team beating the Huskies without hitting a lot of shots from outside. It doesn't have to be an Iowa State style commitment, but at some point, the underdog has to trade at least a few 3-pointers for 2-point baskets to make up for the inefficiency gap. And while Baylor got two big 3-pointers in the second half against Duke to reach the Final Four -- one from Kelli Griffin and one from Jordan Madden -- it's not a tool they use with any frequency or consistency.

As much size and athleticism as Baylor can put out on the floor, even beyond Griner, it hasn't had a great rebounding tournament. It's the only member of the final quartet that lost the battle of the boards in any of its first four NCAA tournament games -- something it did against both Tennessee and Duke. Both the Lady Vols and Blue Devils were themselves good rebounding teams, but Baylor didn't dominate either Fresno State or Georgetown, either. So beyond the battle between Charles and Griner, will Morghan Medlock (whose rebounding prowess was somewhat sacrificed against Duke in favor of a small lineup), Shanay Washington and others be able to keep Maya Moore and Kalana Greene off the glass?

Creme
Connecticut over Baylor. This game will be billed/hyped as the almighty Huskies vs. Brittney Griner. And why not? That makes it interesting. While Griner does present an interesting challenge to UConn -- one the Huskies haven't seen yet -- she can only do so much, which, even in her best games, is evident.

Connecticut is infinitely more talented than the Lady Bears everywhere else on the floor. UConn's pressure defense likely will give Baylor -- a team that can have long stretches when scoring is a chore -- big problems. The Lady Bears would have a puncher's chance for a while if, say, Maya Moore got into early foul trouble and Griner was able to frustrate Tina Charles. That would keep UConn's point total down some and that would be Baylor's opportunity.

Still, there's no way Baylor can outscore the Huskies. In the end, Connecticut has too many ways to win -- with its defense, with its outside shooting, with its resourcefulness, with its smarts, with its relentlessness, with its depth. Whereas Baylor has one way to win, and Connecticut would have to cooperate even for that to happen. It might be close for a little while longer than Temple, Iowa State or Florida State, but ultimately, UConn will win easily.
NCAA WOMEN'S TOURNAMENT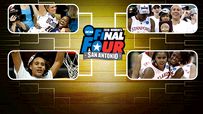 NATIONAL CHAMPIONSHIP
VIDEO
FINAL FOUR
TOURNEY TOOLS
MORE WOMEN'S BASKETBALL HEADLINES
MOST SENT STORIES ON ESPN.COM