UConn is unanimous pick
Pedersen, Appel's ankle, rebounding and Stanford guards among X factors
Originally Published:
April 5, 2010
ESPN.com
Stanford and Connecticut meet for the second time this season -- and for the third consecutive Final Four and fifth time overall in the NCAA tournament -- in Tuesday's national championship game. The Huskies beat Stanford on Dec. 23, 80-68, in Hartford, Conn., after trailing by two points at halftime (it was UConn's closest win of the season). UConn is riding a NCAA Division I women's record 77-game win streak, has won every game in that span by double figures, and is one win shy of becoming just the second NCAA Division I basketball team to post back-to-back undefeated seasons (joining the UCLA men in 1973-74). ESPN.com's and ESPN's analysts take a look at the X factors and predict the winners of Tuesday's NCAA title game, which pits the nation's No. 1- and 2-ranked teams.
Stanford Cardinal vs. Connecticut Huskies
ESPN/ESPN3.com, 8:30 p.m. ET Tuesday
Contributor
Pick
Rebecca Lobo
Connecticut over Stanford. The X factor is the matchup between Stanford's 6-foot-4 Kayla Pedersen and Connecticut's 5-10 Kalana Greene. Stanford has the size advantage at the "3" position, but UConn has the quickness factor there. It will be interesting to see who gains the advantage.
Mechelle Voepel
Connecticut over Stanford. Were this a completely healthy Cardinal team, the possibility would seem greater of the Huskies being denied a second consecutive perfect season. But Jayne Appel is nursing an injured ankle, JJ Hones has been hampered by lingering knee problems all season and Rosalyn Gold-Onwude has a sore finger on her shooting hand. It's not to say that UConn, like any team competing in its 39th game in a season, doesn't have its own aches and pains to deal with. But the Cardinal just seem to have more of them, and it makes what was already a difficult task for Stanford seem more so.

It's not that an upset can't happen. But guards Gold-Onwude, Hones and Jeanette Pohlen will have to shoot much better. Appel will have to do the best she can holding her own against Tina Charles. A combined defensive effort from Stanford will have to attempt to keep Maya Moore from taking over the game. (Not to mention either Caroline Doty, Tiffany Hayes or Kalana Greene -- or all three -- might come back after meager offensive outputs, also taxing Stanford's defense.)

Kayla Pedersen will have to rebound and potentially help get Stanford going from behind the arc. And Nneka Ogwumike will need to follow up a career-high scoring performance with another huge game. Of course, there's still the possibility that Stanford could get all of that -- and still not beat UConn. But at least if Stanford comes close to doing those things, it might have a chance.

Graham Hays
Connecticut over Stanford. Rebounding will be the biggest X factor. With apologies to Liberty, which led the nation in rebound margin, these are the two best rebounding teams in the country. But when they met in Hartford in December, Connecticut 5-foot-10 guard Tiffany Hayes had as many rebounds as any member of the Cardinal (Tina Charles, Maya Moore and Kalana Greene each had considerably more than any member of the opposition). That can't happen again if Stanford is going to win, or even just make itself Connecticut's first single-digit victim -- especially if Tuesday brings a repeat of the bevy of second-chance opportunities available to all teams during a pair of poor-shooting semifinal performances in the cavernous Alamodome. Kayla Pedersen and Nneka Ogwumike combined for one offensive rebound in December; they need something closer to 10 between them Tuesday.

With a healthy Jayne Appel and a healthy JJ Hones, there would be reason to think the Cardinal might be able to repeat the first half of the game earlier this season in Hartford, when Stanford led by two points at the break. But how much does Appel have left as she goes up against good friend Charles in each player's final college game. Appel hasn't practiced at full speed in weeks, courtesy of a sprained ankle that can't heal as long as she keeps playing. It clearly limits her, even if she remains an outstanding passer and willing rebounder. There are no such health concerns for Moore and Charles, who have shown again and again during the NCAA tournament they are peaking at the right time. An unsung hero could emerge out of the backcourts -- Stanford's Gold-Onwude and Jeannette Pohlen or Connecticut's Hayes or Doty among them -- but the sheer wattage in the respective frontcourts makes it seem like a game for the stars.

Charlie Creme
Connecticut over Stanford. Just as this is the title game that most predicted back in October, UConn's coronation as the champion and rightful place among the greatest teams of all-time garnered an even greater consensus. The Huskies hardly look like the team to stop just short. Stanford has the talent, the smarts and the composure to make it a bit difficult like it did for a while in December, and just as Baylor did, it possesses the uniqueness and toughness to make people wonder just for a moment. But this is UConn. The Huskies simply don't know how to lose. Once upon a time, Jayne Appel was a better center than Tina Charles. Injuries and Charles' improvement have changed that equation substantially. Appel's bad ankle could even make this a mismatch. Nneka Ogwumike gives Stanford someone who can challenge the notion of Connecticut having the two best players on the floor in Charles and Maya Moore, but Connecticut still wins the debate. And thus, will win the game, another title and a place in history.
Kara Lawson
I really think the national championship game hinges on the Stanford guards. I was impressed with their performance Sunday, defensively, with what they were able to do against Oklahoma's athletic and confident Danielle Robinson and Nyeshia Stevenson. Rosalyn Gold-Onwude did a tremendous job and the Cardinal also took care of the ball, forcing 21 turnovers. Stanford only had seven. Can Stanford's guards score enough and defend Connecticut on the perimeter?
Carolyn Peck
Stanford coach Tara VanDerveer wasn't pleased with how the Cardinal shot the ball Sunday. They made only one 3-pointer, shooting 1-for-15 beyond the arc against Oklahoma. In the regional final against Xavier, Stanford shot 4-of-18 on 3-pointers. Kayla Pedersen was 1-for-6 in that game and 0-for-3 from downtown on Sunday. Tuesday's national championship game will come down to Pedersen. She's 6 feet, 4 inches. Jayne Appel is 6-4. Nneka Ogwumike is 6-2. Stanford must be able to defend the paint, rebound with Connecticut, and Pedersen is going to have to knock down some shots.
SPONSORED HEADLINES
MORE WOMEN'S BASKETBALL HEADLINES
MOST SENT STORIES ON ESPN.COM
NCAA WOMEN'S TOURNAMENT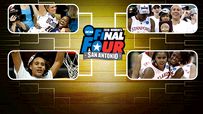 NATIONAL CHAMPIONSHIP
VIDEO
FINAL FOUR
TOURNEY TOOLS
STORIES FROM HUFFINGTON POST