The keys to UConn's victory
Originally Published:
April 6, 2010
ESPN.com
SAN ANTONIO -- Connecticut defeated Stanford 53-47 in Tuesday's national championship game at the Alamodome. The Huskies trailed 20-12 at halftime after shooting just 18 percent. UConn's NCAA Division I-leading 78th consecutive win gave the Huskies their seventh NCAA title and a second straight undefeated season.
HOW THE GAME WAS WON
Expert
The X factor was …


Graham Hays
Tina Charles' defense. On a bad offensive night for anyone not named Maya Moore, the two All-American posts suffered most of all. Connecticut's Tina Charles and Stanford's Jayne Appel combined to shoot 4-for-25 from the floor, with Charles getting credit for all four of those makes but also missing nine shots.

Yet as Connecticut made its run early in the second half behind Moore, Charles helped ensure the Cardinal couldn't match Moore's baskets on the other end. She blocked shots by Nneka Ogwumike on back-to-back possessions, keeping the ball inbounds and starting the Huskies in transition. Her line might not have been All-American, but with six blocks and 11 rebounds, it was a perfect example of how an All-American can still affect a game on an off night on one end of the floor.



Mechelle Voepel
Stanford's injuries. Injuries are just a part of sports … but they were a very, very painful part of it for Stanford this season, particularly in the NCAA tournament. JJ Hones was hobbled with knee problems all year, as was Jayne Appel. Add to it Appel's ankle injury, which bothered her throughout March and was aggravated in Tuesday's final, and Rosalyn Gold-Onwude's injury to her shooting hand, suffered in the Cardinal's Sweet 16 victory over Georgia.

It had all caught up with the Cardinal by the championship game. Appel was not even a shadow of her All-American self, going 0-for-12 from the field in an incredibly frustrating final college game as she finished scoreless. Fellow senior Gold-Onwude went 0-for-3 and was also scoreless. Hones went 1-of-9 for three points.



Charlie Creme
UConn defense. On a night when the offense was almost nonexistent, the Huskies relied on their defense and effort to get them through. Coach Geno Auriemma said on the podium at center court that this was the most difficult of his seven championships because of the team they were playing, and Tuesday's win took everything the Huskies had and the effort he often talks about.

Charles was about as bad as she has been in a long time on offense, but she made her final collegiate game a memorable one on defense simply by being disruptive and blocking six shots. Stanford made just 10 two-point field goals all night.

Even when Stanford was winning throughout a first half that was brutal watch for those who enjoy scoring -- and even more difficult to comprehend for those who have watch these teams play on a regular basis -- the Cardinal were shooting miserably, too. UConn kept itself in the game by sticking to the defensive game plan. The Huskies did not let their frustration on offense spill over to the other end of the floor. That ability to forget the last play and get after it again won them a second straight national championship.
SPONSORED HEADLINES
MORE WOMEN'S BASKETBALL HEADLINES
MOST SENT STORIES ON ESPN.COM
NCAA WOMEN'S TOURNAMENT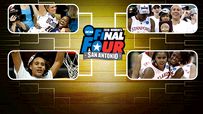 NATIONAL CHAMPIONSHIP
VIDEO
FINAL FOUR
TOURNEY TOOLS