Rebecca Lobo's Five Questions Archive
Updated:
April 5, 2010, 5:26 PM ET
ESPN.com
VIDEO HIGHLIGHTS
Throughout the season, ESPN's Rebecca Lobo has interviewed players and coaches from teams around the country. The brief video interviews -- each is asked a different set of five questions -- are archived below. Just click on the players' or coaches' names.
Team
Player
Topics
Geno Auriemma
April 2, 2010
Who's the hottest coach in women's college ball? What should his future grandchild call him? The UConn coach doesn't sing, but he does dance -- and even pays Pat Summitt a compliment.
Jayne Appel
April 2, 2010
The Cardinal senior talks hair, famous Stanford alums and Tara VanDerveer impersonations, and tells us why she's not ready to discuss the WNBA.
Danielle Robinson
April 2, 2010
Lobo gets yet another student-athlete to sing ("Lovely Day!"), while the Sooners' junior busts out some MC Hammer knowledge and shares the secret of carrying around a little foam basketball last season.
Jacinta Monroe
March 30, 2010
The Seminoles senior explains why she wears No. 50, the history behind her name and why the words "significant underdog" rubbed her the wrong way.
Kelly Faris
March 30, 2010
Ahmnu … Ishka … come again? The Huskies' freshman explains some of her teammates' favorite nicknames for her.
Maya Moore
March 27, 2010
The Huskies' junior All-American does a little steppin', a brief Bon Qui Qui impersonation and explains why her teammates don't get her jokes.
Aisha Jefferson
March 22, 2010
The Spartans star talks a little head coach fashion.
Victoria Dunlap
March 22, 2010
The Kentucky junior forward talks about the best hoopster at Kentucky and her brother, King Dunlap, who is an offensive lineman for the Philadelphia Eagles.
Tanisha Smith
March 17, 2010
The Aggies' senior guard tries to explain Reveille and compares her teammates to barbeque flavors.
Caroline Doty
March 9, 2010
The sophomore takes on Chris Dailey and toenail clippings, and partakes in a Neil Diamond sing-along during down time at the Big East tournament. Guess which song?
Kalana Greene
March 8, 2010
While at the Big East tournament, the fifth-year senior and DJ discusses Gnarls Barkley, Lady Gaga and how the five-second rule applies to gum (yes, she put it back in her mouth).
Tina Charles
March 1, 2010
Just stick around for Connecticut coach Geno Auriemma's special appearance at the end. This interview was done prior to the UConn-Notre Dame game on ESPN2's Big Monday.
Angie Bjorklund
Feb. 8, 2010
The junior psych major, interviewed prior to Tennessee's tipoff with Vanderbilt on ESPN2's Big Monday, clearly isn't a Rolling Stones fan (or of special DVD packs on coach Pat Summitt).
Brittany Ray
Feb 1, 2010
The senior names Rutgers' worst critic as well as the worst habit of teammate and roommate Myia McCurdy prior to ESPN2's Big Monday game between Notre Dame and Rutgers.
Lindsay Wisdom-Hylton
Jan. 25, 2010
The former Purdue star talks double-hyphenated last names, L.A. Sparks babies and Carolyn Peck's hair before Ohio State and Purdue tipped off on ESPN2's Big Monday.
Tiffany Hayes
Jan. 18, 2010
Prior to Big Monday's UConn-Duke game on ESPN2, the sophomore discusses her last loss and the power of three, plus puts in a Chris Tucker impersonation.
NCAA WOMEN'S TOURNAMENT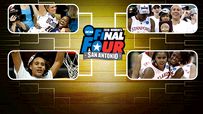 NATIONAL CHAMPIONSHIP
VIDEO
FINAL FOUR
TOURNEY TOOLS
MOST SENT STORIES ON ESPN.COM