Commentary
Irish, Aggies learn from earlier losses
Adaora Elonu talks about how the Aggies' loss to Kansas State during conference play helped refocus Texas A&M.
INDIANAPOLIS -- A month ago, Texas A&M lost a game at Kansas State after which anyone familiar with the Aggies was probably asking, "Who was that team?"
Texas A&M had allowed penetration, hadn't defended behind the arc, allowed the Wildcats to shoot 50 percent from the field, and generally looked lethargic and lacking in confidence. This was supposedly then the No. 5 team in the nation?
Credit Kansas State, sure, for its 71-67 victory. But the Wildcats went on to lose in the first round of the NCAA tournament. The Aggies are in the national championship game, facing Notre Dame at Conseco Fieldhouse on Tuesday (ESPN, 8:30 p.m. ET).
So what happened March 2 in Manhattan, Kan., besides Kansas State playing perhaps its best game of the season, led by guard Brittany Chambers' 35 points? Since when does an average-speed guard light up the Aggies like that? Texas A&M really didn't come to play -- or at least not with the team's usual personality.
"It was very uncharacteristic," Texas A&M junior Adaora Elonu said. "We weren't ourselves at all. There really isn't one thing we can think of that we did right in that game. We were two steps slower than them in that game. But after that loss, we stepped up our team defense, and our practices started having more defensive drills, where we were finding shooters and jumping on balls for turnovers."
A lot has been made of how Texas A&M's three losses to Baylor this season motivated the Aggies, who eventually beat the Lady Bears in the Dallas Regional final. But that loss to the Wildcats was important, too, because it reminded them that it's one thing to say you respect all opponents -- but another thing to really mean it.
"We got kind of comfortable and just let our egos take over," Texas A&M junior guard Tyra White said. "That's the game that reminded us to work really hard to not overlook anybody."
And when Notre Dame reflects on the season, it isn't just the three losses to UConn that helped the Irish prepare for the kind of NCAA tournament run they're on. They also had a double-overtime loss at home to UCLA on Nov. 18, followed three days later by a defeat at Kentucky, followed by a loss at Baylor 11 days after that.
So the Irish started this season 5-3. Now they're ending it in the NCAA title game.
"I definitely think it was just us as a team learning to get over the bumps in the road," Notre Dame senior Becca Bruszewski said. "I think those losses only helped us, made us stronger and made us grow.
"It was either continue to lose and get upset about it, or look at the game film and figure out what we have to do to improve and get us where we are today."
Irish junior Natalie Novosel said, "It was the best thing that happened to us to lose those games. The first solid game we did play was Gonzaga [on Dec. 29] in the nonconference. We really grew up as a team."
You could say that during the past four seasons, Texas A&M grew up as a program. The Aggies made the Elite Eight in 2008, but their offense disappeared in the last six minutes and they lost to Tennessee. In 2009, they lost in the Sweet 16 to Arizona State. And last year, they fell in the second round to Gonzaga.
That upset at the hands of the Bulldogs was particularly distressing for the Aggies because they went into the 2010 NCAA tournament on such a high, having won the Big 12 tournament title.
"When you go back and look at each of those losses, at the end of the games, we were crying and sad," Texas A&M senior Sydney Colson said. "And a lot of that was we knew that we didn't leave it all out there on the floor. All of the seniors this year, we said, 'If we're going to go out with a loss, I'm going to be dead tired. That is going to be the best effort I've given.' That's what we did in the last few minute against Stanford."
The Aggies' 63-62 victory over the Cardinal was their second consecutive victory over a No. 1 seed. Fellow No. 2 seed Notre Dame has the Aggies' full attention now, and they don't want to be another Big 12 victim for the Irish in the NCAA tournament.
You'll see the Irish's green-painted fingernails -- that's a tradition that started when they faced Texas on St. Patrick's Day in the 1997 NCAA tournament and upset the Longhorns in Austin, Texas, on the way to Notre Dame's first Final Four.
In 1998, the Irish upset another Big 12 team on its home court in the NCAA's second round: No. 1 seed Texas Tech. In 2003, they did the same thing at No. 3 seed Kansas State. In 2008, the Irish beat Oklahoma in the second round, preventing the Sooners from making the Sweet 16 in Oklahoma City.
Oklahoma did get some revenge for the Big 12 in 2010, beating Notre Dame in the Sweet 16. But this season, the Irish again ended Oklahoma's season, beating the Sooners in the Sweet 16.
The Aggies will try to stop Notre Dame short of a second NCAA title while winning another national championship for the Big 12. The Aggies said they've gotten messages of encouragement this past weekend from fellow Big 12 players such as Oklahoma's Whitney Hand. But it might have been losing to Big 12 foe Kansas State that did the Aggies the most good.
"We realized that we were doing things in that game that we haven't been doing all season," Colson said. "We weren't doing what we read in the scouting report and executing what we needed to. We weren't getting out on shooters. I'm surprised we even found a way to make it look like a closer game than what it was.
"A lot of it was us thinking they were just going to fold for us because we were ranked fifth. We were taking that game more lightly than we should have. From that point on, we've come out and played hard from beginning to end."
Mechelle Voepel, a regular contributor to ESPN.com, can be reached at mvoepel123@yahoo.com. Read her blog at http://voepel.wordpress.com.
NCAA WOMEN'S TOURNAMENT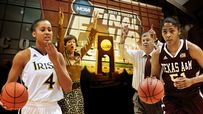 CHAMPIONSHIP GAME
FINAL FOUR
VIDEO
HOW WE GOT HERE
TOURNEY TOOLS
MORE WOMEN'S BASKETBALL HEADLINES
MOST SENT STORIES ON ESPN.COM