Commentary
Giants equipped for the stretch run
With four games left in the season, Big Blue is built to make a push toward the playoffs
Updated:
December 7, 2010, 11:11 PM ET
By
Johnette Howard
| ESPNNewYork.com
The talk about whether Minnesota will start banged-up Brett Favre at quarterback against the Giants this Sunday, the latest update on New York's injury report and even the afterglow over Sunday's 24-point win over division rival Washington were all set aside for the moment.
Giants coach Tom Coughlin uttered only two words during his midday Monday conference call with reporters to describe what the Giants are facing now:
"It's December," Coughlin said, as if that explains everything.
The Giants are in the stretch run. Everything is funneling down to a four-game mini-season that Coughlin's injury-riddled team looks a lot better equipped to survive now than it did even just one-and-a-half games ago, after it had just lost back-to-back games against division rivals Philadelphia and Dallas and played a lousy first half against Jacksonville.
When commissioner Roger Goodell decided that his latest tweak to the NFL game would be to schedule teams to play most of their intradivisional games against each other in the last month or so of the regular season, he could only have dreamed the change would work out as well as it has in its first year.
Goodell and the league's critics were tired of seeing runaway division champs rest their starters at the end of the year like Indianapolis controversially did last year while other playoff teams were fighting for their lives. And what's going on in the NFL this year is far better.
[+] Enlarge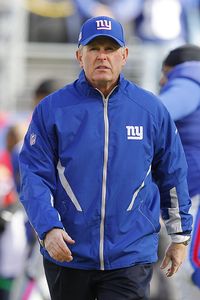 Jim O'Connor/US PresswireTom Coughlin has the Giants atop the NFC East at 8-4.
Right now the league is giving us as many cliffhanger division races as anything baseball has given us in its best pennant race seasons, and the Giants are caught up in one of them. At 8-4, they're tied for the NFC East lead with Philadelphia, whom they've already lost to but have a rematch against at home two Sundays from now. The Giants also play Washington again.
Overall, the Giants know even 10 wins might not be good enough to prevent them from missing the NFC playoffs for the second straight year. New Orleans and Green Bay are in the same fix.
"We have to win out," Giants offensive lineman Chris Snee said.
It's December, after all.
"I think it's exciting," Giants defensive lineman Barry Cofield said. "That's what you live for, that's what you play for."
With four games left, here are five reasons to believe the Giants are built not to wilt down the stretch.
Remember those early-season "lack of leadership" concerns? Going, going, gone: When you ask how the Giants have navigated all their problems you hear stories of how this is a real team: Manning meeting on his own with his receivers, and the revamped offensive line making a point of watching film together to make sure its members are on the same page. On defense, Justin Tuck -- who stood in the middle of the Giants' locker room early this year saying he preferred to lead by example -- is emerging as the vocal leader and team conscience the team lost when Michael Strahan retired.
On Sunday, Tuck spoke about how he's been alternately whip cracking and tutoring rookie first-round pick Jason Pierre-Paul into being a bigger contributor. A week earlier, Tuck's rant after Jacksonville pushed the Giants all over the field in the first half -- Cofield called it a halftime speech "for the ages" -- could go down as a pivot point that saved the Giants' season. But it's not the only one.
Most offensive lines hope for five good men. The Giants have seven or eight: When former Pro Bowlers Shaun O'Hara, then David Diehl, then Shawn Andrews, who succeeded Diehl at left tackle, all went out, the Giants didn't crumble. They plugged in young William Beatty and Kevin Boothe, slid Snee to center, and haven't allowed a sack now in five games. ("I wish you guys would quit talking about that," a superstitious Snee joked Monday.)
But winning in December also means having an all-weather offense that can run the ball. The Giants look like a team that can. Brandon Jacobs, who has been reinstalled as the starter, rushed for 103 yards on just eight carries against Washington, and the Giants have a 1,000-yard rusher, Ahmad Bradshaw, sitting on the bench now behind him, at least until Bradshaw cures his fumbling problem. Not many teams have a one-two punch like that.
Coughlin's grip on this team seems unquestioned: Other than the Giants' surprising, feel-good run to the '07 Super Bowl, it's hard to remember a time when the Giants players were parroting the stuff Coughlin says, or volunteering praise for their detail-obsessed coach quite as much as they are right now. The ability of Coughlin and his staff to keep Jacobs on board after his benching, or plug in backups and waiver wire finds to help the Giants keep winning, has won him new respect. "Some of those guys haven't played football in months," Cofield marveled, adding he's "excited" to see what the offense can do when it gets all its pieces back.
Eli Manning could finally be over the interception bug: It's been a weird year for Manning. He's among the league leaders in both TD passes and interceptions. But he brought the team back late against Jacksonville, and the revival of the Giants' running game can only help him. Starting wideouts Hakeem Nicks and Steve Smith should be back soon, too.
The Giants actually say they like this idea of having to win out: And the Giants are actually building a little swagger. When asked if he was concerned about closing with three of their last five on the road, Snee shot back, "It depends if you're afraid of playing on the road. We're not."
Both he and Cofield also insist the Giants are finally a team that's determined not to repeat earlier mistakes. Cofield, for example, scoffs at the idea the Vikings could be a trap game for the Giants because the Eagles are just ahead after that.
"I don't see this as a trap game, I see a [Minnesota] team that's won two straight games" under a new head coach, Cofield said.
It was the perfect answer. Be it December, or not.
Johnette Howard is a columnist for ESPNNewYork.com. You can follow her on Twitter.
ESPN.com columnist
Johnette Howard is an award-winning writer and author who previously worked for Sports Illustrated, The Washington Post, and Newsday. She contributes general sports columns to ESPN.com and ESPNNewYork.com.
WEEK 17: GIANTS AT REDSKINS
EDITORS' PICKS
According to Phil Jackson, the '70s Knicks used to deflate basketballs.