Commentary
Mayweather is always worth watching
The brash boxer was in NYC to promote his next fight, a long-awaited return to the ring
Updated:
June 29, 2011, 11:27 AM ET
By
Michael Woods
| Special to ESPNNewYork.com
NEW YORK -- Floyd Mayweather is one of those entertainers who falls into the "either you love them or you hate them" category.
His fans (and there are hordes of them -- a few hundred queued at the Hudson Theater on West 44th St. in the blazing sun Tuesday to watch the news conference banging the drums for his Sept. 17 fight against Victor Ortiz) point to his stellar technique in the ring, the sweetly scientific skills that allow Mayweather to boast with some viability that he is an all-time, pound-for-pound great. Those who don't care for Mayweather most often cite his tendency toward boastfulness. They'll point out that he hasn't always appeared to seek out the stiffest challengers en route to piling up a 41-0 (25 KOs) record and six titles in five weight divisions.
[+] Enlarge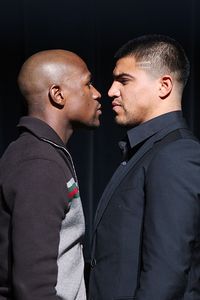 Daniel Barry/Getty ImagesFloyd Mayweather and Victor Ortiz will go toe to toe on Sept. 17.
Evidence suggests, though, that folks in both camps -- those who admire the brash hitter, and those who don't dig the antics of the man who in P Diddy-ish fashion rebranded himself "Money" after going by the "Pretty Boy Floyd" tag -- pay up to watch him fight.
Some stats to back that up: In seven pay-per-view fights, Mayweather has amassed 6.9 million buys and garnered $375 million in revenue; his 2007 fight with Oscar De La Hoya did a record 2.44 million buys and a record $137 million in revenue. Tune in to see him expertly ply his trade, or tune in to see him get his block knocked off -- either way, people tune in.
So the fight game, the fans, the haters and the suits who share in the take when Mayweather gloves up are all happy to see the 34-year-old back in the ring after 16 months away. He will allow the 24-year-old Ortiz (29-2-2, 22 KOs) -- a kid who came up the hard way in Kansas in a series of foster homes after being abandoned by his mother at age 7, and then by his father five years later -- a chance for a majestic signature win. Boxing fans have hungered for a couple years now to see Mayweather and the Filipino icon Manny Pacquiao face off for true bragging rights to the mythical pound-for-pound title. But a rumble with a young gun like Ortiz, coming off a stellar April win against WBC welterweight champion Andre Berto, has been met with an upbeat buzz on message boards and at water coolers.
It will be something of a relief for his backers to be able to focus on the in-the-ring element of Mayweather's life. He has been plagued by a series of brushes with the law in the past nine months. Charges are pending against the fighter for a September 2010 clash with his ex-gal pal, the mother of his three kids, all of whom were on the dais with the fighter and his posse Tuesday. Mayweather seems to butt heads with security guards wherever he goes as well. Two months after the domestic situation, he got into a dispute with a security guard at his residence and was charged with battery. A month after that, he was caught on tape getting into a beef with another guard at his community in Las Vegas.
On June 27, it was revealed that a man has filed a civil suit against Mayweather. The accuser says Mayweather, in May 2010, ordered his bodyguards to attack him at The Palms (Las Vegas) valet area. Mayweather's woes also include a pending defamation suit lodged by Pacquiao, who maintains Mayweather and his crew accused him of taking illegal performance-enhancers; a week ago Mayweather blew off a deposition session for that case.
So, one might think that these legal entanglements hang heavy on Mayweather's head -- that his ability to concentrate on the task of handling Ortiz, who has sent each of his foes to the canvas since he turned pro -- might be compromised.
Not so, said Mayweather on Tuesday. "Absolutely not," he maintained. "You go through certain things in life. Everybody has certain obstacles put in front of them."
He said that writers play up negative aspects of his behavior, and found a silver lining in his travails, as he thanked writers who spoke ill of him for keeping him "relevant."
Mayweather wouldn't explicitly say that some or all of the accusations stem from people looking to make a buck off him. But he did note that one specific allegation of misbehavior was proved false via a tape of one incident which was leaked to the gossip website TMZ. "Things happen, you live and learn, I don't worry about anything, what's going to happen in life is going to happen, the only thing you can do is only hope for the best."
Some wonder if Mayweather should worry if he will be a free man come Sept. 17. He is facing a bevy of charges. New York attorney Keith Sullivan, who is active in the fight game, offered ESPNNewYork.com his take on Mayweather's prospects in his legal battles.
[+] Enlarge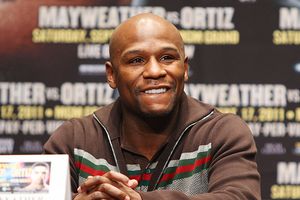 Daniel Barry/Getty ImagesMayweather also said on Tuesday that he does want to fight Manny Pacquiao.
"On the home front, he has a domestic violence charge pending, for the alleged assault on his ex," Sullivan said. "This case won't hit the courts until after the Ortiz fight. However, he is looking at four felony charges. He also has two pending misdemeanor assault cases involving security guards at his housing complex. One of the two is scheduled for trial on Sept. 1. His attorneys are likely to get this matter adjourned until after the fight."
"Manny seems poised to score a knockout victory against Floyd in the federal defamation suit," Sullivan continued. "Mayweather violated the judge's order to appear for a deposition in mid-June. Disobeying any judge is never good, but particularly a federal judge. Manny's lawyer will likely seek a default judgment against Floyd. If the two ever fight, Manny may be able to walk with both purses to satisfy the judgment.
"The most serious legal problem is the felony domestic violence charges. I suspect his legal team will do everything in their power to show the court that Floyd is contrite and willing to partake in anger-management programs and community service as punishment. This case hinges almost entirely on his ex's willingness to testify against him. He can run, slip, duck, bob and weave away from fighters, but the law is said to have a long arm for a reason, it always catches up to you."
Mayweather didn't seem like a rattled man Tuesday. He told media and fans that he'd like to fight maybe 10 more times, and that he does want to fight Pacquiao -- if Pacquiao agrees to super-stringent performance-enhancing drug testing, which Ortiz has agreed to. He talked of wanting to be a superlative family man and keeping his kids off the computer, lest they read inaccurate stories about their dad.
Backers will say he has matured. Detractors will say he is posturing.
But maybe people in both camps should root for Floyd to disentangle himself smoothly from the claws of the courts. As fan Anthony Ciarla, a 25-year-old from Bloomfield, N.J., who had a day off from managing the frozen food section at a supermarket, put it as he waited to get inside the theater: "His character is very good for boxing. He appeals to everyone. You either love him or hate him. You pay to see him either way."
Boxing
Michael Woods, a member of the board of the Boxing Writers Association of America, has been covering boxing since 1991. He writes about boxing for ESPN The Magazine and is the news editor for TheSweetScience.com.
EDITORS' PICKS
For the first time since Aug. 24, 2013, Mets ace Matt Harvey will take the mound.