Commentary
Not too late to honor George in Hall
Two wrongs make egregious slight if baseball can't even induct Boss posthumously
On the weekend of July 23-26, the National Baseball Hall of Fame in Cooperstown will induct Andre Dawson, Whitey Herzog and Doug Harvey.
Good men all, and deserving inductees.
But I defy anyone, New York Yankees lovers and haters alike, to make the case that any one of them -- or, in fact, all three combined -- made a bigger impact on Major League Baseball than George M. Steinbrenner III.
It was only nine days ago, on the occasion of his 80th birthday, when I wrote a column in this very space calling for the Veterans Committee to recognize Steinbrenner's legacy and vote him into the Hall of Fame while he was still around to enjoy it.
Today, on the day of his death, I renew the call on the premise that not even baseball can make the same mistake twice. They blew it on inducting The Boss during his lifetime. There's no reason to delay bestowing a much-deserved honor any longer.
[+] Enlarge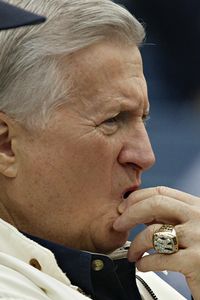 Saed Hindash/US PresswireThe Yankees earned seven of their 27 World Series championships on George Steinbrenner's watch.
Understand that the Hall of Fame does not include only "good guys" and so-called model citizens on its walls. If it did, the Hall would be pretty barren indeed.
But there is no way a place that purports to present the definitive history of baseball, warts included, can tell that story minus the inclusion of arguably the most influential figure in the game for the past four decades.
Over the past 30 years, the two biggest stories in baseball have been the resurgence of the New York Yankees and the proliferation of performance-enhancing drugs.
I don't expect Cooperstown to include a section commemorating the steroid era, although in the interest of full and honest disclosure, it should.
But there is no legitimate excuse for the Hall not to recognize the contribution of an owner who was among the first to see free agency for what it was -- an opportunity for the owners to improve their teams, not a death sentence for their profits -- and an entrepreneur who pioneered revenue streams every other team in every other sport came to follow, such as exclusive cable television deals and the creation of his own regional network.
And most of all, to acknowledge that in a sport full of owners who care less about winning than about pocketing as much cash -- most of it Yankees cash -- as they can, to Steinbrenner winning was always the most important thing. As Vince Lombardi is purported to have said, it was the only thing.
The $1.2 billion ballpark at the corner of River Avenue and 161st Street in the Bronx stands as a monument to the man who built it, and any definitive history of the New York Yankees has to include the name of Steinbrenner along with those of Ruth, Gehrig, DiMaggio, Mantle and Jeter.
"He's done the impossible," Yankees general manager Brian Cashman said to me last week. "He took an organization with the history of the New York Yankees and improved upon it. He took one of the world's greatest brands and made it better."
To understand the impact Steinbrenner has had on this franchise, consider this: If LeBron James were a baseball player, is there any doubt as to where he would be playing today?
Still, the last two times the Veterans Committee met to discuss and vote on the merits of a baseball executive for induction, the name George M. Steinbrenner III did not even appear on the ballot for consideration. He will not be eligible for consideration again until December 2011.
If his name is not on the ballot this time, maybe it is time to break up the Veterans Committee, or overhaul the way it goes about its business.
This group of 12 -- three veteran baseball writers, two former players, seven current executives -- wields the power over which executives get in and are kept out. The talk is that some of those current executives, several of whom gladly pocket millions of Yankees dollars as part of baseball's revenue-sharing plan, harbor resentment over the way the Yankees, led by the Steinbrenner family, do business.
That deep-seated resentment reared its ugly head at the last vote in December 2009, when Marvin Miller -- the pioneering head of the players association who was pivotal in opening the floodgates for free agency -- was denied election by two votes.
Of the seven executives, only two voted for Miller, who, like Steinbrenner, represents a part of baseball history a lot of owners would like to forget, or act as if it never existed.
But not only did it exist, it revolutionized the way the game was played among this rich-boys club that for too many decades treated its players like indentured servants.
Steinbrenner, of course, did not lavish millions on Reggie Jackson and Catfish Hunter and Dave Winfield out of the goodness of his heart, but out of his insatiable lust for winning -- or maybe his profound hatred of losing.
In any case, the Boss' way of doing business made for a great four decades of baseball for New York sports fans and spurred financial reforms that every team in the game benefits from, even if many of them choose to stash the extra cash rather than spend it on players.
Certainly, the Yankees biography of George Steinbrenner is not an entirely positive one. We all know the stories of bullying and bluster directed at everyone from Winfield to the lowliest office clerk. We know about the felony conviction for illegal campaign contributions in 1973, and the two suspensions from baseball, the second for paying a known gambler named Howie Spira to dig up dirt on Winfield.
Those, as a Hall of Fame executive quite rightly pointed out to me, can be interpreted as a violation of the "character, integrity and sportsmanship" portion of the Hall's entry qualifications, every bit as much as steroid usage can for a player.
And there's no doubt that the culture of Yankee Stadium, populated as it is on a daily basis by affluent fans with no tolerance for failure and little patience even for the slightest imperfection -- they begin to grumble if a Yankees pitcher goes to a 2-0 count -- is merely an extension of The Boss' own demands on his players and staff.
But if we limited the Hall of Fame only to guys who were exemplary human beings, on and off the field, not only would the Hall be empty but the story incomplete, and dishonestly told.
You can make the argument that if Col. Jacob Ruppert -- the man who changed the name of the New York Highlanders to the Yankees, put them in pinstripes and built the original Yankee Stadium right across the street from here -- isn't in the Hall, then neither should Steinbrenner.
But when you look at some of the executives who are in the Hall -- Bill Veeck, who made a mockery of the game by sending a 3-foot-7 batter to the plate, and Walter O'Malley, who tore the heart out of this town by taking the Dodgers from Brooklyn to Los Angeles -- it's a crime that Steinbrenner, who had nothing but reverence for his team, its legacy and the city it played in, has yet to be included on its walls.
Andre Dawson, Whitey Herzog and Doug Harvey are proud additions to the Hall of Fame, and their contributions should not be ignored.
But the omission of George Steinbrenner III is nothing for the Hall to be proud of. It is a shame that should be rectified, sooner rather than later, even if it is too late for him to enjoy it.
Wallace Matthews is a columnist for ESPNNewYork.com. Follow him on Twitter.
ESPNNewYork.com
Wallace Matthews has covered New York sports since 1983 as a reporter, columnist, radio host and TV commentator. He covers the Yankees for ESPNNewYork.com after working for Newsday, the New York Post, the New York Sun and ESPN New York 98.7 FM.
Follow Wallace on Twitter »
Chat archive »
GEORGE STEINBRENNER: 1930-2010
EDITORS' PICKS
Which will there be more of in 2015: A-Rod homers or Masahiro Tanaka starts?