Yankees remember The Boss, Sheppard
Updated:
July 17, 2010, 3:54 PM ET
By
Ian Begley
| Special to ESPNNewYork.com
NEW YORK -- From a stirring pregame ceremony to the impromptu memorial outside of Gate 4, George Steinbrenner's presence could be felt all over Yankee Stadium on Friday night.
The New York Yankees held a four-minute video tribute to Steinbrenner before they defeated the Tampa Bay Rays 5-4 on Nick Swisher's walk-off single -- the first Yankees game since Steinbrenner died on Tuesday.
More From ESPNNewYork.com

With somber hearts, the Bombers provided the perfect ending on a ceremonial night, pulling out a walk-off win for The Boss, writes Wallace Matthews. Story
•Begley: Rivera honors Steinbrenner
The ceremony opened with a recording from public address man Bob Sheppard, who died on Sunday, bellowing his trademark greeting to fans at the Stadium: "Good evening, ladies and gentleman, and welcome to Yankee Stadium."
Steinbrenner's tribute video featured quotes from current and former Yankees on Steinbrenner's legacy and footage of The Boss celebrating pennants and breaking ground for the new Yankee Stadium. Yogi Berra, Tino Martinez, Goose Gossage and Derek Jeter, among others, were featured in the video.
"In my opinion, he was the greatest owner in team sports," Martinez said.
The Yankees and Rays all lined up outside of the dugout rails to watch the tribute, which was played on the JumboTron in center field and followed by a two-minute ovation from the large crowd on hand in the Bronx.
When the ovation died down, Mariano Rivera jogged out to place two red roses wrapped in white and blue ribbon on home plate, a fitting way to honor the memory of Steinbrenner and Sheppard.
After Rivera laid the flowers at home plate, a recording of Sheppard's voice was played to direct fans' attention to behind home plate, where Derek Jeter spoke to honor the longtime owner and P.A. man.
"Simply put, Mr. George Steinbrenner and Mr. Bob Sheppard both left this organization in a much better place than when they first arrived," Jeter said in his address to the crowd. "They've set the example for all employees of the New York Yankees to strive to follow."
Jeter then asked the crowd to join him in a moment of silence, which was followed by a rendition of "Taps" played by Staff Sgt. Mikki Skinner, a bugler with the West Point Band.
[+] Enlarge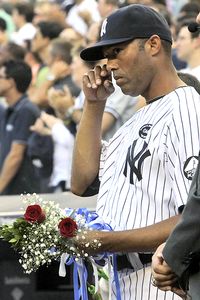 AP Photo/Frank Franklin IIAn emotional Mariano Rivera wipes back tears before laying roses on home plate during Friday's pregame tribute to George Steinbrenner and Bob Sheppard.
The Yankees also placed a wreath in front of the Steinbrenner statue in the Gate 2 executive lobby and in front of Sheppard's plaque in Monument Park before the game.
Perhaps the most fitting tribute to Sheppard on Friday was the fact that Paul Olden, current Yankees public address announcer, was silenced for the night. There were no pregame lineups and no hitter announcements from Olden.
Even the Bleacher Creatures' "roll-call" greeting of players was canceled on Friday night -- according to a sign in the right-field bleachers -- to honor the memory of Steinbrenner and Sheppard.
Outside of the stadium, the memorial to Steinbrenner at Gate 4 that began on Tuesday morning grew in size and scope. Fans placed candles, flowers, cards, newspaper clippings, empty beer cans and Yankees hats and jerseys on the ground to honor Steinbrenner and Sheppard.
Perhaps the most fitting tribute was a blue blazer and white turtleneck -- Steinbrenner's trademark look -- placed on the ground with a card in the front pocket that read: "Long live the spirit of the Boss."
"He deserves it," said Stewart Fellner, a season-ticket holder from Wantagh who soaked in the tribute before the game. "I wasn't going to come, but I said 'I have to go, I have to pay my respects.'"
The Yankees also wore memorial patches for Steinbrenner and Sheppard. Steinbrenner's was over the heart, right above the interlocking "NY," and Sheppard's was sewn onto the left sleeve.
"We'll be reminded every day by what's on our jerseys that the Boss is watching from above," Joe Girardi said.
Ian Begley is a regular contributor to ESPNNewYork.com.
ESPN New York Writer
Covers the New York Knicks for ESPNNewYork.com
GEORGE STEINBRENNER: 1930-2010
NEWS AND COMMENTARY
ESPNNEWYORK.COM
GALLERY
VIDEO
ESPN RADIO
ESPN THE MAGAZINE
SPORTSNATION
EDITORS' PICKS
If A-Rod can pull off this comeback, it would be a remarkable story.