Commentary
Amare's playoff dream comes true
The Bockers are in -- just like Marbury's '04 squad. But can they elevate their game?
Updated:
April 4, 2011, 10:41 AM ET
By
Chris Sheridan
| ESPNNewYork.com
NEW YORK -- In the confines of the New York Knicks' locker room after they did something they hadn't done in seven years, Mike D'Antoni singled out one player whose hand he especially wanted to shake.
It was the player who started the Knicks' current resurgence way back in the first week of last July, back before "The Decision" had been made (and became infamous), before the possibility of trading for Carmelo Anthony was even on anyone's radar, before this season of highs, lows, fits and starts was anywhere near beginning.
That player was Amare Stoudemire, who sat in his corner locker stall as D'Antoni approached, and stuck out his right hand to receive the congratulatory gesture.
[+] Enlarge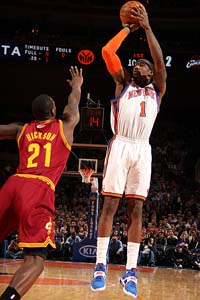 Nathaniel S. Butler/NBAE/Getty ImagesWill Amare Stoudemire's Knicks take their game to a higher level in the playoffs?
"I think he was very appreciative that I was strong enough to come here in a situation where it wasn't looking great, and secondly to take the challenge upon myself, and us as a team, to speak so bold at the start of the year about the Knicks were back. And now to finally be in a position where we're now in the playoffs," Stoudemire said, "we're in a position to think we can do something special."
The Knicks qualified for the playoffs Sunday evening by defeating the Cleveland Cavaliers 123-107 in a game in which they blew all but two points of a 22-point lead, then turned up the intensity down the stretch to pull away from a team that had defeated them three times this season despite having the worst record in the NBA.
The formula for success was exactly what it'll need to be if the Knicks are indeed going to do anything special in the playoffs, as Stoudemire hopes they will.
Stoudemire scored 28 points, Anthony had 25, Chauncey Billups scored 23, the bench players contributed 26 and the Knicks knocked down 10 3-pointers, improving to 25-7 when they reach double figures in that all-important category.
When the Knicks emerged from the final timeout with 2:58 remaining holding a 15-point lead, Stoudemire, Anthony and Billups were still on the court -- a sign, it seemed, that D'Antoni wanted to make absolutely, positively certain that one of the goals he set when he arrived here nearly three years ago would be accomplished right here and now.
"Got to get in the playoffs, plus, if I'm not mistaken, that first half we were up 20, and one minute passed by and we were up 8," D'Antoni explained. "So it was kind of fresh in my mind that Baron Davis went off for about 11 points in about one minute, and he was still out there, and it scared me. So that was the reason."
The Knicks appear locked into the seventh position, though there is a chance they could rise to No. 6 if they can string together enough victories over their final six games to catch the Philadelphia 76ers.
But either way, they look set to be matched up in a first-round playoff series against either the Miami Heat or the Boston Celtics -- and the first order of business will be to steal one of the first two games on the road and deliver the franchise its first playoff victory in a decade.
The win was the Knicks' third in a row, coming after they had a three-day break following a brutal month of March in which they played 18 games in 30 days, lost nine of 10 in one stretch, went through some inner turmoil as Anthony resisted buying into D'Antoni's offense, then emerged looking like a team that might just have enough scoring and veteran leadership to throw a scare into someone.
Knicks Blog

Looking for more Knicks news? ESPNNewYork.com has you covered. Blog »
Yes, they are still undersized and don't defend very well near the basket. But the Knicks are now playing with a fluidity that was absent just a week ago as they were still struggling to integrate the new players into the offense. And they are learning more and more that they may have acquired a hidden gem in Anthony Carter, whose ability to come in and steady the offense has been on display over this modest winning streak as Landry Fields (1-for-6 Sunday night) has continued his own personal production slide.
Billups reached the 20-point mark for the seventh time in his 16 games with the Knicks, while Anthony had his streak of eclipsing 35 points in three straight games ended. Still, Melo scored at least 20 for the eighth consecutive game and the 19th time in 22 games since being acquired from the Nuggets, and Stoudemire reached the 20-point plateau for the 60th time this season and led the team in scoring for the 49th time.
"The one quality I wanted to bring was leadership, and to help us become a better team and to start affiliating ourselves with winning basketball," Stoudemire said. "I think we did a great job of learning on the fly to accomplish our goal of making the playoffs."
It is time for a new goal now, as the Knicks have leaned on the "making the playoffs" benchmark like it was a crutch.
For those with short memories, the Knicks were pretty elated back in 2004, too, when they qualified for the playoffs following the addition of Stephon Marbury.
But they went down quick, losing big in their first two games at New Jersey before being swept by that Nets team in Games 3 and 4 at the Garden, where they were booed off the court and into the summertime.
New York is a city of instant gratification, and though Knicks fans are happy with the postseason berth, they want more. They are looking at the two possible first-round opponents, and they are seeing this:
• A Boston team that depleted itself of one of its best weapons, Kendrick Perkins, in an ill-advised mid-February deal that altered the chemistry of the team and precipitated a tailspin out of the top spot in the Eastern Conference where the Celtics had been perched for a majority of the season. To Knicks fans, that Celtics team is vulnerable.
• A Miami team that will be under unprecedented pressure when the playoffs arrive, its superstar threesome a notch better than New York's best three players, but also a team whose best interior defender and Stoudemire-stopper, Udonis Haslem, has missed the majority of the season. To Knicks fans, that Heat team is vulnerable.
So the Knicks now have a day or two or 10 to feel good about themselves, to keep one eye on the race for the 2-3 spot in the East, and to continue to show the same signs of cohesion and chemistry that have begun to appear.
On offense, the ball is moving and the players are moving, and the tempo has picked up.
On defense, what the Knicks lack in height they have made up for in the form of deflections and steals that have helped them push the pace the way all successful D'Antoni-coached teams have pushed it.
The question now is what level of expectations the Knicks will place on themselves in the postseason, and whether those expectations match up with those of their fans.
Folks in New York know this is only Year 1 of a five-year pairing of Stoudemire and Anthony, but they aren't willing to wait even a fraction of that time for things to get quantifiably better.
That process begins with one postseason win, and then another, and then another. And the bottom line is this: The Knicks haven't accomplished anything that Marbury didn't accomplish. Are they going to bring it to a higher level? For the first time in seven years, we shall see.
EDITORS' PICKS
Which will there be more of in 2015: A-Rod homers or Masahiro Tanaka starts?
Adidas Men's New York Knicks Amar'e Stoudemire #1 Home White Replica Jersey Shop »