Coverage: TNT
7:00 PM ET, May 14, 2014
AmericanAirlines Arena, Miami, FL
Top Performers
BKN: J. Johnson 34 Pts, 7 Reb, 3 Ast, 1 Stl
Mia: L. James 29 Pts, 9 Reb, 5 Ast, 1 Blk
MIAMI -- LeBron James leaped onto a courtside table as the postgame celebration began, thumped his chest and punched the air.
Next stop: the Eastern Conference finals. Again.
James scored 29 points, Dwyane Wade added 28 and Ray Allen delivered two huge plays in the final seconds as the Heat rallied to beat the Brooklyn Nets 96-94 on Wednesday night, winning the second-round matchup 4-1.
More from ESPN.com

The clincher against the Nets was another remarkable one from this Heat team, which has grown accustomed to finishes that mix frantic and poise, Israel Gutierrez writes. Dime
---

The Nets need a go-to guy to make the winning shot and get calls down the stretch. Miami showed that they don't have that player on their $200M roster, Ohm Youngmisuk writes. Story
• Stats & Info: Stats to know
• JJ deserved better | Offseason Q's
• Stein: Summer Scoop on Nets
• Roster Reload: Brooklyn Nets


• Grades: Heat 96, Nets 94
• Heat Index | ESPN New York
"It's always been like that for us," James said. "It's never easy. It's never easy for us."
It sure looks easy, though. It was the 10th straight series win for the two-time defending NBA champions.
"When we met the first day for prep, we said the No. 1 key, overwhelmingly the No. 1 key in this series, was great mental stability," Heat coach Erik Spoelstra said.
"That's what it was down the stretch ... incredible focus."
Incredible defense, too, when it was needed most.
Down by eight with less than five minutes left, the Heat forced Brooklyn into nine straight missed shots while peeling off a 12-0 run to take the lead. Allen's 3-pointer off an assist by Mario Chalmers with 32 seconds remaining was the go-ahead moment, and the Heat wouldn't trail again.
Allen disrupted Joe Johnson's dribble on the game's final play, James then swiped the ball out of everyone's reach, time expired -- and the Heat advanced.
"Give the Heat credit," Nets coach Jason Kidd said. "They were attacking there in the fourth quarter. We were attacking. Both teams were attacking. They made plays, they made shots and we didn't."
Chris Bosh scored 16 and Allen finished with 13 for Miami. Johnson had 34 points, Paul Pierce scored 19 and Deron Williams had 17 for the Nets.
It's the sixth trip to the East title series in the past 10 seasons for Miami, which is bidding for a fourth straight trip to the NBA Finals -- something only the Lakers and Celtics franchises have accomplished.
James is heading to the East finals for the sixth time in eight seasons, the first two of those trips coming with Cleveland in 2007 and 2009.
The Heat will next face either fifth-seeded Washington or top-seeded Indiana. The Pacers lead that series 3-2, one win away from setting up a rematch with Miami that seemed like an absolute certainty for much of the season.
Nets: Take 'Em or Trash 'Em?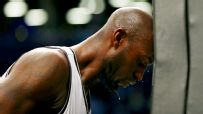 The Nets now have just one season to carry out Mikhail Prokhorov's plan of winning a title by '15. If you were GM, what would you do? Vote Now!
"Obviously, we thought this was a game we should have won," Johnson said.
Brooklyn led 49-42 at the half, with Miami missing 15 of its first 16 tries from 3-point range. The Nets closed the half on an 8-0 run, and the lone bright spot in the opening 24 minutes for Miami was Wade, who had 20 points -- more than any other two players to that point combined -- on 7-for-12 shooting.
"He has a way, right? He's a playoff warrior," Spoelstra said.
Eventually, barely, Miami broke through. But it took most of the second half to get there, since whenever Miami tried to put together a run, Brooklyn found a way to keep things together.
• A layup from James late in the third got the Heat within three; a minute later, the margin was eight again.
• A free throw from James with 9:03 left cut Brooklyn's lead to 77-73; less than a minute later, it was 82-73 after a 3-pointer by Pierce.
• A 3-pointer by Bosh made it a four-point game again; two Brooklyn possessions and zero Miami stops later, it was 86-78 after a sensational step-back jumper by Johnson. And when Johnson connected on another tough shot with 4:49 left, it was 91-83 and the Nets could sense the night would be theirs.
Then the Heat scored the next 12 points, and that was enough.
Barely, but enough.
"For us, it was just about getting stops," Wade said. "We knew offensively that we needed to execute, but we knew we weren't going to win the game unless we got some stops."
For the Nets, more than $180 million in salary and luxury tax was supposed to bring a championship. Instead, billionaire owner Mikhail Prokhorov got only a trip to the second round as his return on a massive investment. Brooklyn lost center Brook Lopez to a broken foot after 17 games, struggled through the first two months of the season, then turned it on after Jan. 1.
"We fought back and hung in there this year," Williams said. "A lot of people counted us out."
Some big decisions -- mainly regarding the futures of Pierce and Kevin Garnett -- will have to be made by the Nets. Pierce will be a free agent; Garnett has a year left on his deal, although it has been speculated he will consider retirement.
Garnett left without comment.
"Emotions are too fresh right now," Pierce said.
Miami's future is more clear. The East finals await.
Game notes
Wade had 12 points in the first quarter, his highest-scoring output in an opening period in his past 179 regular-season and playoff games. ... Both of Johnson's 30-point games in these playoffs came on the road. He had 32 at Toronto on April 30.
Copyright by STATS LLC and The Associated Press
Photo Wire
MIAMI, FL - MAY 14: Joe Johnson #7 of the Brooklyn Nets warms up before a game against the Miami Heat in Game Five...
(Photo by Nathaniel S. Butler/NBAE via Getty Images)
Around The Association
MVP: After a slow start, LeBron James scorched the Nets in the second half, scoring 29 points overall, 15 of which came from the free throw line. Perhaps LeBron's most valuable play came on the game's final possession, locking down Joe Johnson and preventing him from tying the game.
X factor: When nothing seemed to be working for the Heat, especially their outside shooting, Chris Bosh was there to pick them up. Bosh hit four 3-pointers, most of which came during the Heat's furious fourth-quarter rally.
Defining moment: Ray Allen wasn't at his best, but he came up big when it mattered most. With 32 seconds remaining, Allen hit a corner 3-pointer to put the Heat ahead for good and advance them to the Eastern Conference finals.
Research Notes
The Heat needed a 13-3 run to close out the Nets in Game 5 but Miami remained perfect in the Big 3 era (since 2010-11) when leading 3 games to 1 in a series.
[+]
Including luxury tax, it cost Nets owner Mikhail Prokhorov a league-high $193M to field his team this season. No picks in 2014 NBA Draft $85.1M in guaranteed contracts in 2014-15 (projected salary cap is $63.2M) Best free agency tool: Taxpayer mid-level exception (can sign any free agent to a contract with a starting salary up to $3.3M)
Paul Pierce
: unrestricted free agent
Kevin Garnett
: entering final season of current contract (the $12M he's due to make is fully guaranteed - was only $6M guaranteed at the time he signed the contract with the Celtics but the Nets agreed to make it fully guaranteed when Garnett agreed to waive his no-trade clause)
Andrei Kirilenko
($3.3M),
Andray Blatche
($1.4M) and
Alan Anderson
($1.1M) have player options.
Ray Allen
improved to 10-of-16 on game-tying or go-ahead 3-pt FG in the final minute in the 4th quarter or overtime in his postseason career. That is the best percentage on such shots in the playoffs since he entered the league. It was his first go-ahead 3-pointer in such situations since Game 6 of the NBA Finals last year against the Spurs.
[+]
Dwyane Wade
scored a playoff-best 28 points Wednesday, 20 of which came in the first half. Wade was successful driving to the hoop, nearly doubling his playoff average (4.4 PPG).
[+]
From Elias: With tonight's win, the Heat have reached their fourth straight conference finals since the start of the Big Three era. All four of the other teams on this list also hail from the Eastern Conference with the West being too competitive for any team to sustain this kind of success the last quarter century.
[+]
Joe Johnson
scored a game-high 31 points, shooting 6-of-6 for 13 points through the first three and a half quarters when
LeBron James
was his primary defender. James locked down Johnson in the game's final 5 minutes, holding him to 0-of-2 from the field and preventing him from getting a shot off on the game's final play.
LeBron James
is averaging 30.1 points and has an effective field goal percentage of 62.3 this postseason. That would be the highest effective field goal percentage in a single postseason in NBA history by a player that averaged 30+ PPG (min. 300 minutes played). Entering this postseason, there were 51 instances of a player averaging 30+ PPG in a single postseason while playing at least 300 minutes.
[+]
Dwyane Wade
scored 1 point per every touch he made in the first half, almost tripling his points per touch rate (0.36) from the first 8 games of the playoffs. He was also aggressive, shooting 3-of-3 on drives 6-of-6 at the free throw line.
[+]
The Heat were 1-of-16 from 3 in the 1st half. The 15 misses are their most from behind the arc in FIRST half in the Big 3 era (since 2010-11), including the playoffs.
Through 8 games,
LeBron James
has posted a player efficiency rating of 33.4, a mark that would be the 3rd-highest all-time in a single postseason among players that logged at least 300 minutes. James holds the all-time mark of 37.4 set back in 2009 and George Mikan sits in second on that list with a PER of 33.6 in 1954.
Michael Jordan
's highest PER in a single postseason was 32.0 back in 1991 when he captured his first title.
Kevin Durant
, this season's MVP, has posted a PER of 22.7 this postseason.
Dwyane Wade
(MIA): 20 points in 1st half tonight matches season-high for either half. He scored 20 in the 1st half against the Cavaliers on December 14 (only other 20-point half of the season).
Joe Johnson
was 15-of-23 (65.2 percent) from the field in Game 5, the highest field goal percentage by a Nets player in the postseason (min. 20 FGA) since
Vince Carter
was also 15-of-23 in 2007 against the Raptors. It's the third-highest field goal percentage by a player in a losing effort in the postseason in the last three years, minimum 20 FGA.
[+]
From Elias:
LeBron James
is one of four players in NBA history averaging at least 25 points, 5 rebounds, and 5 assists in games with a chance to clinch a postseason series.
[+]
Chris Bosh
(MIA): 4-6 on 3-pointers, tied for his most makes in a playoff game (Game 2 vs Bobcats in 1st Round)
LeBron scored 49 points in Game 4... so what will he do for an encore? The last time he scored 49 points in a playoff game, LeBron backed that up with 35 points in a victory.
LeBron James
is averaging 33 points, nearly 10 rebounds and shooting just shy of 40 percent from 3-point range after 40 point games in a single postseason. More importantly, his teams are 7-and-3 in those contests... 5-0 when playing at home.
[+]
The Heat are 8-0 at home in potential series-clinching games in the James-Wade-Bosh era (since 2011 playoffs).
[+]
ESPN Stats & Information