Coverage: ESPN/WatchESPN
6:30 PM ET, February 1, 2014
Carrier Dome, Syracuse, New York
Top Performers
Duke: A. Jefferson 14 Pts, 7 Reb, 5 Ast, 1 Stl
Syracuse: J. Grant 24 Pts, 12 Reb, 1 Ast, 1 Stl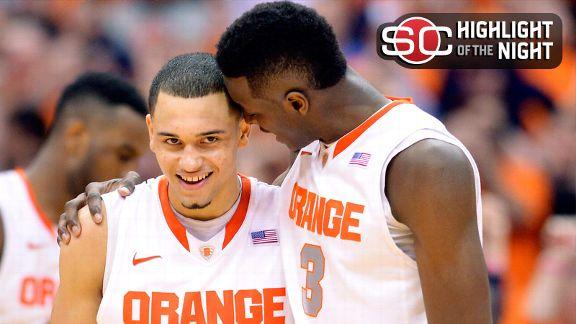 Syracuse Downs Duke In OT Thriller
SportsCenter Highlight of the Night: C.J. Fair scored 28 points to lead No. 2 Syracuse to a 91-89 overtime win over No. 17 Duke.
Tags:
C.J. Fair
,
Jabari Parker
,
Syracuse
,
Duke
Syracuse Downs Duke In OT Thriller
VIDEO PLAYLIST
SYRACUSE, N.Y. (AP) -- Students have been camped at Boeheimburg outside the Carrier Dome for nearly two weeks in bitter cold, with a few fans having paid for their Syracuse season tickets by making the shrewd financial decision to sell their seats for home game No. 13.
The head coach simply shrugs."I've coached 1,000 games. That's too many games to get excited about one game," said Jim Boeheim, head coach of the unbeaten No. 2 Orange. "It's a 31-game regular season and every game is important, every game counts the same, and you have to approach it that way."Maybe for the coaches, but not the fans. This upstate New York city is abuzz as it awaits the arrival of No. 17 Duke -the new Georgetown on the Syracuse schedule. Yes, the Carrier Dome will be overflowing on Saturday night on the eve of the Super Bowl, and this key Atlantic Coast Conference game is a big deal.It will feature two Hall of Fame coaches -- and two good friends who have twice won Olympic gold together as colleagues -- with a combined 1,914 wins: Duke's Mike Krzyzewski (974) and Boeheim (940), the top two all-time in Division I.They're also the only coaches in history to win more than 900 games at one school, with the 69-year-old Boeheim ahead in that category at 940 in 38 years at his alma mater and Krzyzewski at 901 in 34 years at Duke.When Syracuse faced Connecticut in the 2012 Big East quarterfinals, Boeheim and former Huskies coach Jim Calhoun had a combined 1,760 wins."It will be an historic game," Krzyzewski, soon to be 67, said. "The fact that Jim and I, total, have won over 1,900 games, it's never been done. He and I talked about it this summer because we worked together the past 10 years with USA Basketball, that every time we go on the court, it will be something special."Despite those imposing numbers, the two coaches have squared off against one another just twice, and each has one victory. Duke won the last meeting, 80-67, in the 1998 NCAA tournament's South Regional, and Syracuse won the first, 78-76, in the 1989 ACC-Big East Challenge in Greensboro, N.C.With Syracuse in the ACC now, the teams will double that total this season in a three-week span when the Orange visit Cameron Indoor Stadium later this month."Coaching is such a competitive field," Boeheim said. "You're not going to have a lot of friends in coaching because you're trying to beat each other's brains in for the most part."These two are different. As the architect of the U.S. Olympic basketball team, Jerry Colangelo has a pretty good idea of why the two teams have played each other only twice in the past 25 years."There are a lot of reasons why schools play each other and personalities have something to do with it," Colangelo said. "There is so much respect in this relationship that it probably has a bearing on why they haven't played. They want to do things their own way. Why compete with a friend? Why get involved in your own backyard against one of your best friends?"They've been friends for a long, long time," Colangelo added. "They're two Hall of Fame coaches, two of the most successful coaches in the history of the game. It's going to be exciting to see them compete against one another in the ACC."Besides the requisite bragging rights for the fans, there's something at stake for No. 2 Syracuse (20-0, 7-0 ACC). The Orange lead the ACC in their first season in the conference and have matched the school record of 20 straight wins to start a season, set two years ago when they lost only once during the regular season.Duke (17-4, 6-2) is fresh from an impressive 80-65 win at No. 18 Pitt on Monday night and seems to be hitting its stride with a five-game winning streak. The Blue Devils made 13 of 25 3-point attempts in handing the Panthers their first loss this season in the intimidating Petersen Events Center, putting up the most points the Panthers have allowed all year.Syracuse beat Wake Forest 67-57 on the road Wednesday night, handing the Demon Deacons their first home loss of the season, but it was a struggle. The Orange shot 36 percent and missed a third of their 33 free throws, but again found a way to win like they have so many other times this season."For us, we've been good, and (Syracuse has) been really good," Krzyzewski said. "So a lot of people want to see what happens when two really good programs get together and two guys who have been coaching a long time get together. Hopefully, the game will measure up to the buildup."A year ago, Syracuse's final Big East home game against heated rival Georgetown drew a Carrier Dome record 35,012, and this game likely will break that mark with a projected attendance of 35,446. This will be the third straight home game attendance of more than 30,000, only the third time that's happened since the Carrier Dome opened in 1980."It's exciting," said Duke guard
Andre Dawkins
, the outside threat that can cause big problems for Boeheim's signature 2/3 zone defense. "As fun as it is to ... play in front of our fans, it's also fun to go into someone else's gym where everyone hates you. It's exciting. It doesn't get old for us."Overall, the school rivalry stands at 4-4. Syracuse also beat the Blue Devils 74-72 in the ECAC Holiday Festival in New York City in December 1971, when Roy Danforth was the Orange head coach and Boeheim's pro career with Scranton in the old Eastern League was nearing an end.Coincidentally, Boeheim played in the first game between the schools, a 91-81 Duke victory in the NCAA East Region on March 12, 1966, in Raleigh, N.C. In Boeheim's last college game, he scored 15 points, just above his average of 14.6 his senior year.
Gameday Matchup
| | DUKE | SYR |
| --- | --- | --- |
| W-L | 24-7 | 27-4 |
| Avg Points | 79.8 | 68.3 |
| Avg Points Allowed | 67.1 | 59.3 |
| Home Record | 17-0 | 16-2 |
| Road Record | 4-5 | 8-2 |
| Current Streak | W1 | W1 |
School Info
| | DUKE | SYR |
| --- | --- | --- |
| Conference | ACC | ACC |
| Nickname | Blue Devils | Orange |
| Type | Private | Private |
Research Notes
Duke averages 121.1 points per 100 possessions, the second-best offensive efficiency in the nation. The Blue Devils scored 80 points in 61 possessions during their win at Pittsburgh, the highest offensive efficiency (131.1) allowed by the Panthers since Nov. 16, 2011, when Long Beach State scored 86 points in 65 possessions (132.3).
[+]
*
Jabari Parker
has attempted 67% of his field goals in the paint during his last four games after attempting 37% of his shots in the paint in his first four conference games.
[+]
Syracuse has been tied or behind at the 5 minute mark in the second half in five games this season, including in two of its last three games. In those five games, the Orange outscored their opponents by 37 points the rest of the way, thanks in part to freshmen guard
Tyler Ennis
. If Ennis produced at the same level for the whole game that he does in the final 5 minutes, he would average 28.3 points, 7.5 assists and 0 turnovers.
[+]
Syracuse rebounds 40% of its missed shots, the best offensive-rebounding percentage in the ACC and 10th best in the nation.
Syracuse allows 20.3 points per game in the paint, second fewest by a major conference team behind SMU (19.4). The Orange are allowing 18.6 points per game in the paint in ACC games, fewest for any major conference team.
From Elias: Syracuse is 6th ACC team to start 21-0 or better.
[+]
Duke has lost 4 straight road games vs top-2 opponents, after winning back-to-back road games against top-2 opponents. In those 4 losses, the Blue Devils have been outscored by 14.0 PPG. Their last road win vs a top-2 opponent was on Nov. 26, 1997 (at 1 Arizona).
[+]
All six of
Jabari Parker
's made field goals came from inside the paint Saturday. Parker missed all three of his attempts outside the paint.
[+]
C.J. Fair
scored 18 of his career-high 28 points in the paint Saturday. Fair scored 13 more points than
Jabari Parker
, who fouled out with 1:42 remaining in the second half.
[+]
Syracuse scored a season-high 1.34 points per possession (91 points in 68 possessions) in its win Saturday against Duke. The Blue Devils averaged 1.29. Combined, it was the second-most efficient game this season between two major conference teams. The average for a game between two major conference teams is 1.04 points per possession.
[+]
Syracuse shot a season-high 57.4% in its win over Duke on Saturday. It's the best the Orange shot since they shot 59.3% against UConn on February 11, 2012.
Duke scored 45 of its 89 points from the 3-point line Saturday and 32 points in the paint. The Blue Devils went scoreless on four mid-range field goal attempts.
[+]
Syracuse's final 23 points came from inside the paint or at the free-throw line. For the game, the Orange outscored Duke by 10 points in the paint and 14 points at the free throw line.
[+]
Tyler Ennis
had 3 assists and 0 turnovers in the final 5 minutes of the 2nd half and overtime against Duke. He had 8 points on 1-1 FG and 6-6 FT during that span. For the season, Ennis now has 17 assists with 0 turnovers while shooting 50 percent from the field after the 5 minute mark of the 2nd half.
[+]
ESPN Stats & Information