Commentary
Fewell knows Garrett's situation well
Once an interim head coach in Buffalo, the Giants' D-coordinator knows what to expect
Updated:
November 14, 2010, 11:35 AM ET
By
Ohm Youngmisuk
| ESPNNewYork.com
EAST RUTHERFORD, N.J. -- No one knows what to expect from Jason Garrett and the remodeled Dallas Cowboys on Sunday.
But the man who will try to stop Garrett's offense knows exactly how the Cowboys' interim head coach is feeling and what he will go through the rest of this season.
New York Giants defensive coordinator Perry Fewell served as interim head coach of the Buffalo Bills for the final seven games of last season, going 3-4.
[+] Enlarge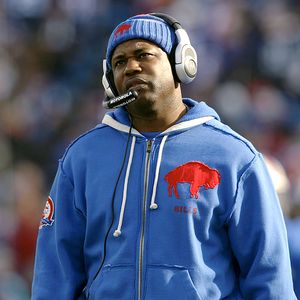 AP Photo/Mike GrollPerry Fewell was 3-4 as the Bills' interim head coach in 2009.
He didn't have the keys to America's Team like Garrett does now, but he knows how everything changes when the job description changes from coordinator to head coach.
"A lot of sleepless nights because when you take over something like that, now you're worried about offense, defense and special teams," Fewell said. "As a head coach, you really interact with all of the players. The media demands are much more on your time. You have to be very good at time management when you take on that challenge.
"I used to think that the head coach didn't do very much," he added while chuckling. "Just stood around yelling at the assistants. But when I got the job, I found out that he does a lot more than I thought."
When the Cowboys (1-7) limp into the new Meadowlands stadium, playing to save face, Garrett's debut will hinge largely on whether he can find a way to beat Fewell's defense. Fewell orchestrates the top-ranked defense in the NFL and has excelled so much that the former interim head coach could be a head-coaching candidate at the end of this season.
It's an idea the Giants' defensive players don't even want to entertain, considering they are just now falling in love with a defensive coordinator again after Steve Spagnuolo broke their hearts and left to coach the Rams following the 2008 season.
Defensive end Justin Tuck was asked by the Dallas media about Fewell's head-coaching makeup. Tuck joked that Fewell will make a "horrible, horrible head coach."
"Nah, can't have him," Tuck said. "We are going to keep Perry for a little while here. If anybody asks me if Perry is going to be a good head-coaching candidate, I am going to say no."
Five Things To Watch

1. Eli the Man: Outside of 11 interceptions, Eli Manning has been terrific. The Cowboys got a taste when Manning completed 25 of 35 passes for 306 yards and four touchdowns against them last month. Manning did throw three picks -- two on his first four pass attempts that went off the hands off his receivers -- but he absolutely shredded the Cowboys' secondary otherwise. Considering that Dallas surrendered 11 passing touchdowns in its last three games, this has the makings of another big Eli effort.

2. Hakeem the Dream: With Steve Smith nursing a pectoral injury, Hakeem Nicks likely will have to carry the load. Nicks torched the Cowboys for nine receptions for 108 yards and two touchdowns in their last meeting. Mario Manningham will also likely play a bigger role; he had his best day as a pro against the Cowboys last year with 10 catches for 150 yards and one touchdown in Dallas. Ramses Barden could also get a crack at the Cowboys.
3. Expect the unexpected. With a new head coach (Jason Garrett) and new defensive coordinator (Paul Pasqualoni), Dallas is somewhat of a mystery; the Giants aren't sure what to expect schematically from their remodeled foe. They are bracing for Dallas' best shot. After all, if the Cowboys can't play inspired football after a coaching change against their chief rival, they never will.
4. Be the beast: The Giants can stake an early claim to the NFC East, starting this week. With a monster game looming at Philadelphia the following week, the Giants can potentially be 8-2 overall and 3-0 in the East by beating division rivals in consecutive weeks. That would put the Giants in the division driver's seat.

5. Line dancing: The Giants' offensive line is in flux due to injuries to center Shaun O'Hara and left tackle David Diehl, and it will have to find a way to hold up against a talented Dallas pass rush. Rich Seubert likely will start his second straight game at center. Shawn Andrews likely will make his second consecutive start at left tackle and recently activated Kevin Boothe could make his season debut at left guard. Rookie Mitch Petrus could see action at guard as well.
-- Ohm Youngmisuk
Tuck fully understands that if the Giants (6-2) keep winning and keep smothering opposing offenses, Fewell will be a hot candidate, even perhaps for the Cowboys if things don't go well for Garrett.
Fewell, 48, has the Giants ranked first in total defense, second against the pass and second against the run. In the Giants' six victories, Fewell's defense has held opponents to an average of 54.3 yards rushing.
Osi Umenyiora is playing at a Pro Bowl level again with eight sacks and seven forced fumbles. The front four have been terrific, middle linebacker Jonathan Goff has exceeded all expectations and the Giants' secondary is shining with Fewell's three-safety look.
"What he has been doing, honestly, has been a masterpiece," safety Antrel Rolle said.
Should the Giants sweep the Cowboys and find a way to bottle up Michael Vick and beat the Eagles next week in Philadelphia, Fewell will be hotter than the new, record-breaking "Call of Duty: Black Ops" video game.
"I'm just trying to keep the job I've got right now," Fewell said. Garrett understands the feeling. He has an eight-game audition to prove to Jerry Jones he's the right man.
Fewell managed to win three games after taking over for Dick Jauron. Considering how the winless Bills are doing this season, Fewell deserved a lifetime contract and a parade.
Like Fewell tried to do in Buffalo, Garrett's first order of business was to change the culture of the Cowboys. He had the team practice in full pads on his first day of practice Wednesday.
"It's the chance of a lifetime for him," Fewell said. "He wants to see if his team is going to give the type of effort that he's looking for, and he's going to evaluate that on a daily basis -- not only his players, but his coaches, also."
Fewell said the Cowboys will become a reflection of Garrett in time. But that might be the only thing that will go at a slow pace for Garrett.
When a coordinator moves up to head coach, the responsibilities can be overwhelming, from handling the media to overseeing the schedule and all aspects of the team. Fewell did all this while still calling the Bills' defense.
"It was all-encompassing," Fewell said.
Now, Fewell gets to concentrate on just stopping an offense every week and Garrett stands in his way this week. He was asked what advice he would give the Cowboys' new coach if Garrett called him.
"Have fun," Fewell said.
Of course, if Fewell has his way, Garrett will be miserable Sunday.
"He's tried to send a message," Fewell said of Garrett's decision to make his team practice in full pads. "Maybe he wants to be a little bit more physical; maybe he wants to run the football a little bit more. It's our job to try to destroy the run, so we can change that. We can dictate what he wants to do."
Ohm Youngmisuk covers the Giants for ESPNNewYork.com. Follow him on Twitter.
ESPNNewYork.com
Ohm Youngmisuk has covered the Giants, Jets and the NFL since 2006. Prior to that, he covered the Nets, Knicks and the NBA for nearly a decade. He joined ESPNNewYork.com after working at the New York Daily News for almost 12 years and is a graduate of Michigan State University.
Follow him on Twitter »
Ohm's chat archive »
WEEK 17: GIANTS AT REDSKINS
EDITORS' PICKS
A-Rod got a hit in his spring debut, but the Yanks need a lot more.