Commentary
Tough guy Eli Manning at century mark
Favre drama obscures fact that Giants QB is about to make 100th consecutive start
Updated:
December 13, 2010, 6:24 PM ET
By
Ohm Youngmiusk
| ESPNNewYork.com
EAST RUTHERFORD, N.J. -- Kevin Gilbride still remembers Eli Manning's first baby steps as an NFL quarterback in 2004.
Like a proud father, the New York Giants' offensive coordinator smiles and chuckles when recalling some of Manning's rookie struggles, like the time the quarterback was supposed to call for a "toss crack" play.
"Like it was yesterday, I can still remember that one of the checks was 'toss here' because he couldn't think of what the term was," Gilbride said as he motioned to toss the ball to his left while yelling "Toss here!" the way Manning did.
[+] Enlarge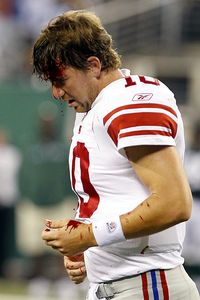 Tim Farrell/THE STAR-LEDGER/US PresswireEli Manning missed one preseason game with a gash on his forehead. But sit out a regular-season game? No way.
And then there was the unforgettable game at Baltimore, where Manning made his fourth career start and completed just four of 18 passes for 27 yards, threw two picks and finished with a quarterback rating of zero.
"The Ravens, that's a great one," said Gilbride, who was Manning's quarterbacks coach that year. "They were just toying with him, turning their back on him and everything else because he was trying to point out who the Mike [middle linebacker] was, and when he'd point out who it was, they would [turn sideways] like, 'No you can't see my number.'
"It was not a good day."
Gilbride laughs and smiles about it all now because Manning has come a long way since those rookie days. While an injured shoulder will end Brett Favre's iron-man streak of consecutive starts (297), Manning prepared for what will be his 100th straight start, Monday night against the Vikings in Detroit.
Manning, 29, certainly has a long, long way to go before he can catch Favre. Still, he is only the sixth quarterback in NFL history to reach the milestone.
Manning joins an exclusive club that includes Favre, big brother Peyton Manning (205 starts), Ron Jaworski (116), Tom Brady (111) and Joe Ferguson (107).
"Until [a reporter] told me, I didn't know that was the case," Eli Manning said on Wednesday. "That's good stuff.
CONSECUTIVE STARTS BY QBs
| PLAYER | YEARS | STARTS |
| --- | --- | --- |
| Brett Favre | 1992-Present | 297 |
| Peyton Manning | 1998-Present | 205 |
| Ron Jaworski | 1977-84 | 116 |
| Tom Brady | 2001-08 | 111 |
| Joe Ferguson | 1977-84 | 107 |
| Eli Manning | 2004-Present | 99 |
"In this league, you get hit. There have been a couple games where it's been kind of iffy and can come down to game-time decisions. It's easy to get hurt in this game, and I think part of [the streak] is a little luck and how you take care of your body on some things and trying to avoid the big hits."
Manning has been criticized, sometimes unjustly, for everything from his body language and his "doggone it" demeanor when things go bad to his ability to lead his team over the years. But the Giants' franchise quarterback can never be knocked for being soft.
Manning's streak was in serious jeopardy on two occasions. The first was at the start of the 2007 season, when Manning suffered a shoulder injury against the Cowboys. Reports surfaced that he had a separated shoulder, but the Giants called it a bruised shoulder. Manning didn't miss any time and started against Green Bay the following week. The Giants lost both games -- but they won the Super Bowl a few months later.
And then there was last year, when Manning had plantar fasciitis in his foot. He could have sat out a game against Oakland in Week 5, but played the first five series and completed eight of 10 passes for 173 yards and two touchdowns and a perfect passer rating of 158.3 before leaving the game in a Giants blowout. Manning didn't miss a game that season despite the painful foot injury.
"Either one, I could've probably sat out," Manning said. "I want to be out there, and if I think I can play, I'm going to go play."
Five Things To Watch
1. I know what you did last year: The Giants won't forget their last game against Minnesota. They were embarrassed 44-7 in Minneapolis last year, in the final game of the regular season. The Giants had nothing to play for and it sure looked like it. Still, some Giants, like Osi Umenyiora, felt the Vikings ran up the score.

2. Don't lose the ball: The Vikings play in one of the loudest venues in the league. The Giants must take care of the ball and not give the home crowd any life. Eli Manning has never beaten the Vikings and has thrown nine picks and just two touchdowns against Minnesota in four starts. This season, Manning has 17 interceptions. Fortunately for the Giants, Brett Favre is the one quarterback with more picks (18).

3. Stop Peterson: The Vikings are a much better team than their 5-7 record indicates. Adrian Peterson is one of the top two running backs in the game and the Giants will have to find a way to stop him. They have had success this season against good running backs like Houston's Arian Foster.

4. Welcome back: The Giants hope to have wide receiver Steve Smith and tackle David Diehl back this week from injuries. Hakeem Nicks also is aiming to return against Minnesota. Manning can certainly use the help, as the Vikings' defense ranks sixth in the NFL and is solid against the run.
5. Keep up: The Giants need a win to keep pace with the Eagles in the NFC East race and stay in the hunt with other NFC teams for a potential wild card. The Giants face the Eagles next week in what will be the biggest game of the season for Tom Coughlin's team.
-- Ohm Youngmisuk
So what is Manning's secret? He says it's a combination of many things, such as being smart, not taking unnecessary hits, relentless preparation, knowing opposing defenses and knowing his own offensive line, while also staying in shape.
"He's very lucky," defensive end Justin Tuck said. "Seriously, he is. A lot of luck comes from preparation. He's one of those guys that prepares to the nth hour and benefits.
"He's a tough guy. A lot of people don't look at Eli as a tough guy, but when you think about playing through his shoulder hurting, and his foot was hurting, he's played through some injuries and he constantly goes to work."
According to the Elias Sports Bureau, tackle David Diehl is the only other Giant to start 100 straight games since the NFL went to a 16-game schedule in 1978. Diehl, who started 127 consecutive regular-season and postseason games combined until hip and hamstring injuries sidelined him for the past four games, says Manning's toughness is what makes him so respected in the locker room.
Even more impressive is how he stayed healthy with so many Giants falling all around him.
Shaun O'Hara, Shawn Andrews, Diehl and Adam Koets all have started on the offensive line this season, only to miss several games due to injuries. And despite the Giants using five different starting combinations on the line, Manning has been sacked only 12 times all year. The line has not surrendered a sack in the past five games.
Manning has also somehow managed to avoid being sacked despite not having Hakeem Nicks and Steve Smith, his top two receivers, to throw to in the past two games due to injuries. Manning had to work in Derek Hagan, who was brought back to the team after being released at the end of the preseason, and Michael Clayton, who was in the UFL.
Manning still made things work and kept the Giants (8-4) in the playoff hunt.
Now he reaches a significant milestone against a team that has owned him. Manning is 0-4 and has thrown nine interceptions and just two touchdowns against the Vikings.
But he certainly isn't the wide-eyed kid who had trouble identifying the middle linebacker in Baltimore anymore.
"It's light-years," Gilbride said. "So we've come a long way from that point."
Manning may be light-years away from catching Favre's streak. But at least he's got 100 down. Only 200 more to go.
"It's more amazing in the amount of games he's played," Manning said of Favre. "For me, it's one third of my career so I have another 14 years to go. That's a long time. That's really the amazing part is how long that he's played and stayed healthy in consecutive starts and played at a high level. It's very impressive."
Ohm Youngmisuk covers the Giants for ESPNNewYork.com. Follow him on Twitter.
WEEK 17: GIANTS AT REDSKINS
EDITORS' PICKS
Will A-Rod play when the spring games start? And who's call is it anyway?
Nike Men's Home Game Jersey New York Giants Eli Manning #10 Shop »