CONTESTS
The Michael Kay Show & Lexus of Englewood are giving you a chance to win your choice of Lexus.

Enter for your chance to see Brooklyn take on Miami from a VIP suite with Stephen A. Smith

Do you know a college-bound student athlete that excels on AND off the field?
ENTER TO WIN!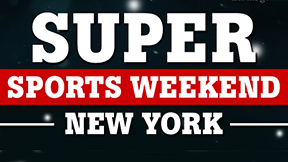 It's your chance to win a Super Sports Weekend -- three days, three sports, one Big Apple!
Enter now! »
MUST LISTEN
Listen to our weekly convos with Rex Ryan, Mike Westhoff and Joe Namath, as well as our weekly player spotlights and postgame highlights.
THE BRANDON STEINER PODCAST
Retired Yankees pitcher Andy Pettitte talks about his plans for life after baseball.

Legendary coach Lou Holtz joins Brandon Steiner to chat about balancing work with parenting and family life.

On the eve of the 2013 Manning Bowl, Archie Manning discussed parenting, southern hospitality and his playing days at Ole Miss.
MIKE & MIKE IN THE MORNING
Golic Vs. Reilly
Mike Golic and Rick Reilly go at it over Notre Dame's position in the college football landscape. Listen

WHERE IT'S AT!
All Season - Join ESPN New York and Coors Light at Shannon Rose and Millers Ale House.