#FAREWELLJETER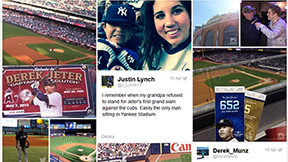 Want us to feature Derek Jeter your tribute? Tweet or Instagram photos and videos about The Captain's final season using #FarewellJeter or upload them here. Social gallery » Cap Map »
WEEKENDS ON DEMAND
Mike Lupica
Mike Lupica discusses the NFL's two-game suspension of Ray Rice and Tony Dungy's controversial comments about Michael Sam. Plus, John Smoltz and Paul O'Neill talk about the Baseball Hall of Fame inductions.
Ian O'Connor Show
Ian O'Connor covers the start of training camps in the NFL, Johnny Manziel's maturity, Ray Rice's two-game suspension and more. Plus, Herm Edwards and Sal Paolantonio join the show.
Find out how you can partner with ESPN New York 98.7 FM and ESPNNewYork.com.
THE CAPTAIN'S LAST CALL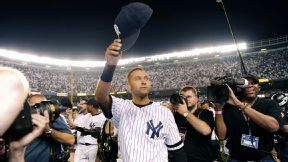 When Derek Jeter announced his final season in pinstripes, the Michael Kay Show was all over it with guests aplenty. Listen: Jeter with Kay

MIKE & MIKE IN THE MORNING
Golic Vs. Reilly
Mike Golic and Rick Reilly go at it over Notre Dame's position in the college football landscape. Listen

CONTESTS
Enter for your chance to cruise with the Jets to the Bahamas and Key West.
MUST LISTEN
The Three Lupica brothers - Chris, Alex and Zach - bring their opinions and insight on a wide range of sports topics on "In the Loop."
Andrew Gundling and JJ Devaney cover the week's soccer news from the international leagues, World Cup and MLS.
Listen to our weekly convos with Rex Ryan, our weekly player spotlights and postgame highlights and interviews.