Learn To Fly
Seahawks QB Russell Wilson tells Mike & Mike about his rookie season in the NFL. Wilson

Schlereth

Billick

Pereira

Johnston

Munoz

Super Week » Mike & Mike »
ESPN Radio
LIVE ON ESPNNEWYORK.COM
Ian O'Connor
7:00 AM-9:00 AM


Coming Up

9:00 AM

Mike Lupica

11:00 AM

Jets Countdown to Kickoff

1:00 PM

Jets at Dolphins
alanhahn Alan Hahn
#TeamNoOneSleeps RT @MSGNetworks: Stay tuned to MSG for @BillPidto, @alanhahn & @wallyball on #NYKExtra
about 6 hours ago

RothenbergESPN Dave Rothenberg
Not sure what DeMarcus Cousins career high is.....but it might be nervous right about now. #NYK
about 9 hours ago

RothenbergESPN Dave Rothenberg
The post Christmas #Knicks look similar to the pre Christmas #Knicks.
about 9 hours ago

alanhahn Alan Hahn
We hit the air right after Rangers-Devils on @MSGNetworks for #Knicks Game Night with me @wallyball @BillPidto and @TinaCervasio from Sacto.
about 10 hours ago

alanhahn Alan Hahn
RT @SacramentoKings: DeMarcus Cousins will play tonight according to Coach Corbin.
about 10 hours ago

alanhahn Alan Hahn
RT @nyknicks: Head coach Derek Fisher says #Knicks starters vs Kings are: Calderon, Hardaway Jr., Melo, Jason Smith, Aldrich.
about 10 hours ago

NetsOnYES YES Nets Truck
We are on the air! @RyanRuocco Jim Spanarkel & @sarahkustok have the call. Have a great show!! @YESNetwork #NetsonYES
about 11 hours ago

RyanRuocco Ryan Ruocco
Jim Spanarkel loves taking pre-broadcast pics with me. We're coming up on @YESNetwork http://t.co/DSNRiQQoO3
about 11 hours ago

DonLagreca Don La Greca
It's back to work. On the call for @NYRangers and Devils on @ESPNNY98_7FM at 7 with @RealMichaelKay fav Stemmer http://t.co/RnIhNAkngz
about 12 hours ago

DocTheButcher Doc The Butcher
@HDumpty39 @alanhahn #thehahnandhumptyshow #espnradio. Prime cuts for week 17: San Diego +3; New Orleans -4; Carolina +4. Good Luck!
1 day ago

BustedOpenRadio SXM Busted Open
My daughter laughing off the two most hated managers in Pro Wrestling @LarryCDallas & @camey_dash http://t.co/9FMBCh8guO
1 day ago

xsideshowfreakx James
Pleasantly surprised to hear @alanhahn and @HDumpty39 on for @RealMichaelKay and @DonLagreca today! Always a great show!
1 day ago

ryanthurley Ryan T. Hurley
WK17 PICKS vs Spread@RealMichaelKay - MIA,PHI,NE,NO,CAR@DonLagreca - NYG,NYJ,DAL,SD,SEA5Yr Old D-Nice - MIA,PHI,PIT,DAL,STL@ESPNNY98_7FM
1 day ago

ryanthurley Ryan T. Hurley
WK17 PICKS vs Spread@RealMichaelKay - MIA,PHI,NE,NO,CAR@DonLagreca - NYG,NYJ,DAL,SD,SEA5Yr Old D-Nice - MIA,PHI,PIT,DAL,STL@ESPNNY98_7FM
1 day ago

RyanRuocco Ryan Ruocco
My gosh those last two designs by Brad Stevens were tremendous. Brooklyn able to hold on. 3 straight.
1 day ago

alanhahn Alan Hahn
Next on @ESPNNY98_7FM playing the roles of Kay & LaGreca is Hahn& Humpty from 3-7 p.m. 1-800-919-3776
1 day ago

RothenbergESPN Dave Rothenberg
In for Stephen A Smith on SiriusXM Channel 85. Join me and we'll talk. #NFL #NBA
1 day ago
WEEKENDS ON DEMAND
The Ian O'Connor Show
Ian says Chip Kelly made a major mistake in the 4th Quarter for the Eagles. Plus, Hall of Famer Bill Parcells on Tony Romo, Jay Cutler & Johnny Manziel.
Mike Lupica
Mike Lupica weighs in on Jim Harbaugh's future. Plus, he's joined by Charles Barkley, Doug Flutie & Tom Waddle.
New York Sports and Beyond
This week we cover a new website that helps anyone involved in youth sports with the answers they need, "Beyond the Boroughs" and stories from an old friend who battled and defeated cancer.
PREGAME AT METLIFE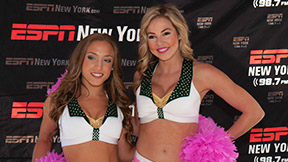 The Jets Flight Crew drops by the ESPN New York 98.7 FM's stage at every home game. Stop by and say, "Hi!" facebook

Find out how you can partner with ESPN New York 98.7 FM and ESPNNewYork.com.
MIKE & MIKE IN THE MORNING
Golic Vs. Reilly
Mike Golic and Rick Reilly go at it over Notre Dame's position in the college football landscape. Listen

CONTESTS
Do you know a college-bound student athlete that excels on AND off the field?
MUST LISTEN
Listen to our weekly convos with Rex Ryan, our weekly player spotlights and postgame highlights and interviews.
Andrew Gundling and JJ Devaney cover the week's soccer news from the international leagues, World Cup and MLS.