That's So Raven
Mike & Mike react to Super Bowl XLVII, the 34-minute power outage and more. Listen

Birk

Jaworski

Carter

Ditka

Edwards

Schlereth

Hasselbeck

Mike & Mike »
Chris Graythen/Getty Images
LIVE ON ESPNNEWYORK.COM
SportsCenter AllNight
12:00 AM-7:00 AM


#FAREWELLJETER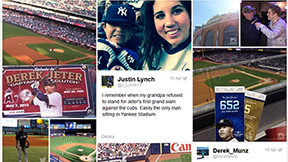 Want us to feature your Derek Jeter tribute? Tweet or Instagram photos and videos about The Captain's final season using #FarewellJeter or upload them here. Social gallery » Cap Map »
WEEKENDS ON DEMAND
The Alan Hahn Show
Alan Hahn is depressed after a Yankee win? There really is a reason to go to a Mets game and Rick Dipietro makes a surpise apperance.
Dave Rothenberg
The Yankees get a win but some bad news to and it is a big day for the Jets/Giants. Also a Breakfast Football Frenzy!
The Bill Pidto Show
Geno is named the starter for week 1 but thats all we know and Andrew Brill joins to explain what is wrong with the Giants offense.
The Alan Hahn Show
Alan ask if there is a QB controversy in the Giants camp, the Jets offense looks good and Rick Dipietro stops by to break down what he saw in the Jets/Giants game.
The Bill Daughtry Show
With both New York football teams in action, Bill talks with Larry Hardesty about what to expect from the Jets and Andrew Brill on if the G-Men will throw the ball.
The Alan Hahn show
If you were the commissioner of MLB, what would you change to make the game better? Is Kevin Long to blame for the Yankee offense and Kimberly Martin gets you ready for Jets football.
The Ian O'Connor Show Podcast
Ian O'Connor says Tony Stewart shouldn't race Sunday, Marty Smith says it's common for drivers to get out of their car in a race and Bob Holtzman on Johnny Manziel's debut.
The Bill Daughtry Show
Bill breaks down the Jets' first preseason game. Does he still believe Geno will be the best QB in NY? Also, Andrew Brill drops by to preview Big Blue's second preseason game.
Find out how you can partner with ESPN New York 98.7 FM and ESPNNewYork.com.
THE CAPTAIN'S LAST CALL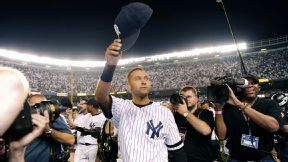 When Derek Jeter announced his final season in pinstripes, the Michael Kay Show was all over it with guests aplenty. Listen: Jeter with Kay

MIKE & MIKE IN THE MORNING
Golic Vs. Reilly
Mike Golic and Rick Reilly go at it over Notre Dame's position in the college football landscape. Listen

CONTESTS
Do you know a college-bound student athlete that excels on AND off the field?

Enter for your chance to Travel with the Home Team.
Presented by: Amtrak
MUST LISTEN
The Three Lupica brothers - Chris, Alex and Zach - bring their opinions and insight on a wide range of sports topics on "In the Loop."
Andrew Gundling and JJ Devaney cover the week's soccer news from the international leagues, World Cup and MLS.
Listen to our weekly convos with Rex Ryan, our weekly player spotlights and postgame highlights and interviews.