Marathon Cancelled
ESPN Radio reacts to Mayor Bloomberg's decision to cancel Sunday's New York City Marathon. Jonathan Coachman and Mike Salk

Jeremy Schaap

Stephen A. Smith

Antonio Pierce

Spencer Platt/Getty Images
LIVE ON ESPNNEWYORK.COM
SportsCenter AllNight
12:00 AM-4:00 AM


#FAREWELLJETER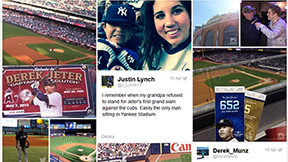 Want us to feature your Derek Jeter tribute? Tweet or Instagram photos and videos about The Captain's final season using #FarewellJeter or upload them here. Social gallery » Cap Map »
WEEKENDS ON DEMAND
Ian O'Connor Podcast
Ian O'Connor looks at how much credit should be given to Roger Goodell after his domestic violence rule. Plus Michael Sam does not make the cut.
Mike Lupica
Mike talks about Roger Goodell toughening his stance on domestic violence and Week 1 of the college football season.
The Alan Hahn Show
Alan Hahn is depressed after a Yankee win? There really is a reason to go to a Mets game and Rick Dipietro makes a surpise apperance.
Dave Rothenberg
The Yankees get a win but some bad news to and it is a big day for the Jets/Giants. Also a Breakfast Football Frenzy!
Find out how you can partner with ESPN New York 98.7 FM and ESPNNewYork.com.
THE CAPTAIN'S LAST CALL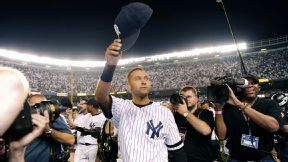 When Derek Jeter announced his final season in pinstripes, the Michael Kay Show was all over it with guests aplenty. Listen: Jeter with Kay

MIKE & MIKE IN THE MORNING
Golic Vs. Reilly
Mike Golic and Rick Reilly go at it over Notre Dame's position in the college football landscape. Listen

CONTESTS
Do you know a college-bound student athlete that excels on AND off the field?
MUST LISTEN
The Three Lupica brothers - Chris, Alex and Zach - bring their opinions and insight on a wide range of sports topics on "In the Loop."
Andrew Gundling and JJ Devaney cover the week's soccer news from the international leagues, World Cup and MLS.
Listen to our weekly convos with Rex Ryan, our weekly player spotlights and postgame highlights and interviews.