Marathon Cancelled
ESPN Radio reacts to Mayor Bloomberg's decision to cancel Sunday's New York City Marathon. Jonathan Coachman and Mike Salk

Jeremy Schaap

Stephen A. Smith

Antonio Pierce

Spencer Platt/Getty Images
LIVE ON ESPNNEWYORK.COM
SportsCenter AllNight
12:00 AM-6:00 AM


Coming Up

6:00 AM

NY Sports And Beyond

7:00 AM

Bill Daughtry

9:00 AM

Dave Rothenberg
EVENTS
All season, join us for the 98.7 FM and Coors Light Fall Football Tour.
98.7 OUT AND ABOUT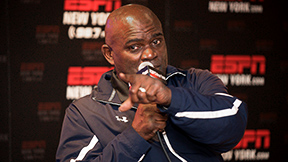 On November 19, 98.7 FM ESPN held the latest of its long-running Legend Series dinners featuring the career of Giants great Lawrence Taylor at Bacari Grill in Washington Township, N.J.
On Facebook

More Photo Galleries »
TOP 10 STORIES OF 2015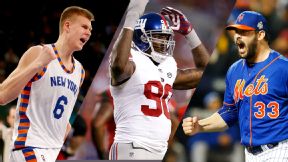 The Mets. American Pharoah. A-Rod. The Rangers. There was plenty of history made in New York this year. Help us rank the top stories of 2015. Take a look at our Top 10 and then vote. Rank 'Em: Top 10 stories »
CONTESTS
The Michael Kay Show & Lexus of Englewood are giving you a chance to win a lease on your choice of Lexus.

Enter to win a chance to attend a special event with Peter Rosenberg. Presented by Brooklyn Brewery
SHOWS
Podcasts

Shows »
Find out how you can partner with 98.7 ESPN and ESPNNewYork.com.