#FAREWELLJETER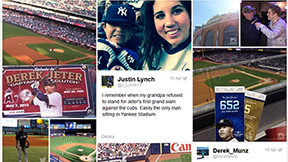 Want us to feature your Derek Jeter tribute? Tweet or Instagram photos and videos about The Captain's final season using #FarewellJeter or upload them here. Social gallery » Cap Map »
WEEKENDS ON DEMAND
Steve Lennox and Dan Graziano
The guys discuss Jeter's legacy, who will be the next Jeter and Jets fans need to relax and let Geno grow.
The Bill Daughtry Show
Bill reflects on Jeter's game winning last at bat, at Yankee stadium and Larry Hardesty joins to talk about the challenges the Jets will face Sunday.
Bill Daughtry show
Bill talks about how Adrian Peterson hitting his 4 year old son was wrong but have you ever had corporl punishment? Larry Hardesty joins to give Jets fans some hope for Sunday
Steve Lennox and Dan Graziano
If the NFL continues to go down this path, it is going to start to lose ratings. Even though people are going to watch this Sunday's games,the problem is within the league.
The Ian O'Connor Show
Ian talks to Herm Edwards in preperation for Week 1 of the NFL season.
Mike Lupica
Mike previews week 1 of the NFL season and reacts to the USC/Stanford game.
The Bill Daughtry Show
Bill is back from vacation and ready for football. This week is not must win for the Jets/Giants, it is don't lose games. Mark Schreleth is critical of Eric Decker and ESPN Fantasy Fooball Analyst Ken Daube gets you ready for week 1.
New York Sports and Beyond
New York Sports and Beyond: 9/6/14 -- A year without social media; Jersey City Fasion Week; Health insurance for NFL Alumni; Prostate cancer awareness.
Find out how you can partner with ESPN New York 98.7 FM and ESPNNewYork.com.
THE CAPTAIN'S LAST CALL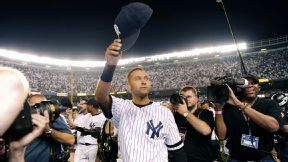 When Derek Jeter announced his final season in pinstripes, the Michael Kay Show was all over it with guests aplenty. Listen: Jeter with Kay

MIKE & MIKE IN THE MORNING
Golic Vs. Reilly
Mike Golic and Rick Reilly go at it over Notre Dame's position in the college football landscape. Listen

CONTESTS
Do you know a college-bound student athlete that excels on AND off the field?
MUST LISTEN
The Three Lupica brothers - Chris, Alex and Zach - bring their opinions and insight on a wide range of sports topics on "In the Loop."
Andrew Gundling and JJ Devaney cover the week's soccer news from the international leagues, World Cup and MLS.
Listen to our weekly convos with Rex Ryan, our weekly player spotlights and postgame highlights and interviews.
PREGAME AT METLIFE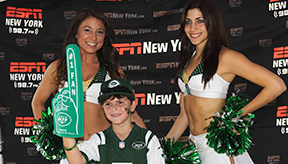 The Jets Flight Crew drops by the ESPN New York 98.7 FM's stage at every home game. Stop by and say, "Hi!" facebook