EVENTS
All season, join us for the 98.7 FM and Coors Light Fall Football Tour.
PREGAME AT METLIFE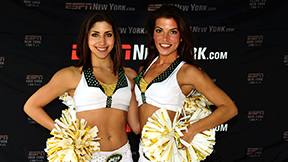 98.7 ESPN is front and center at the MetLife Gate at MetLife Stadium for every Jets home game. Stop by to listen to the broadcast, meet the Jets Flight Crew and compete for prizes. Did you pose for a photo with the Flight Crew? It's here. Facebook


WEEKENDS ON DEMAND
Saturdays with Stugotz
Don La Greca welcomes Stu Gotz to the station! Stugotz finally gets a chance to talk about the Jets.
Anita Marks and Andrew Gundling
Anita and Andrew look ahead to the Jets game in London and talk to Mama Mimi.
Dave Rothenberg
Dave can't believe the Steven Matz injury and wonders what the weirdest sports injury ever was. Plus, the Jets face the Dolphins in London.
The Bill Daughtry Show
Bill previews the Jets game against the Dolphins in London and welcomes Alex Cora to talk about the MLB post season.
REMEMBERING YOGI
Listen to some of the broadcasters and players that called into "The Michael Kay Show" to remember Yogi Berra.
•
Hal Steinbrenner

|
Ron Guidry

•
Keith Hernandez

|
Mike Lupica

•
Willie Randolph

|
John Flaherty

•
Lee Mazilli

|
Goose Gossage

More:
•
O'Connor: Yogi and Jeter »
•
Matthews: Unforgettable and incomparable »
•
Photos: Yogi Berra: 1925 - 2015

ROSENBERG JOINS TMKS
98.7FM has agreed to terms with Peter Rosenberg, host of New York hip hop radio station WQHT HOT 97 FM's Ebro in the Morning with Rosenberg & Laura Stylez and Real Late with Rosenberg, to be a regular contributor to The Michael Kay Show. Story »
SHOWS
Podcasts

Shows »
Find out how you can partner with ESPN New York 98.7 FM and ESPNNewYork.com.