#FAREWELLJETER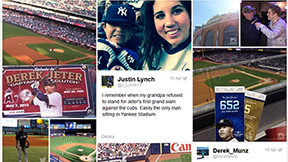 Want us to feature Derek Jeter your tribute? Tweet or Instagram photos and videos about The Captain's final season using #FarewellJeter or upload them here. Social gallery » Cap Map »
WEEKENDS ON DEMAND
New York Sports and Beyond
This week's program discusses the dangers of UV rays, the benefits of "sleeping like a pro" and some inner-city basketball!
Find out how you can partner with ESPN New York 98.7 FM and ESPNNewYork.com.
THE CAPTAIN'S LAST CALL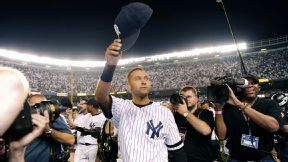 When Derek Jeter announced his final season in pinstripes, the Michael Kay Show was all over it with guests aplenty. Listen: Jeter with Kay

MIKE & MIKE IN THE MORNING
Golic Vs. Reilly
Mike Golic and Rick Reilly go at it over Notre Dame's position in the college football landscape. Listen

CONTESTS
It's your chance to win a day of golf for you and two of your buddies at our 10th Annual Tee it Up Golf Classic. An ESPN personality will fill your foursome!

Enter for your chance to Travel with the Home Team.
Presented by: Amtrak
MUST LISTEN
The Three Lupica brothers - Chris, Alex and Zach - bring their opinions and insight on a wide range of sports topics on "In the Loop."
Andrew Gundling and JJ Devaney cover the week's soccer news from the international leagues, World Cup and MLS.
Listen to our weekly convos with Rex Ryan, our weekly player spotlights and postgame highlights and interviews.