Born On The Bayou
ESPN Radio's coverage of Super Week in New Orleans started with Mike & Mike. Jaworski

Mortensen

Clayton

Boselli

Carville and Matalin

Super Week » Mike & Mike »
ESPN Radio
WEEKENDS ON DEMAND
The Ian O'Connor Show
Ian reacts to the Heisman Trophy and gets you set for Week 15 in the NFL
Mike Lupica
Mike gets you ready for a big week 15 in the NFL
New York Sports and Beyond
Fetured in this week's program: An update on the legalization of sports betting in NJ; The Special Olympics World Games; "Beyond the Boroughs"; and athletes speaking out.
PREGAME AT METLIFE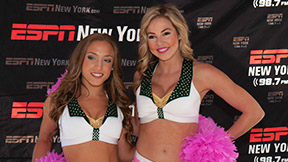 The Jets Flight Crew drops by the ESPN New York 98.7 FM's stage at every home game. Stop by and say, "Hi!" facebook

Find out how you can partner with ESPN New York 98.7 FM and ESPNNewYork.com.
MIKE & MIKE IN THE MORNING
Golic Vs. Reilly
Mike Golic and Rick Reilly go at it over Notre Dame's position in the college football landscape. Listen

CONTESTS
Do you know a college-bound student athlete that excels on AND off the field?
MUST LISTEN
Listen to our weekly convos with Rex Ryan, our weekly player spotlights and postgame highlights and interviews.
Andrew Gundling and JJ Devaney cover the week's soccer news from the international leagues, World Cup and MLS.