Born On The Bayou
ESPN Radio's coverage of Super Week in New Orleans started with Mike & Mike. Jaworski

Mortensen

Clayton

Boselli

Carville and Matalin

Super Week » Mike & Mike »
ESPN Radio
LIVE ON ESPNNEWYORK.COM


JTTerwilliger J.T.
Best line l've heard from @robinlundberg that describes this years World Series! "I'll have a Pumpkin spice latte & the K.C. Royals!!!"
about an hour ago

AlexRosado188 Alex Rosado
Getting ready while listening to the @robinlundberg Show
about 2 hours ago

ChiChi27 Chi-Chi A.
Still up, listening to @robinlundberg. You make insomnia ok.
about 2 hours ago

RyanRuocco Ryan Ruocco
One of my favorite photos. 3 Generations of Ruocco's. http://t.co/mlXSpb265i
about 8 hours ago

MSGNetworks MSG Networks
As you're watching Postgame on MSG w/ @alanhahn, @wallyball, @AlTrautwig & @BillPidto, use #NYKExtra w/ your comments.
about 8 hours ago

RayDeenihan Ray Deenihan
TMKS: @RealMichaelKay @DonLagreca say you can't be mad at #NYG because they are simply just not as good as #DAL - http://t.co/EhWCVP0lb2
about 8 hours ago

alanhahn Alan Hahn
#Knicks PostGame is next on @MSGNetworks with me @AlTrautwig and, eventually, @wallyball.
about 8 hours ago

RothenbergESPN Dave Rothenberg
Kind of sad watching the #Steelers play this way. #NFL
about 9 hours ago

alanhahn Alan Hahn
Offense/ball movement has not been an issue here. #Knicks have 12 assists on 18 FGM. Shooting 48%.
about 10 hours ago

alanhahn Alan Hahn
The Bucks are scorching the Knicks defense with 58% shooting and 5/11 from 3PT. All perimeter. Only 12 of 45 points in the paint.
about 10 hours ago

alanhahn Alan Hahn
So after one quarter, how's my man @wallyball doing in Clyde's chair?
about 10 hours ago

alanhahn Alan Hahn
I'm watching live. No they aren't. RT @HandelingMaLife: @alanhahn Maybe the Bucks are nice on the low
about 10 hours ago

alanhahn Alan Hahn
We are a week away from the regular season and the #Knicks defense is still a concern. Is it bc they are not "scheming" for the opponent?
about 10 hours ago

alanhahn Alan Hahn
We shouldn't encourage this. RT @teena_797: @alanhahn JR - Worm Junior
about 10 hours ago

alanhahn Alan Hahn
Vegas, baby. RT @knicksdude: #EarlyBirds! (Remember us, Alan??) RT @alanhahn: The Rook is the first forward off the bench.
about 10 hours ago

alanhahn Alan Hahn
The Rook is the first forward off the bench.
about 10 hours ago

alanhahn Alan Hahn
Fish keeping #TieGame very basic tonight.
about 10 hours ago

alanhahn Alan Hahn
Unlikely. RT @DirkDigEm201: He should be the starter by mid season RT @alanhahn: Larkin still getting backup PG minutes over Prigioni.
about 10 hours ago

alanhahn Alan Hahn
Judging by the responses, doesn't sound like the Amare-at-starting-center experiment is being met with approval.
about 10 hours ago

alanhahn Alan Hahn
Larkin still getting backup PG minutes over Prigioni.
about 10 hours ago
WEEKENDS ON DEMAND
The Ian O'Connor Show
Ian discusses the controversial call from FSU/ND with Tom Rinaldi and previews Week 7 of the NFL with Herm Edwards and Sal Pal.
Mike Lupica
Mike recaps FSU's win over Notre Dame and the controversial call with Doug Flutie. Plus, a conversation with Royals SP James Shields. And O.J. Anderson on the Giants-Cowboys.
New York Sports and Beyond
On this week's program, we hear three different and uplifting stories from Daniel Rodriguez, David Holthouse, and Anne Grady.
PREGAME AT METLIFE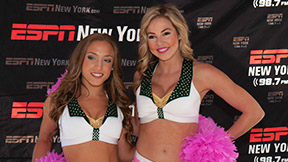 The Jets Flight Crew drops by the ESPN New York 98.7 FM's stage at every home game. Stop by and say, "Hi!" facebook

Find out how you can partner with ESPN New York 98.7 FM and ESPNNewYork.com.
MIKE & MIKE IN THE MORNING
Golic Vs. Reilly
Mike Golic and Rick Reilly go at it over Notre Dame's position in the college football landscape. Listen

CONTESTS
Do you know a college-bound student athlete that excels on AND off the field?
MUST LISTEN
Listen to our weekly convos with Rex Ryan, our weekly player spotlights and postgame highlights and interviews.
Andrew Gundling and JJ Devaney cover the week's soccer news from the international leagues, World Cup and MLS.