Commentary
Twenty things that jumped out in the film room
After looking at the film, Gary Horton tells you 20 things you might not have picked up on.
Originally Published:
October 21, 2008
By
Gary Horton
| Scouts Inc.
After breaking down film, Scouts Inc. runs down what jumped out at us, including the Steelers' sack party, Julius Peppers' versatility and the Titans' "vanilla" schemes.
[+] Enlarge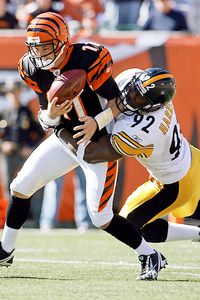 Andy Lyons/Getty ImagesJames Harrison sacked Bengals QB Ryan Fitzpatrick twice in Week 7.
• Pittsburgh is getting excellent production from its linebackers. LBs
LaMarr Woodley
and
James Harrison
are explosive off the edge and offenses that try to block them with a tight end or back are in trouble. Plus, when that happens the middle is opened up for LBs
Lawrence Timmons
and
James Farrior
. All the pressure from this defense comes from the linebackers and SS
Troy Polamalu
. Timmons, Harrison and Woodley each had two sacks versus the Bengals.
• There is little explosiveness to the Chargers' offense on a weekly basis, and the big pass plays we saw in Week 6 versus New England never happened against Buffalo. This team has talent, but it just doesn't seem to play with any sense of urgency.
• The Titans' rushing duo of LenDale White and Chris Johnson is the real deal. They do a great job controlling the pace of the game, and the Titans' offensive line is very underrated. They rushed for 317 yards combined versus Kansas City.
• The Saints' offense was unusually sloppy in their loss to the Panthers, despite the returns of WR Marques Colston and TE Jeremy Shockey. The receivers dropped balls, and QB Drew Brees' accuracy was off all day. He even had trouble finding his throwing windows and he had three passes batted down.
• The Vikings' offensive play calling does not look creative. It is amazing that QB Gus Frerotte not only couldn't exploit the Bears' patchwork secondary, but also threw four interceptions. Chicago was missing both starting corners and its nickel defensive back.
• The Cowboys' offensive line seems to be regressing, and they are not playing up to their talent level. QB Brad Johnson was sacked three times and under pressure another 11. The communication on the line was iffy last week, and they didn't pick up stunts or blitzes. Plus, they looked slow -- especially on the edges -- and were beaten by the Rams' four-man rush.
• Pittsburgh RB Mewelde Moore ran for 120 yards, scored three touchdowns and looked really crisp at Cincinnati. He did a nice job of planting and driving when he faced a defender. He has excellent lateral quickness, and he can run inside-to-outside or vice versa.
• Baltimore's defense put together an aggressive blitz package (including run blitzes) to neutralize Miami's Wildcat offense. The Ravens also shut down RBs Ricky Williams and Ronnie Brown, while only allowing the Dolphins to gain 71 yards on the ground.
• Oakland did a nice job on defense versus Jets QB Brett Favre by sitting back and preventing the long ball, while letting him throw mostly underneath passes. Only two of his 17 completions went for more than 15 yards, and he could never get the matchups on the outside that he wanted.
• The Seahawks may be the least explosive team in the NFL right now. They have no threat in the passing game, their defense is soft and they tackle poorly. Plus, they can't hold onto the ball and control the clock. Seattle only converted 2 of 10 third downs versus Tampa Bay and only had the ball for just over 18 minutes.
• The Colts played their sloppiest game in recent memory versus the Packers. They committed 12 penalties (many of them on defense), didn't tackle and weren't smart with the football. Right now, they can't control the clock with the run game or make stops on defense -- which limits QB Peyton Manning's number of possessions.
• Ravens QB Joe Flacco's consistency was impressive. He and the Ravens put together drives of 42, 67, 67 and 68 yards, which is good news for a Baltimore defense that doesn't require a lot of help from the offense. The Ravens also went to a no-huddle offense to speed the tempo of the game and give Flacco more time to read the defense.
[+] Enlarge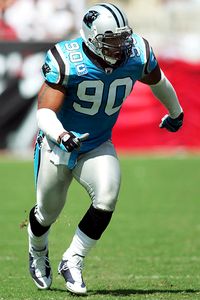 Cliff Welch/Icon SMI Julius Peppers is a big reason why the Panthers' defense has been so good.
• The Panthers are playing a lot of Cover 4 schemes on the back end, which helps keep the passing game in front of them and protects them against vertical throws. On top of that, they rush four and move DE
Julius Peppers
around the formation to get favorable matchups, especially in the A-gaps.
• Bears TEs Greg Olsen and Desmond Clark regularly attacked the weakness of the Minnesota pass defense, which is the middle of the field. They combined for nine catches, 133 yards and one touchdown.
• Tennessee's offensive line finished its fourth straight game without giving up a sack, which is truly remarkable, because QB Kerry Collins barely moves in the pocket.
• Tampa Bay's defense did a good job of slowing Seattle's run game by using a lot of run blitzes, many of which came from the backside. The Buccaneers also disguised their pre-snap movement, which led to several tackles behind the line of scrimmage.
• Dallas seems to have little confidence in its secondary. The Cowboys are playing a lot of off-schemes, and they are letting receivers get an easy release off the line of scrimmage. Plus, the underneath passing game has been wide open.
• Buffalo's offense did a nice job of attacking the inside of San Diego's defense. Because of the Bills' speed on the edge, the Chargers funneled their receivers inside, but QB Trent Edwards did an excellent job of taking what the defense gave him, completing 25 of 30 passes.
• The Titans are playing fairly vanilla defensive schemes, but they are sound and physical. They run a base 4-3 with some Cover 2 man and zone behind it. However, they only depend on their front four to get pressure, and that puts seven defenders into coverage. The Titans' defensive backs also do a great job of breaking on the ball and jumping routes.
• The Packers did a nice job on defense of pressing Manning up the middle with a good inside push and not allowing him to set his feet when he threw, which seemed to affect his timing. The Packers also played a lot of tight press schemes and shaded to the inside, which forced the Colts' receivers to release outside. They wouldn't let Manning make plays in the middle of the field by taking away the slants and crossing routes.
Gary Horton, a pro scout for Scouts Inc., has been a football talent evaluator for more than 30 years. He spent 10 years in the NFL and 10 years at the college level before launching a private scouting firm, The War Room.
Scouts Inc.
Gary Horton spent 10 years in the NFL as a scout and another 10 years at the college level as an assistant coach and recruiter. He is the founder and most seasoned member of the Scouts Inc. staff, and his extensive experience at all levels of football make him an excellent talent evaluator.
EDITORS' PICKS
Extra points will likely be different in 2015, but how? NFL Nation reporters dissect the proposed changes.
Roundtable »

Poland's Babatunde Aiyegbusi has limited experience, but at 6-9, 351 pounds, he has the NFL's attention.
Wright »

Many teams created buzz, but who has done the best work in free agency? Our experts hand out grades.
Sando

MOST SENT STORIES ON ESPN.COM