It's hard to explain Vick's bad choices
If Michael Vick didn't understand the significance of his public image in the past, he should clearly grasp the relevance of such matters today, Jeff Chadiha writes.
The stretch limousine pulled in front of the W Hotel Honolulu on a sultry night in early February 2005, immediately catching the attention of several people waiting outside.
Many scanned the tinted windows to see which NFL celebrity would appear next at a swanky Pro Bowl week party, but they were instantly surprised when the driver opened the door. Ten young black men exited the car, all rowdy, clearly disoriented and completely unfamiliar to the other patrons. In fact, it wasn't until the final man stepped into the night that the guests understood who invited this motley crew. Once Atlanta Falcons quarterback Michael Vick appeared, everything made a little more sense.
Vick already had become known for his entourage, but what unsettled people on this night was the utter disinterest Vick had for how his friends handled themselves publicly. As one NFL player present that night said, "Vick didn't seem to care how it looked. And it wasn't like there was a small group of people [looking on]. There were about 50 people out there waiting to go into this place. You could see it in their faces. We were all wondering what this guy was thinking."

If Michael Vick didn't understand the significance of how things can look to the public that night, he should clearly grasp the relevance of such matters today. No longer is he the superstar quarterback who feels comfortable doing whatever he pleases. He is now the face of a federal case involving a grisly dogfighting ring, a player so deep in trouble that he might never play another game in Atlanta. And what may be apparent today is that his current plight resulted from the same type of flawed decision making that led him to roll through that Pro Bowl party with little concern for his image.

In the end, that's what this entire fiasco with the 27-year-old Vick comes down to: his lousy choices. He's been counseled to make smart decisions from the moment he was destined for superstardom, but somewhere along the way, Vick either stopped listening or started believing that wisdom was something that poorer, less-talented people needed. That's the only way to explain why he didn't join his Atlanta Falcons teammates when they opened training camp Thursday. Instead, he was with three associates -- Purnell Peace, Quanis L. Phillips and Tony Taylor -- in a federal courtroom in Richmond, Va., where they were arraigned on charges that they housed and trained dogs for dogfighting on a property owned by Vick in Surry County, Va.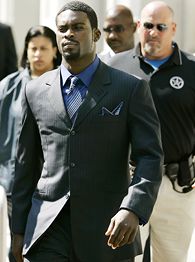 AP Photo/Haraz N. GhanbariMichael Vick, shown Thursday in Richmond, Va., may be facing his greatest challenge.
Though Vick has refused to comment publicly since his indictment July 17, this latest news only revives the most obvious question that has hovered over him for the past few months: How could one of the NFL's biggest stars be so dumb?
"It really is a sad state of affairs," said former Falcons head coach Dan Reeves, the man who drafted Vick first overall in the 2001 draft and coached him until Reeves' dismissal in 2003. "In the three years I spent around Mike, you couldn't have asked for a better guy. He worked hard. He prepared well. He listened. I never had any indication that he could be around this stuff."
That tends to be a common response from some of the people who've interacted with Vick, especially those who knew him in his younger days. The problem, however, is that Vick's career has been falling apart over the past 12 months, mostly because he's behaved in ways that mystify the same supporters he once impressed with his skills and potential. In fact, the same Michael Vick they say is so bighearted and generous is the person listed in an 18-page indictment so brutal that NFL commissioner Roger Goodell said, "From the moment you read it, it turns your stomach."
What really amazes me about this story -- aside from the gruesome nature of the accusations -- is how poorly kept Vick's secret was. One agent, who spoke on the condition of anonymity, says he heard the whispers when he pursued Vick as a client shortly after Vick fired his old agent, Andre Colona, in 2004 (Vick currently is represented by Joel Segal). When the unnamed agent ran background checks on Vick, the agent's confidant told him he'd have a hard time tracking Vick down. When the agent asked why, the confidant said, "Because he's out in the woods fighting those dogs."
Vick also gave an indication of future problems during an April 2001 Sporting News article. In the story, which ran a few weeks before Atlanta drafted Vick, writer Paul Attner details Vick's researching pit bulls on the Internet and openly admitting that he had "a budding breeding kennel" in the works. "There's more to me than people might think," Vick said in the story. Those words couldn't be any more appropriate six years later, although it's difficult to pinpoint exactly when Vick's career started heading in the wrong direction.
It's not as if he hasn't had guidance. One of the closest people in his life is a man named James "Poo" Johnson, a mentor who works as assistant chief executive officer of the Boys and Girls Club in Vick's hometown of Newport News, Va. Johnson advised Vick to make smart decisions about the friends he kept in his inner circle.
"Michael is loyal to his friends, sometimes to a fault," Johnson said. "Sometimes that [attitude] can create extra baggage that you never anticipated."
Vick received similar advice when he starred at Virginia Tech, where he impressed people with his character.
"He had a charismatic personality," said former Hokies offensive coordinator Rickey Bustle, who now serves as head coach at Louisiana-Lafayette. "If you put him in a crowd, people would always gravitate to him."
Unfortunately, that became Vick's problem in the NFL. He was always the caretaker for his old friends from Newport News, the man who eased their lives with his millions. He'd buy them throwback jerseys. He'd shower them with tickets to games. It all sounded nice at first, but it's clear Vick placed too much faith in the wrong people. Reeves experienced this firsthand during Vick's rookie season, when Newport News police arrested Vick's cousin, who had been driving a car registered to Vick. Reeves later explained to Vick that he had to be mindful of how such incidents played out publicly. He said his quarterback listened. Now, it's apparent Vick didn't pay close enough attention.
For example, two of Vick's closest pals were Philips and Taylor, both of whom had served prison time (Phillips for possession of marijuana with intent to distribute and Taylor, on a two-year stint, for drug trafficking in New York). Also, in March 2005, the Washington Post reported that a screener at Hartsfield-Jackson Atlanta International Airport claimed a companion of Vick's stole his watch from a security X-ray belt. If those things sounded bad, Vick's 2006 season was even worse.
Along with flipping off fans during a home loss to New Orleans in November, Vick made headlines two months later when officials at Miami International Airport stopped him for carrying a water bottle with a suspicious compartment through security. Though Vick was later cleared after police initially suspected the bottle contained a residue of marijuana, the damage had been done. His critics didn't want to hear about his success (his two Pro Bowl nominations and two postseason appearances had prompted the Falcons to reward him with a 10-year, $137 million contract in December 2004). They only saw an immature celebrity who couldn't grow up.
That really is the sad thing about Vick at the moment. Before this latest incident, all of his trouble could be filed under the category of silliness. It all could have been avoided with more forethought. Clearly, he couldn't provide that for himself. And while the Falcons claim they didn't coddle him -- "We've been very firm with Michael in terms of what we expect," Falcons owner Arthur Blank said during Tuesday's news conference - the fact is they did exactly that.
So now that Vick is facing the scariest challenge of his life, all the people around him can only wonder why he didn't listen more intently to their advice.
"I look at the three guys who are in this with him and I think he has to know better," Reeves said. "He should've been as far away from them as possible."
Of course, Vick will be linked with Peace, Phillips and Taylor for the foreseeable future. Long gone are the days when Vick could look at such friends and ponder ways to enjoy his money. Now, he must wonder how the federal prosecutors will lean on each one, and who is going to break under the pressure.
As usual, Michael Vick is stepping onto center stage. And as always, everybody will be watching to see what happens next.
"He might come out of this," Reeves said. "But the reality is that it doesn't look good."
Jeffri Chadiha is a senior writer for ESPN.com.
ESPN.com senior NFL columnist
Reporter for ESPN TV's "E:60"
Sports Illustrated senior writer (2000-07)
Covered Raiders, 49ers for San Francisco Examiner (1996-1999)
SPONSORED HEADLINES
MORE NFL HEADLINES
MOST SENT STORIES ON ESPN.COM
VICK SENTENCED TO 23 MONTHS

Michael Vick was sentenced to 23 months in federal prison and three years' probation for his role in a dogfighting conspiracy. The suspended Falcons quarterback is looking at a scheduled release of July 2009. Story
Update
•
GM: Falcons will attempt to trade Vick
•
Lawyer: Vick might move to halfway house
•
Former Vick estate fails to sell again
•
Vick house fails to sell at auction
•
Vick files for bankruptcy protection
•
Prosecutor: Vick's Virginia trial can wait
•
Vick ordered to repay Canadian bank $2.4 million
•
Judge denies NFL motion to reverse Vick ruling
•
Report: Vick not playing organized football in jail
•
Report: Vick passes time with prison-yard football
•
Vick's state dogfighting trial to begin June 27
•
Munson: Vick yet to enter drug treatment
The sentence
•
Vick sent to Kansas to serve rest of sentence
•
Vick asked judge for leniency before sentencing
•
Vick sentenced to 23 months
|
Document (pdf)
•
Poll: What do you think?
|
What they're saying
•
Clayton: Sentence puts career in jeopardy
•
Munson: Tough sentence by displeased judge
•
Teammates show support at Falcons game
•
Can Vick return to playing in NFL?
•
Pasquarelli: No longer top of mind in Atlanta
•
Last Vick co-defendant sentenced
•
Podcasts

:
Cossack

|
Schlereth

|
Munson/Naqi

|
Pasquarelli

•
Chat wrap: David Cornwell
Post Plea
•
NFL wants court to reverse Vick bonus ruling
•
Victory for Vick: QB can keep $20 million bonus
•
Fifth defendant in Vick case receives probation
•
Vick's house for sale for $1.1M
•
Some Falcons to visit Vick in prison
•
PETA unveils new e-card
•
Former Virginia estate fails to sell at auction
•
Out of Falcons' sight, almost out of mind
•
Judge's casework offers look at possible sentence
•
Remaining dogs placed with rescue groups
•
Source: Feds may push judge to up sentence
•
NFLPA argues Vick should not lose roster bonus
•
Vick co-defendants get 18, 21 months in prison
•
Vick agrees to put up almost $1M for dogs' care
•
Vick given April trial date on state charges
•
Vick surrenders to begin serving sentence early
•
Home at center of Vick dogfighting scandal sold
•
Vick fires one of his lawyers in dogfighting case
•
Man who sold Vick pit bull pleads guilty
•
Man connected to Vick dogfight ring pleads guilty
•
Third bank sues Vick, claims he defaulted on loan
•
Arbiter: Falcons have right to reclaim bonuses
•
PETA: Vick had class on animal cruelty
•
Evaluations show 48 of Vick's dogs placeable
•
Vick tests positive for marijuana
•
Vick supporters turn out for town meeting
•
Vick's apology notes fetch $10.2K at auction
Vick's Plea/NFL Suspension
•
Vick pleads guilty to federal dogfighting charge
•
The plea
(PDF) |
Statement of facts
(PDF)
• Vick's statement:
Watch it

|
Read it
•
Roger Cossack explains plea deal
•
Poll: Vick should be banned
•
Va. Tech, Beamer continue to support Vick
•
Vick supporters drown out protesters
•
NFL suspends Vick indefinitely
|
Goodell
(PDF)
•
Chris Mortensen on Vick's suspension
•
Vick files plea agreement admitting to dogfighting
Indictment
•
Marbury's about-face: Vick 'is 100 percent wrong'
•
National NAACP: Vick 'not a victim'
|
Audio

•
Atlanta NAACP: Vick should be allowed to return
•
Falcons come to terms with 'ex-teammate'
•
Vick timeline
|
What they're saying
•
Helyar: Even Atlanta turns against Vick
•
Goodell: Vick not overshadowing season
•
Vick co-defendant pleads guilty to charges
• Tony Taylor:
Summary of Facts
|
Plea agreement
•
Hometown residents stand by Vick
•
Falcons had planned to suspend Vick
•
Commish tells Vick to avoid camp
•
Vick indicted
|
The indictment (pdf)
|
Civil arrest warrant (pdf)
Town Hall meeting
•
Town Hall chat wrap: Chadiha
Previous columns/analysis
•
Munson: Q&A on Vick reporting to prison early
•
Munson: Looking at Judge Hudson
•
Vick's high school learning lessons
•
Bryant: Confounded by race issue
•
Munson: Q&A about local indictment
•
Munson: Next focus for Vick is length of sentence
•
Schlabach: Vick an afterthought on VT campus
•
Chadiha: Vick not running from truth
•
Hill: Coverage means bigger issues ignored
•
Wojciechowski: Pay attention to the fallen star
•
Bryant: Vick's plea deal comes with baggage
•
Bryant: In failing Vick, NFLPA fails itself
•
Munson: Vick plea means surrender
•
Forde: Vick's epic fall
•
Pasquarelli: Major blow for Falcons
•
Chadiha: Lots of lessons to be learned
•
Wojciechowski: Punishment with teeth
•
Easterbrook: Little sympathy?
•
Clayton: Vick's NFL future might be bleak
•
E-Ticket: A history of mistrust
•
Chadiha: Vick's bad choices