Commentary
Time to show a little patience with these young QBs
Eli Manning showed that patience with a young QB can pay off with a Super Bowl title. Jeffri Chadiha identifies the teams that hope to be patient with their QBs in 2008.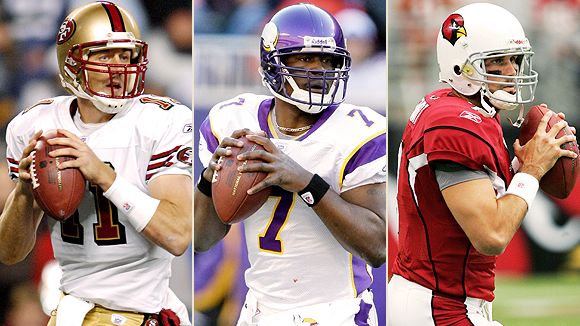 US Presswire Alex Smith, Tarvaris Jackson and Matt Leinart (l-r) still have to prove their worthiness as No. 1 QBs.
We learned last season that
Eli Manning
is a championship-level quarterback. But in the course of his rapid maturation during the
New York Giants
' Super Bowl run, we also received a lesson on the importance of having patience with a young signal-caller.
Jason Campbell, Redskins

Entering: 4th season
Last year: Started 13 games and had a passer rating of 77.6 before a knee injury sidelined him the rest of the season.
This year: Don't be surprised if Campbell's game jumps to a higher level under new head coach Jim Zorn, a former NFL QB. Zorn has already talked about helping Campbell improve his techniques and his ability to move around in the pocket.
For more on Campbell, click here.
After all, Manning failed to impress throughout most of his fourth season. Some in New York viewed him as a disappointment. Others wondered if he was a bust. But then something clicked at the right time -- and now it looks like Manning will be a different player from here on out.
This offseason clearly will be an interesting one for a handful of quarterbacks who've endured the kind of adversity that Manning knows all too well. Alex Smith enters his fourth season in San Francisco facing questions about how long he can keep his job. Matt Leinart goes into his third season in Arizona hoping to avoid splitting time with veteran Kurt Warner. Kansas City's Brodie Croyle and Washington's Jason Campbell are among those QBs having to adjust to new offensive systems.
And we certainly can't ignore the mind-boggling return of the much-maligned Rex Grossman to the Chicago Bears.
Brodie Croyle, Chiefs

Entering: 3rd season
Last year: Started six of the Chiefs' final seven games but was winless as the offense failed to register more than 20 points in any game.
This year: Expect the team to make a commitment to Croyle as their starter by staying away from drafting a QB with one of its early-round picks. But that also might mean another year of trying the patience of Chiefs fans.
For more on Croyle, click here.
All these teams are hoping that their young QBs can turn on the switch just like Manning did. But for that to happen, positive reinforcement is required, such as the kind of confidence-boosting comments being made at the NFL combine.
Whether it was Chicago coach Lovie Smith talking about how much the Bears wanted Grossman back (despite the fact that they benched him last season) or Arizona head coach Ken Whisenhunt detailing all the progress Leinart has made over the past few months, every coach who spoke about a young quarterback did his best to avoid the hint of negativity.
A high level of self-esteem is what ultimately enabled Manning to fight through his inconsistency. Giants general manager Jerry Reese noted that Manning always had adequate support.
"When guys are talented, you have to give them every chance to fail," Reese said. "You can't give up on players too soon. But it happens and that's just the way it is. Some teams have more patience than others."
Tarvaris Jackson, Vikings

Entering: 3rd season
Last year: The Vikings went 8-4 in Jackson's 12 starts despite his passer rating of 70.8 that ranked 28th in the league.
This year: The Vikings have a great running attack with Adrian Peterson, but support for Jackson as the starting QB has been waning. He appears to be the guy for now, but even head coach Brad Childress acknowledged it's a "fluid situation."
For more on Jackson, click here.
Though Smith, Grossman and Croyle are the only quarterbacks who need to be worried about a team completely giving up on them this season, the point that Reese made can't be ignored: It takes time to develop quarterbacks, maybe now more than ever.
Today's game is so complicated that even head coaches such as Kansas City's Herm Edwards admit that some teams do their quarterbacks a disservice by throwing too much information at them too quickly. The QBs ultimately get so bogged down by trying to fit into a specific system or handling an overstocked playbook that their confidence vanishes with every mistake they make. Before they know it, they've gone from being bright-eyed and optimistic to sullen and shell-shocked.
In watching Manning this past season, it's obvious that nobody knows when some of these quarterbacks will figure it out. While the Giants kept offering Manning their support, the numbers didn't always back him up -- and critical comments from ex-Giants running back Tiki Barber last summer didn't exactly help sway public opinion toward the quarterback.
Matt Leinart, Cardinals

Entering: 3rd season
Last year: Threw just two TD passes in the first five games before a broken left collarbone ended his season.
This year: Cardinals coach Ken Whisenhunt said at the NFL combine that Leinart is the team's starter, but will the ex-USC star be looking over his shoulder at veteran Kurt Warner? "Ken will play the best guy," said Rod Graves, the team's vice president of football operations.
For more on Leinart, click here.
But Manning was fortunate to have enough talent surrounding him to allow him to persevere. Other young quarterbacks saddled with far worse circumstances -- such as David Carr in Houston or Joey Harrington in Detroit -- discovered that whatever ability they did possess was negated by the combination of bad coaching and inadequate teammates.
A solid supporting cast might allow quarterbacks such as Leinart and Minnesota's Tarvaris Jackson to make huge strides this season; the Cardinals and Vikings both contended for postseason bids in 2007.
The same, though, can't be said for Smith, who appears to be a poor fit for the high-powered system that will be installed by new 49ers offensive coordinator Mike Martz. As for Grossman? His return to Chicago defies explanation. Granted, it's just a one-year deal, but this is the same player who lost his job after throwing six interceptions and just one touchdown pass in his first three games of 2007.
Alex Smith, 49ers

Entering: 4th season
Last year: Appeared in seven games and threw just two TD passes before being placed on injured reserve with a separated shoulder that required surgery.
This year: 49ers coach Mike Nolan said that Smith will compete with seven-year vet Shaun Hill for the starting job. New offensive coordinator Mike Martz said the impact on Smith's confidence level shouldn't be a concern. "If you've got a quarterback that's concerned about the competition," Martz told the San Jose Mercury News, "you'd better get another quarterback."
For more on Smith, click here.
Perhaps Chicago saw enough in the five games Grossman played later in the season (he threw three touchdown passes and one interception) to think it was better to keep him than to probe a weak free-agent market. He could be a useful stopgap if the team drafts a younger quarterback, plus Chicago has backup quarterback Kyle Orton in the mix. And yes, there's the possibility that Grossman could rediscover the groove that made him dangerous in the early parts of the 2006 season (OK, that's probably dreaming too big).
The fact remains that anything can happen with a young quarterback in this league. It just depends on how long a team is willing to wait.
"[Developing a quarterback] is a difficult process, and there's going to be peaks and valleys," Vikings coach Brad Childress said. "But if you believe in that guy, you've got to stay the course."
That's the philosophy that eventually turned Manning and the Giants into Super Bowl champs. And it's sufficient reason for more teams to remain patient with their own young quarterbacks in 2008.
Jeffri Chadiha covers the NFL for ESPN.com.
ESPN.com senior NFL columnist
Reporter for ESPN TV's "E:60"
Sports Illustrated senior writer (2000-07)
Covered Raiders, 49ers for San Francisco Examiner (1996-1999)
EDITORS' PICKS
The Bears have agreed to send WR Brandon Marshall to the Jets pending a physical, a source said.
Story »

Expect Chip Kelly's Eagles to stay busy when free agency begins. We predict each team's activity level.
NFL Nation »

When it comes to free agency, discretion is key. Here are 10 pricey options teams should probably avoid.
Sando
Nike Men's Home Game Jersey Kansas City Chiefs Jamaal Charles #25 Shop »

MOST SENT STORIES ON ESPN.COM