Commentary
When games resume, Favre will realize he made wrong decision
With the Packers poised to once again compete for a Super Bowl berth, Brett Favre eventually will regret not returning for an 18th season, writes Jeffri Chadiha.
[Editor's Note: Brett Favre has asked the Packers for his release. This column was originally published at the time of Favre's retirement announcement in March.]
Brett Favre will regret his decision to retire at some point this fall.
He'll be sitting at his home in Mississippi on a Sunday afternoon, relaxing with his family and he'll realize what he's missing, how precious an opportunity he passed on. It might be a simple pang of heartache. It could be a sudden jolt that sparks him to reminisce. But he will surely feel something that will remind him of how big a mistake he made when he finally ended his career as the Green Bay Packers quarterback.
When news of Favre's retirement broke Tuesday morning, it surely left many football fans shaking their heads in disbelief. Yes, the man had been flirting with leaving the game for most of the past three years. The reality, however, is that the 38-year-old Favre had more reason than ever to stick around for an 18th season.
The Packers had just come off a year that included a 13-3 record and an appearance in the NFC Championship Game. They were certain to be competing for a spot in the Super Bowl when the 2008 season kicked off.
That's what makes his decision so baffling. Favre loves playing football and he loves winning. Did you watch him this past season? If it weren't for his gray hair and beard, you would've thought he was a wide-eyed 22-year-old -- a kid filled with the unbridled joy that comes from knowing he makes millions playing a simple game -- all over again.
[+] Enlarge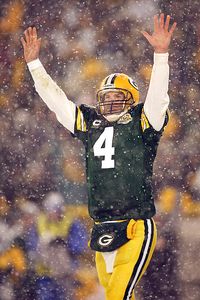 Jeff Hanisch/US Presswire Even though the Packers are a contender, Brett Favre has opted against one more run at glory.
After awhile, it seemed like the greatest gift Favre's younger teammates gave him was the realization of how many surprises were still left in a glorious career that already included three MVP awards and a Super Bowl victory.
It doesn't make sense for Favre to turn his back on those kinds of memories now. Sure, he earned his place in history this season -- he set NFL records for wins, passing yards, touchdown passes and, fittingly, interceptions -- but we all knew he'd do that eventually.
What we didn't see coming was the way Favre changed his game to help his team win. The same quarterback who earned the gunslinger reputation for his free-styling ways, began operating with the cunning cool of a committed game manager. He thrived off efficiency and learned how to trust a young receiving corps.
That transformation alone should've helped Favre see the possibilities that existed for the coming season. He didn't have to carry the Packers. He could let the team carry him when necessary, in much the same way the Denver Broncos aided John Elway toward the end of his career.
The Packers had the youngest team in football in 2007, a squad blessed with an aggressive defense, a dependable offensive line and a rising star at running back in Ryan Grant. There's no reason to think the team wouldn't have improved with another season of playing together.
But let's face it: Favre always had a tough time buying into all the magic that was happening around him last year. He was skeptical when the Packers opened the season 4-0, and Favre was still imploring the public to lower expectations when Green Bay had a 10-1 record heading into a heavily hyped matchup with Dallas. His company line was always the same, too. This team had so much youth that you had to wait and see how it responded to all the success it produced. It was like he was finding ample reason to not raise his own hopes.
The irony is that Favre finally started to truly believe in this team's possibilities when Green Bay faced the New York Giants in the NFC Championship Game. Before that contest, his wife Deanna encouraged him to accept the idea that things were going the Packers' way and there was nothing wrong with dreaming about what could happen for a team nobody saw coming.
Of course, Favre's willingness to start dreaming eventually ended with his playing his worst game of the season. His biggest mistake came when he threw an interception to Giants cornerback Corey Webster in overtime -- it set up New York's game-winning field goal in that contest. You would've thought that moment would've given Favre more motivation to return to address unfinished business.
Now that he's leaving, we can see what he was after this past season. The records clearly were a big factor in his willingness to return, but he also wanted to leave on a higher note. The Packers had won just four games in 2005 and eight in 2006. Favre simply had too much pride to walk away with people knowing he played on teams without winning records. At the very least, he needed to be remembered for his successes and not his failures.
But it's also apparent that he'd reached a point where he needed more guarantees for his future. As soon as New England Pro Bowl wide receiver Randy Moss became an unrestricted free agent, word leaked that Favre wanted the Packers to make another run at acquiring Moss (he wanted the team to do the same thing last offseason when the Oakland Raiders were looking to trade Moss). If that's true, that request would say plenty about where Favre's head was after the 2007 season. If he could have one more weapon on an already dangerous team, he'd feel better about taking another shot at leading the Packers.
Well, we will never know how much Moss' decision to re-sign with New England impacted Favre's decision to retire. What we do know is that Favre didn't need Moss to feel good about working one more season in the NFL. The man just spent five months having a blast playing for a strong team and proving that he still had plenty to offer this game. Now that he's gone, he'll eventually realize that he should've held on to that gift for as long as possible.
Senior writer Jeffri Chadiha covers the NFL for ESPN.com. He is a guest commentator on "Rome Is Burning" this week on ESPN.
ESPN.com senior NFL columnist
Reporter for ESPN TV's "E:60"
Sports Illustrated senior writer (2000-07)
Covered Raiders, 49ers for San Francisco Examiner (1996-1999)
BRETT FAVRE SAGA: OVER
After pushing and pushing to keep playing either in Green Bay or elsewhere, Brett Favre's storied career will continue in 2008. The unretired quarterback has been traded by the Packers to the Jets.
NFC North blog | AFC East blog
News
•
Favre on offseason saga: 'I knew I wanted to play'
•
Favre unlikely to play in Jets' preseason finale
•
Report: Pack's Favre deal included souvenirs, blog
•
On Day 5 with Jets, Favre says arm feels 'fatigued'
•
Favre finally arrives in New York, meets mayor
•
Rodgers: 'Still following Brett's legacy'
•
Jets introduce Favre in Cleveland
•
Favre era ends in Green Bay with trade to Jets
•
Favre leaves Green Bay, destination unknown
•
Favre: 'This probably isn't going to work'
•
Favre flying under radar in Green Bay
•
Favre: Reinstatement done, Green Bay flight set
•
Favre mulling offer; NFL ruling put off again
•
Favre actively weighing Packers' offer
•
Report: Packers mull dealing Favre in division
•
Team president meeting with Favre, agent
•
Source: Favre files for reinstatement
•
Rodgers takes over as starting QB
•
Favre signs reinstatement letter, waits to send
•
Favre won't report to Packers camp Sunday
•
Sources: Favre, Packers talk trade destinations
•
Favre support muted at shareholders meeting
•
Report: Favre doesn't have team-issued phone
•
Report: NFL security visits Vikings
•
Favre questions likely from shareholders
•
Packers reportedly weigh trade offers for Favre
•
Favre returns to Lambeau Field
•
Packers president supports GM, coach
•
What they're saying about Favre
•
Favre won't apply for reinstatement right away
•
Sources: Packers claim Vikings tampered
•
Favre may show up at camp
•
Favre 'clears it up' in interview with Fox
•
Few fans attend Favre rally in Milwaukee
•
Pack fans rally, calling for Favre reinstatement
•
Pack won't release Favre
•
Sources: Favre seeks unconditional release
•
Favre itching to return to field
Trade Commentary/Features
•
Clayton: History doesn't favor Favre, Jets
•
Chadiha: Packers will be fine without Favre
•
Wojciechowski: Divorce cause? Lack of trust
•
Clayton: Deal is a downer for Favre
•
Scouts Inc.: Jets now a playoff contender

•
Clayton: Questions, answers on Favre trade
•
Fantasy spin: Deal boosts value of many Jets
Other Commentary/Features
•
Clayton: 5 reasons Favre would start for Pack
•
Mosley: Favre is QB turned ringmaster
•
Wojciechowski: Favre and away the best solution
•
Clayton: Favre wins ugly duel
•
Clayton: It's a painful divorce
•
Chadiha: Rodgers unfazed by Favre circus
•
Yasinskas: Favre makes sense for Bucs
•
Wojciechowski: Packers can't win this game
•
Clayton: It's a delicate situation
•
Wright Thompson: Catching Favre's fastballs
•
Wojciechowski: What's the answer, Packers?
•
Williamson: Where could he end up?
•
Seifert: What happens after HOF QBs move on
•
Paolantonio: Favre is overhyped
•
Kiper: 2005 analysis of prospect Rodgers
•
Madden '09 cover boy Favre to stay retired
•
Thompson: Brett, we miss you already
•
Wojciechowski: Worth the price of admission
•
Price of signed Favre items to go up
•
Yasinskas: Rodgers ready to take the reins
•
FB Outsiders: Measuring Favre's greatness
•
Sando: Gunslinger mentality defined Favre
•
Yasinskas: Majkowski on Favre's legacy
•
Clayton: Questions surrounding Favre
•
Clayton: Packers will miss Favre's magic
•
Chadiha: Favre will regret decision
•
Keating: Favre just getting started
•
Hashmarks: Favre fun-loving guy
•
Burning Questions: Is Rodgers ready?
•
Experts: Is Favre the best, or among them?
•
Favre's top 10 moments
•
Forde: Favre's flair for dramatic started in college
•
Favre's rating in Mel Kiper's '91 draft guide
•
Favre's hometown quiet on day of his retirement
•
Sadness, shock envelops Green Bay
•
Wounded Army officer has last ball thrown
•
Around sports: What they're saying
•
Fantasy spin: Rodgers not top-20 QB
•
Scouts: Rodgers has talent to succeed

•
Packers local: Complete hometown coverage
Video
•
Favre traded to Jets for conditional pick
•
Jets GM on trade for Favre, imminent release of Pennington
•
Steve Young on Favre's Jets future
•
Cris Carter on what trade means to Jets?
•
Schlereth: Exciting news for Jets
•
Sal Pal on Favre's move to AFC
•
Rachel Nichols on Favre's pre-trade mindset
•
Favre interview: Part 3
|
2
|
1
SportsNation
•
How will Jets do with Favre behind center?
•
Fans react to Favre's retirement
Photo Galleries
•
Favre flashback
•
Top TD guns
•
Top TD targets