Commentary
It's still about the winning for Pack's Old Man
Brett Favre said his 2-0 Packers remain a mystery, but there's no doubt he plans to put them on his shoulders.
EAST RUTHERFORD, N.J. -- Give Green Bay Packers quarterback Brett Favre credit: He's definitely not big on B.S. He has always been a candid quote and he was no different Sunday afternoon, not even after setting an NFL record with his 149th career victory in the Packers' 35-13 win over the New York Giants.
As his Packers teammates quietly dressed and prepared for their trip back to Wisconsin, Favre emphasized that this team remains a mystery despite its 2-0 start.
"I'd be the first to say there are questions about us," Favre said. "Who are we? Where do we stand? How good are we? We may have won six games in a row [including four wins at the end of last season], but I don't feel like we're a 6-0 team."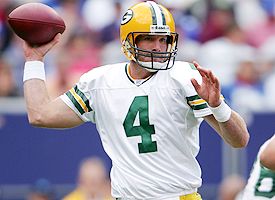 Chris McGrath/Getty ImagesBrett Favre remains in the moment instead of getting swept up in his NFL accomplishments.
Though the Packers can't be considered playoff contenders yet, what's apparent is that Favre believes he can lead this team to respectability if it can maintain some perspective about its start. You could see it in the way Favre carried himself Sunday, the way he pumped his fists after touchdown passes and how jubilantly he jumped into the arms of teammates after every big play. The old man is having a blast right now. And he wants to make sure that joy ride continues for the near-future.
Indeed, we can see that now ... unlike a few months back when it was harder to know what was on Favre's mind when he complained about the Packers' lack of personnel moves. At that point, Favre appeared to be extending his 17-year career merely to set records. When this season started, he needed just two victories to pass John Elway on the all-time wins list for quarterbacks, with Dan Marino's marks for career touchdown passes (420) and career passing yards (61,361) also reachable.
Few people were betting that Favre would enjoy another winning season with the Packers, however, especially not with a young team that hadn't made a playoff appearance since 2004.
But what Favre showed Sunday is that he's still stubborn enough to believe he can generate the kind of passion to inspire teammates to elevate their own games. And so far, he's proving he can do just that.
"I don't think Brett could ever change who he is," Packers wide receiver Donald Driver said. "He plays the game to have fun and he winds up making it fun for everybody around him. That's why he's still playing."
There's no denying that the Packers were having a good time Sunday in Giants Stadium. Favre had spent the previous week telling head coach Mike McCarthy that he wanted the offense to find some early rhythm, primarily because the Packers produced just 215 total yards in a 16-13 season-opening win over Philadelphia.
Favre wanted more short passes. He wanted his young receivers to have more chances to run after the catch. And he really wanted to open the game with 10 straight completions so his team could set the tone quickly.
Though Favre didn't get his perfect start -- he connected on his first six passes before Giants safety Gibril Wilson intercepted him early in the second quarter -- he did carry this offense for most of the contest. Along with completing all 11 of his attempts in the third quarter (he hit 14 straight to start the second half), Favre finished the game with 286 yards on 29 of 38 passing. He spread the ball around to eight receivers and threw three TD passes, including a 10-yard dart to Driver that put Green Bay ahead 28-13 early in the fourth quarter.
Favre said the offense was rolling so well that he couldn't even call out the pass protection on that TD play. He just dropped back, glanced over the coverage and found Driver in the back of the end zone.
"That touchdown was a perfect example of what can happen when guys go out and make plays for this team," Favre said. "If we can get everybody to make those kinds of plays week in and week out, we can really do something. That's what it's going to take for this team to be successful."
Although Favre was thrilled with just winning, he didn't completely minimize the NFL record he set.
"Maybe it will mean something down the road, but it won't mean much if we lose next week [to San Diego]," Favre said. "I'm proud of the fact that I've played in a lot of games, but right now I'm also worried about the Chargers."
Favre said he has always felt weird about quarterbacks getting so much credit for victories, but McCarthy believes his leader deserves plenty of notoriety for this latest accomplishment.
"When people talk about the biggest records he's had in his career, I think he just set [the most important one]," McCarthy said.
Of course, the question now is how many more victories Favre will add to his record total. It was clear he had plenty of offseason concerns about what this team could accomplish, but he's already seen enough to know the Packers can be competitive.
Now the next thing the Packers must prove is whether they can be consistent and committed to constant improvement. Judging by how Favre handled one of the biggest moments of his 17-year career, it seems likely that he'll do everything possible to keep his teammates focused on that task.
Jeffri Chadiha is a senior writer for ESPN.com.
ESPN.com senior NFL columnist
Reporter for ESPN TV's "E:60"
Sports Illustrated senior writer (2000-07)
Covered Raiders, 49ers for San Francisco Examiner (1996-1999)
SPONSORED HEADLINES
MORE NFL HEADLINES
MOST SENT STORIES ON ESPN.COM
EDITORS' PICKS
New England has the only NFL offense that changes its game plan each week to attack opponents' flaws.
Roundtable »

Jay Cutler's contract is burdensome, but the Bears do have options. We dissect the various scenarios.
Sando

Big-name QBs lead off Todd McShay's first 2015 mock draft. Is RB Melvin Gordon far behind?
McShay