Commentary
Observation Deck: Can anyone stop the Pats?
The Patriots have been so dominant it's only natural to wonder whether any team is capable of slowing them down, writes Jeffri Chadiha.
The New England Patriots finally have reached the point that you have to wonder how many NFL records they'll break this season.
The single-season mark of 49 touchdown passes Peyton Manning set in 2004? Tom Brady should smash it. Jerry Rice's record of 22 touchdown receptions in a season? Randy Moss already has 10 in seven games. And is there any reason to think the Patriots won't eclipse the 556 points scored by the 1998 Minnesota Vikings? Put it this way, they're on pace for 612.
About the only question left to wonder about New England -- aside from the weekly debate about when they eventually will lose -- is whether anybody can actually slow them down. Here's a list of the teams with the best shot at keeping Tom Brady & Co. under 30 points when they meet:
1. Pittsburgh (Dec. 9): The Steelers have the talent and the numbers. Even after Sunday night's 31-28 loss at Denver, the Steelers still rank first in total defense (250.3 yards per game). They are second in the NFL in scoring defense (13.0 points per game) and rate third in pass defense (174.8 yards per game). Defensive coordinator Dick LeBeau, in his 34th year as an NFL coach, is getting it done.
2. Indianapolis (Nov. 4): The Colts know the Pats, so there's no fear factor here. The Colts also play Cover 2, which means they're not going to give up the big plays other Pats opponents have allowed. Throw in a hard-hitting secondary led by safety Bob Sanders, and these Colts can measure up.
3. Baltimore (Dec. 3): This game is late enough in the season that the Ravens should be back to full strength. Once defensive end Trevor Pryce and cornerback Chris McAlister return from injuries, this athletic unit will be able to cause problems once again.
4. Washington (Oct. 28): The Redskins have the first thing you need if you want to survive against New England: a talented secondary. With four first-round picks in their defensive backfield (cornerbacks Shawn Springs and Carlos Rogers and safeties LaRon Landry and Sean Taylor), the Skins won't have to worry about being overmatched by the Patriots' wealth of talent. Plus, defensive coordinator Gregg Williams loves the challenge of facing dominant offenses.
5. New York Giants (Dec. 29):
Yes, the Giants have a suspect secondary. But their front four -- led by ends
Michael Strahan
and
Osi Umenyiora
-- can create the kind of pressure Brady rarely has seen this season. The Giants lead the NFL with 27 sacks.
Now let's move into my 10 observations from Week 7:
1. Giant steps
I still can't believe how quickly this bunch changed its fortunes. The Giants have won five straight games after an 0-2 start and literally pounded the 49ers on Sunday. The most impressive part of their revival: the running game. With
Brandon Jacobs
(107 yards and one touchdown) healthy again, the Giants can bang any defense with a backfield trio that also includes
Reuben Droughns
and
Derrick Ward
. That means
Eli Manning
can do what he does best -- play-action passing -- and the Giants can control the clock. Coach Tom Coughlin couldn't ask for better circumstances.
Here's something else you have to remember about the Giants: They lost to Dallas (6-1) and Green Bay (5-1). That's nothing to be upset about. In fact, it's fair to say the Giants now have a better offense than Green Bay and a better defense than Dallas. In other words, they're the only complete team in their conference.
2. Perseverance rewarded
Priest Holmes
continues to amaze. Even when Holmes returned to the Chiefs this summer, you'd have been hard-pressed to find somebody who expected to see him play again. But he saw action (4 carries, 9 yards) in a limited role in Sunday's 12-10 win over Oakland and actually looked as though he could offer the Chiefs something later this season. Talk about the stuff of inspiration.
The 34-year-old running back has gone from being damaged goods -- and a player most people suspected of having insincere motives for coming back from a severe neck injury suffered nearly two years ago -- to one who once again has proved all the doubters wrong. I vividly remember Holmes talking about how he wanted to help younger teammates understand how to succeed in this league upon his return. Well, he gave them a damn good lesson Sunday. You do it by not giving up.
[+] Enlarge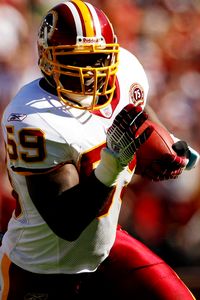 Win McNamee/Getty ImagesLondon Fletcher certainly made his presence felt in the Redskins' narrow victory over the Cardinals.
Is there any doubt this
Washington Redskins
middle linebacker was the best defensive free-agent acquisition of the offseason? Just check his numbers in a 21-19 win over Arizona. The man registered 13 tackles and returned an interception 27 yards for a touchdown. If he hadn't been on that field, it's likely the Redskins would have lost.
It's that kind of presence that made Fletcher so attractive to the Redskins back when they signed him. They loved his leadership skills, and they also knew he'd thrive in Williams' defense, especially as Williams was Fletcher's head coach in Buffalo from 2002 to 2003. So far, Fletcher hasn't disappointed one bit. In fact, he's one of the league's top tacklers, with 52 on the season.
4. Remember me?
Lee Evans
' five-catch, 98-yard day in Buffalo's 19-14 win over Baltimore is proof that he's capable of escaping his current funk. After all, it was only the second time this season Evans caught more than two passes in a game. Last year, he set career highs with 82 receptions and 1,292 yards.
One thing that helped Sunday was the competition. The Bills obviously wanted to attack cornerback Corey Ivy, who was playing in place of injured starter McAlister. Nearly every big pass play Buffalo hit came against Ivy, and Evans was the beneficiary. His 54-yard reception in the third quarter helped set up a 1-yard touchdown run by Marshawn Lynch that made the score 19-7.
5. No surprise at all
There shouldn't be any shock that
Atlanta Falcons
quarterback
Byron Leftwich
left Sunday's loss to New Orleans with an ankle injury in the third quarter. Leftwich has been fragile throughout his career. He was bound to suffer some type of setback once the Falcons deemed him their starter. In fact, his game is set up for him to take unnecessary punishment.
The biggest problem with Leftwich, according to some scouts, is his delivery. He has such a long throwing motion -- he literally winds up like a baseball pitcher -- that he leaves his legs vulnerable to hits. The sad part for him is that he actually was playing solidly before the injury. He completed 15 of 23 passes for 145 yards and one touchdown.
6. Simply the best
There are so many cases to be made for the worst division in football -- AFC West, AFC East and NFC South are all in the running -- that it's almost easy to forget how strong the NFC East has become again. The Giants, as already stated, are clearly the class of the NFC right now. The Cowboys also impressed in rebounding from that big loss to New England in Week 6 (by the way, it's obvious
Marion Barber
should be carrying the ball more often in that offense; he runs the football with the ferocity of a man who might never touch it again). Finally, the Redskins have lost just two games and easily could've won both. That's a pretty good group.
7. Bears take flight
I'm now convinced that Chicago realizes it can't rely on its running game. It's the only way to explain why quarterback
Brian Griese
is throwing the ball all over the place. He threw for 322 yards and one touchdown in Chicago's 19-16 win over Philadelphia, but those aren't the numbers that really jumped out at me. It's Griese's 41 pass attempts that seem so alarming.
Griese has started four games since replacing Rex Grossman. In three of those games, Griese has thrown 40 or more passes. What makes this so surprising is that Grossman surpassed the 40-plus-attempt mark only three times in 19 games last season. So what does this say? That Bears general manager Jerry Angelo made a huge mistake when he selected Cedric Benson fourth overall in the 2005 draft.
8. Bironas bails out Titans
You have to give Tennessee kicker
Rob Bironas
credit. There's no way the Titans should beat Houston with
Kerry Collins
at quarterback. But Bironas kicked an NFL-record eight field goals in his team's 38-36 win -- including the winner from 29 yards as time expired -- and it's starting to look as though he's one of the most reliable clutch kickers in the NFL. After all, he had four winning field goals in 2006, including a 60-yarder to beat Indianapolis.
How else can you explain the big plays he produces against St. Louis? This fifth-year Seahawks receiver broke open Sunday's game with a 91-yard kickoff return to open the second half. Before that point, the Seahawks led 10-3. After it, they coasted to a 33-6 win.
This also is the second time Burleson has buried the Rams with a huge return. Last year, his 90-yard punt-return touchdown helped Seattle claim a 24-22 win over St. Louis.
10. Chad must go
Although
New York Jets
quarterback
Chad Pennington
made a decent case to keep his job Sunday (he completed 20 of 31 passes for 272 yards, three touchdowns and an interception), there are three reasons coach Eric Mangini has to start playing backup
Kellen Clemens
: (1) The Jets are 1-6; (2) Pennington put up solid numbers against the league's 30th-ranked defense; and (3) that last interception he threw was downright awful. It floated forever before landing in the hands of Bengals cornerback
Johnathan Joseph
, who returned it 42 yards for the winning score. There's no way Mangini can live with those kinds of mistakes any longer.
Jeffri Chadiha is a senior writer for ESPN.com
ESPN.com senior NFL columnist
Reporter for ESPN TV's "E:60"
Sports Illustrated senior writer (2000-07)
Covered Raiders, 49ers for San Francisco Examiner (1996-1999)
EDITORS' PICKS
With the NFL floundering and in need of leadership, Roger Goodell has disappeared.
Keown »

Tampa Bay is latest team getting little bang for its buck.
Clayton's mailbag »

Pats DE Chandler Jones is among those on the verge of a breakthrough.
Clay »