Commentary
Chiefs' vets buying into rebuilding plan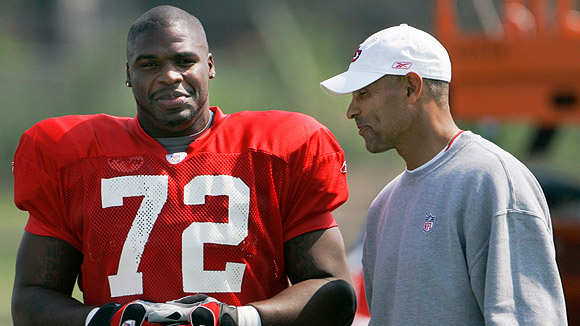 AP Photo/Orlin WagnerWith young players like Glenn Dorsey (left), Herm Edwards is prepared to deal with the growing pains.
Kansas City Chiefs
guard
Brian Waters
knows how to find the positives in a difficult situation. That's why he's so focused on the upside of the current rebuilding process surrounding his team.
Even though the Chiefs are young and unproven in many areas, Waters already sees the benefits of so much inexperience. "The energy around here is much better now," he said Thursday after practice. "We haven't had that over the last couple years because we had a lot of veterans who were focused on their own agendas. Now we have a bunch of young guys who are all focused on getting better because they know they could be gone. It's making a difference."
Though Waters sounds like he's putting a nice spin on a process that usually isn't much fun at the start, he is sending a message that the Chiefs sorely need at this stage of their development. After all, attitude is everything when it comes to rebuilding and the Chiefs are proving they have that in their favor. Their veterans believe in the plan. Their young players are attacking everything at full speed. And in time, the hope is that all this faith and fervor leads to something more tangible than excessive optimism.
In fact, it wouldn't be surprising if the Chiefs earned their first victory on Sunday when they meet the Oakland Raiders at home. The Chiefs clearly gained some confidence in their 17-10 loss to New England last Sunday, even if that outcome was influenced heavily by the season-ending knee injury Patriots quarterback Tom Brady sustained in the first quarter. As Waters noted, the Chiefs played physical in that contest and they limited their turnovers against a well-coached, veteran team. "That game," Waters said, "gave us an idea of how good we could be."
The problem, of course, is that the contest also reminded the Chiefs of how far they need to go in their rebuilding process. The four drops by second-year wide receiver Dwayne Bowe were Exhibit A on that front, including a whiff on a potential touchdown pass that could've tied the game in the final minute. The defense couldn't fluster Patriots backup quarterback Matt Cassel and the shoulder injury that sidelined Chiefs quarterback Brodie Croyle also was cause for concern. The last thing Chiefs coach Herm Edwards needed to see was another malady for a struggling quarterback who already has a history of being injury-prone.
That being said, these are the things that come with starting over. Edwards expected to deal with plenty of growing pains when he sold general manager Carl Peterson and owner Clark Hunt on rebuilding and now Edwards already has seen plenty. The key for the Chiefs is recognizing that all of this year's ugliness has an undeniable value: It will help them grow into a team that understands how to deal with adversity. "The older guys can see that the younger guys have what it takes to be a good football players," Edwards said. "They just have to learn how to do it."
Edwards emphasized that one essential component of his plan is the veterans who are still on this year's roster. It's clear that young players like Bowe, rookie defensive tackle Glenn Dorsey and rookie left tackle Branden Albert are the future, but it's been just as critical that older stars like Waters, running back Larry Johnson and tight end Tony Gonzalez buy into the process. So far, that's been the case. "When you decide to do something like this, you need to make sure the holdovers are the right guys," Edwards said. "We've got a bunch of young guys and rookies so there's a lot of teaching going on during practice that doesn't involve the coaches."
The obvious question is how quickly the Chiefs can take what they learn this season and apply it. It's fair to say they aren't going to win more than the four games they won last season. There are simply too many positions with uncertainties, including the one Croyle currently plays. But the best way to evaluate the Chiefs this year isn't by wins and losses. It's by how quickly they rebound from their mistakes and how they compete when the games aren't going their way.
Those simple attitude adjustments are ultimately what will keep them from becoming a team like the Raiders, another organization that is relying on a host of young players to succeed. For Oakland -- a team that was embarrassed by Denver in a season-opening 41-14 loss on Monday night -- it's becoming apparent that the constant chaos that surrounds an Al Davis-led franchise may once again poison any hope that team has of being relevant. That fact alone should also give the Chiefs confidence this week. As bad as things might get this year, they can at least know that they're all operating on the same page.
In fact, eight-year veteran defensive end Alfonso Boone said that playing for the Chiefs reminds him of what it was like to play for Chicago when Lovie Smith took over as the Bears' coach in 2004. The Bears also had questions at several positions and a long history of mediocrity back then. But the mindset was to have a collection of largely unknown youngsters play fast and furious, even if that approach led to mistakes. Two years later, the Bears represented the NFC in a Super Bowl loss to Indianapolis.
The Chiefs obviously would be ecstatic if their success came that quickly. The odds are it won't. But for now they can find some reasons to be positive about the future. The most apparent one -- at least from this vantage point -- is that they clearly believe in the path they've chosen.
Jeffri Chadiha covers the NFL for ESPN.com.
ESPN.com senior NFL columnist
Reporter for ESPN TV's "E:60"
Sports Illustrated senior writer (2000-07)
Covered Raiders, 49ers for San Francisco Examiner (1996-1999)
EDITORS' PICKS
J.J. Watt envisions himself in the pantheon of NFL greats, and nothing will stop him from making it a reality.
Ashley Fox »

Peyton Manning is up to an unprecedented 510 TD passes, and he's far from done.
Legwold »


The Percy Harvin trade has long-term ramifications for Seattle.
Sando