Commentary
Lots of questions, no answers
A 24-17 home loss to the Cardinals exposes Giants' flaws
EAST RUTHERFORD, N.J. -- The New York Giants need to be extremely concerned about what happened on Sunday night. They didn't just suffer a 24-17 nationally televised loss to the Arizona Cardinals. The defeat also revealed some sizable flaws, shortcomings that are amazing for a team that was unbeaten two weeks ago.
Those weaknesses should have plenty of people wondering if the Giants really can handle the best the NFC has to offer.
The same team that started the season with five straight wins now has dropped two consecutive games. The first defeat, a 48-27 loss in New Orleans on Oct. 18, was understandable. The Saints have been smashing plenty of teams, both on the road and in the Superdome. This Meadowlands loss was something altogether different. No disrespect to the Cardinals' effort, but it seemed like the Giants had hardly practiced before lining up for this contest.
The numbers alone jump out at you: four turnovers, three false starts, two delay-of-game penalties. And that's just what the offense did for the Giants on Sunday.
"In the National Football League, you have to play well in all three phases of the game to win," said Giants coach Tom Coughlin.
"We've had a couple of games now where we haven't had that happen. And what can solve that is having all three phases play well again. Tonight it was the offense [that was the problem]. We never really had a rhythm."
Most of the blame for those offensive woes falls squarely on the shoulders of quarterback Eli Manning. It's been a long time since he played this poorly, especially in the national spotlight.
When Manning wasn't missing receivers -- he completed only 19 of 37 passes for 243 yards -- he was tossing the ball into the hands of Cardinals defenders. Arizona had three interceptions, including one by free safety Antrel Rolle that clinched the victory late in the fourth quarter.
[+] Enlarge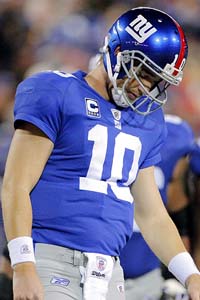 Tony Kurdzuk/US PresswireEli Manning and the Giants have the blues.
Manning also was responsible for both delay-of-game penalties. He admitted that he was spending too much time trying to figure out the defensive fronts and not enough time focusing on the play clock in those moments. But he wasn't alone in the mental error department. The mere fact that the Giants had three false starts in their home stadium (where crowd noise shouldn't be an issue) says that lack of concentration was prevalent throughout the offense.
Take wide receiver Mario Manningham, for example. He dropped one of the few passes that Manning perfectly threw, a fourth-quarter bobble that would've been an easy touchdown. Running back Ahmad Bradshaw also had issues. His fumble late in the fourth quarter killed one potential game-tying drive, and his unnecessary-roughness penalty on the next possession nearly doomed the team's final series.
Afterward, the Giants had few explanations for all those mistakes.
"We struggled from the get-go," said Manning, whose only touchdown pass came on a ball that was tipped into the hands of wide receiver Hakeem Nicks and led to a 62-yard score.
"We struggled on first down. We didn't have any long drives. We had too many third-and-longs, and we didn't have enough positive plays. We just didn't play consistent football."
It would be easy to blame the absence of injured right tackle Kareem McKenzie on some of the Giants' offensive struggles, but nobody in the New York locker room was going there. The bigger issue was that their offense didn't get much help on a night when it was struggling.
The kicking game was awful, as punter Jeff Feagles averaged a meager 34.4 yards per kick in an attempt to keep the ball away from Cardinals return man Steve Breaston. And the defense was just competent, as their two takeaways (an interception and fumble) and two sacks weren't enough to stifle Arizona's offense.
When the Cardinals needed a key play, they too often found a way to produce one. The Giants, on the other hand, kept grinding their way through a game that never felt like it was going to end well for them. And even though some people might think this opinion is an overreaction, it's hard not to wonder if this team was a little overrated before now. You simply can't have consecutive losses in this manner and not leave people with lingering doubts.
The fact is that the Giants have dominated the NFC since the end of the 2007 season, when they rolled to a Super Bowl title. Now they know just how strong the Saints are, as New Orleans is one of three undefeated teams remaining. The Minnesota Vikings also appear extremely dangerous with Brett Favre under center. Even with a loss at the Pittsburgh Steelers on Sunday, Minnesota has all the weapons to make a deep run in the playoffs.
The Giants, on the other hand, don't seem nearly as impressive. Sure, they've thumped bottom-dwellers like the Tampa Bay Buccaneers, Oakland Raiders and Kansas City Chiefs. But they have only one victory against a team with a winning record (the Dallas Cowboys). That's not the kind of record that keeps people stuck in their seats on the bandwagon.
Of course, the Giants might prove themselves in the next few weeks, when they meet the Philadelphia Eagles, San Diego Chargers, Atlanta Falcons, Denver Broncos and Cowboys.
As Giants defensive end Justin Tuck said, "I'm not concerned, because the last time we lost two games in a row this early, we wound up winning the Super Bowl."
That might have been true back in 2007. But right now, after the last two weeks, the Giants need to regroup if they want to create that kind of magic again.
Jeffri Chadiha covers the NFL for ESPN.com.
Jeffri Chadiha, formerly of Sports Illustrated, is a senior writer for ESPN.com. Chadiha first attended Wyoming on a full football scholarship before injuries led him to transfer to Michigan after two years. He received a Bachelor of Arts degree in communication from Michigan in 1993 before pursuing a career in journalism. Chadiha is also a frequent contributor to ESPN TV.
SPONSORED HEADLINES
MORE NFL HEADLINES
MOST SENT STORIES ON ESPN.COM
NFL WEEK 7 COVERAGE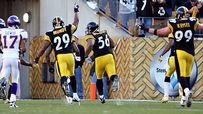 COMMENTARY/BLOGS
MNF: Eagles 27, Redskins 17

Rico New York Giants Car Flag Shop »