Commentary
Youth might dictate new hiring model
Finances, philosophies and power among reasons to opt for young head coaches
Pittsburgh Steelers coach Mike Tomlin planted the seed nearly every time he spoke with his good friend, then-Tampa Bay Buccaneers secondary coach Raheem Morris, two years ago.
You're going to be a head coach, Tomlin said back then. You need to start preparing for the day it happens. The encouraging words made Morris grin, but he also thought Tomlin was nuts.
Tomlin had just gotten his big break at the tender age of 34. Morris, on the other hand, was a 31-year-old with only five years of NFL coaching experience.
"Before Mike put the idea in my head, I had never really thought about being a head coach," Morris said. "And even then, it was like a big brother telling you something that you hear but don't really believe. I just looked at him and said, 'You've got a great job, so go do it.' I thought he was going to be the exception."
Now that Morris is nine months into his job as the Buccaneers' head coach, he can see what most people around the league have noticed: There's a distinct youth movement building in the head-coaching profession.
It used to be that 45 was considered young for a head coach in a league filled with middle-aged leaders of teams. The rise of 30-somethings -- men like Tomlin (now 37), Morris (now 33), the Denver Broncos' Josh McDaniels (33) and the Cleveland Browns' Eric Mangini (38) -- represents a dramatic shift in thinking on the position. And it wouldn't be shocking to see more coaches like them climbing the ranks.
First off, many NFL people believe players have changed so much that younger coaches have a better chance of relating to them. A number of teams now are giving coordinator jobs to men well younger than 40, which means there will be more young head-coaching candidates in the near future. Add in the financial considerations (younger coaches don't command outrageous salaries) and the philosophical ones (some GMs might not want strong-minded veteran coaches), and you can see where this is heading. Young coaches suddenly seem far more attractive in today's game.
In fact, Tomlin's recent Super Bowl XLIII victory and the league championship achieved by then-39-year-old Jon Gruden in Tampa Bay at the end of the 2002 season only confirm that age matters less than ever.
"So much really has changed when it comes to making that decision [on picking a head coach]," said Tampa Bay general manager Mark Dominik, who at 38 is one of the youngest men at his position in the league. "In many ways, it's not just about looking at a résumé anymore. It's more about looking at the guy and basing your choice on that."
Still, there are plenty of reasons to wonder about how many young head coaches can handle the job. For one thing, the New York Jets became so unimpressed with Mangini last season that they fired him just two years after he had led the team to a playoff appearance in 2006. You also can't discount those who have had to work for Oakland Raiders owner Al Davis. He has hired three coaches in their 30s over the past two decades -- Gruden (now an analyst for ESPN's "Monday Night Football"), Mike Shanahan and most recently Lane Kiffin. Each left that organization with hard feelings (Shanahan and Kiffin were fired, while Gruden was traded to Tampa Bay).
The learning curve for young coaches also is a significant factor in whether they succeed. They have to pick the right assistants. They have to determine the proper personnel for their rosters. If they're going to change schemes -- as both McDaniels and Morris are doing this season -- they have to understand how to delegate authority and exercise patience.
"The head coach isn't just thinking about what's happening in the short term," said Herm Edwards, who coached both the Jets and the Kansas City Chiefs and now is an analyst for ESPN. "He has to be thinking about moves that impact next year and the year after that."
Former New York Giants coach Jim Fassel added that young head coaches have to be more conscious of the small window of opportunity they receive with their new positions.
"People don't know how important that first year is because that's when opinions get formed," said Fassel, who coached the Giants from 1997 through 2003. "They say you only have three years to make your mark as a coach in this league, but the truth is that the clock is running right now. If things aren't going right at the end of that first year, then the players will start to lose confidence. And that's when things will get tough."
Mangini told reporters recently: "One of the early lessons that I learned is that it doesn't matter how old you are, what you look like, you could be 80, you could be 20, right on down the line. If the players know that you're giving them an opportunity to get better and a chance to win, that's what they respect."
"Old-school" versus "new-school" coaches
So far, both McDaniels and Morris have had to learn plenty on the fly.
McDaniels feuded with and traded Pro Bowl quarterback Jay Cutler to the Chicago Bears, and he has clashed with Pro Bowl wide receiver Brandon Marshall, who has been demanding a new contract or a trade. However, McDaniels -- who, like Tomlin, Mangini and Gruden, declined to be interviewed for this story -- seemed to gain control of the Marshall situation after suspending the receiver for the final two weeks of the preseason.
"Josh has done a good job of keeping us focused," Broncos wide receiver Jabar Gaffney said. "And the guys respect him. When he first got here, there were probably some guys who didn't respect him but they're figuring out that he knows what he's talking about."
As for Morris, he opened eyes around the league when the Bucs fired offensive coordinator Jeff Jagodzinski and promoted quarterbacks coach Greg Olson to that position after their third preseason game. The team moved quickly to explain that Jagodzinski had revealed himself to be an inexperienced playcaller -- "We need to have more direction to where we're going and we just don't have it," Morris said at the time -- but the bigger question was how that fact slipped past the Bucs in the first place.
"The bottom line," Dominik said, "is that we just didn't hire the right guy."
Despite those early issues, the people who know McDaniels and Morris believe they will succeed for the same reasons: They both are smart and energetic, and they both learned from highly successful coaches. McDaniels was part of three Super Bowl-winning teams during his eight seasons under Bill Belichick with the New England Patriots, and he served as offensive coordinator for three seasons. Morris has worked with two men who have won Super Bowls (Gruden and Tomlin) and was set to replace one of the NFL's most respected defensive coordinators, Monte Kiffin (father of Lane Kiffin), prior to his promotion.
"Things really have gone like we've planned," Morris said during an interview prior to his regular-season head-coaching debut, the Bucs' 34-21 loss to the Dallas Cowboys on Sunday.
"We had the situation with Jeff but we had a good offseason where we stressed the need to become more physical and violent. We didn't have any major injuries in training camp. And even though we went 1-3 in the preseason, we knew we wouldn't have many believers, even if we won all four games. So we're right where we want to be. Nobody thinks we're any good, and my guys are realizing we can use that."
There's no secret to Morris' greatest strength as a head coach: It's his infectious personality. He started in Tampa Bay as a quality control coach who used to hang out with the players and quickly grew into a trusted confidant. Although Morris coached defensive backs, he helped defensive tackle Ryan Sims in 2007, back when Sims was a first-round flop from Kansas City who had just been traded to Tampa Bay. Sims was frustrated by his lack of playing time, and Morris spoke with him constantly after practice to keep his spirits up.
Sims said Morris was one of the first people to welcome him to the Bucs.
"The number one thing about Raheem is that he's one of us," said Sims, 29.
"You can talk to him about your wife, your kids, the club and not just football. Some coaches can only talk about work. Raheem isn't made that way."
Bucs linebacker Barrett Ruud added that such an approach doesn't mean Morris is soft.
"Raheem can call you out in way that gets his message across and doesn't piss you off," said Rudd, 26.
The ability to relate has become vital for coaches because, as Bucs cornerback Ronde Barber said, "Being an old-school coach doesn't resonate with players any more."
An NFC executive added that teams have to be more open minded when understanding players. Sometimes, a younger head coach's perspective might help.
"I can remember being in personnel meetings when I first started and people wondered if a guy with a tattoo had a gang affiliation," said the executive, who asked for anonymity. "If he had an earring, then people wondered if he was gay. Those are the kinds of things that came up in those days. But today's players grew up on the Internet, and they're asking more questions. They're not just saying, 'Yes, sir. Whatever you want, sir. I will run through that wall for you, sir.'"
"

I do believe -- and this comes as no disrespect to older coaches -- that the younger guys understand players at a different level because of the generational [factor]. And that is a positive. It's tough to put an age on it, but the combination of energy and the understanding is big.

"

-- Atlanta Falcons GM Thomas Dimitroff
"I do believe -- and this comes as no disrespect to older coaches -- that the younger guys understand players at a different level because of the generational [factor]," Atlanta Falcons general manager Thomas Dimitroff said. "And that is a positive. It's tough to put an age on it, but the combination of energy and the understanding is big."
Tomlin receives high praise for his communication skills -- "Mike is straightforward with you; he doesn't beat around the bush and he can talk to any player in his locker room," said Bucs quarterback Byron Leftwich, who played in Pittsburgh last season -- but not every young head coach has to be beloved to succeed.
'Cheap labor'?
When Gruden became the Raiders' head coach at age 34, he quickly revealed himself as a leader who wasn't afraid to grind on his team.
He routinely arrived at the team's cafeteria about five minutes before 9 a.m. most mornings, just so he could order players to stop eating breakfast and get to their meetings on time. That was Gruden's way of instilling discipline in a team that had lacked that quality too long.
What Gruden didn't have to worry about was strategy. He became an offensive coordinator when he was only 31, and that experience quickly made him a rising star within the profession. In fact, now, seven teams employ offensive or defensive coordinators younger than 37, including the Philadelphia Eagles (35-year-old Sean McDermott), Cleveland Browns (34-year-old Brian Daboll) and Houston Texans (29-year-old Kyle Shanahan). That's a major indication of how comfortable teams are with age being just a number.
Edwards saw plenty of potential in Morris when the two first met in 2001, back when Edwards was the Jets' head coach and Morris was an assistant coach at Hofstra. Shortly after their first meeting, Morris was hanging out at the Jets' offseason practices as an intern. He studied film with Edwards and helped coach rookie defensive backs on their techniques. A year later, Edwards recommended Morris to Monte Kiffin when the Bucs needed a quality control coach.
Edwards wasn't surprised when Morris flew up the coaching ranks, but he also believes finances play a huge role in the opportunities going to younger head coaches.
For example, the Bucs still owe Gruden $15 million over the next three years after firing him in January. Broncos owner Pat Bowlen has to pay former head coach Mike Shanahan $7 million annually over the next three years. In contrast, a first-time NFL head coach usually draws an average salary in the range of $2 million to $2.5 million.
Tomlin even spoke about the economic factors when he recently told NBC's Bob Costas that young head coaches are "cheap labor."
"When you look at a lot of these situations, you are talking about coaches who are replacing older guys who are still getting paid," Edwards said. "Don't get me wrong. I'm happy for all those guys. But if you're a young coach, you're not demanding as much money because you're just happy to be there. And if it doesn't work out, [the team] doesn't feel it as much financially."
If paying big money for a coach has become unappealing to some owners, there are other people who suspect control plays a major role in the increase in young coaches. Those critics point to highly publicized rifts in organizations like the San Diego Chargers (where general manager A.J. Smith and former coach Marty Schottenheimer couldn't co-exist) and Tampa Bay (where former general manager Rich McKay left the organization just one year after Gruden led it to a Super Bowl win) as examples of how power-hungry coaches can wear on franchises.
"If there's a word that sums up the reasons behind some of these coaches getting hired," said one former head coach, who asked for anonymity, "it's 'pliable.'
"I really do think the profession started changing when Gruden went to Tampa Bay," he said, referring to the trade that sent Gruden from Oakland to the Bucs for two first-round picks, two second-round picks and $8 million.
"He got a bump in pay and he won the Super Bowl, and the next thing you know, Rich McKay is getting forced out. I guarantee you there were general managers around the league who didn't want that happening to them. And that's why a lot of teams don't want an older coach with a stronger personality. They don't want to deal with the threat."
'Take the job and run with it'
Belichick commented on how strange it is to see successful veteran coaches unemployed in today's game. While speaking at the NFL combine in February, he said it "didn't feel right" to see Super Bowl winners (like Shanahan, Gruden, Bill Cowher and Brian Billick) and accomplished assistants with head-coaching experience (like Mike Martz and Jim Haslett) out of the league.
"I can't really speak for what other teams are doing or not doing," Belichick said. "Believe me, I have my hands full trying to just coach the team that I'm on. But it's … you know, as a coach, it's just sort of a little bit of an empty feeling to see people like that not in the game."
Belichick's concern will wane once teams decide to pursue veteran coaches like Gruden, Shanahan and Cowher when the next wave of coaching vacancies occurs. After all, they do have the Super Bowl rings that impress owners.
But there also is a belief around the league that older coaches who have been fired carry stigmas into their next job interviews. In a league in which everybody is looking for the next big thing, younger coaches have a growing advantage.
Dominik doesn't buy into the notion that younger coaches are getting jobs because they are less threatening -- "Some of that may just be jealousy," he said -- but he does like the working relationship that has developed between himself and Morris.
As for Morris, he's appreciative of an opportunity that came much faster than he ever imagined. In fact, he initially declined the Bucs' offer because he didn't want to replace Gruden, the man who had hired him as a full-time assistant. But Morris changed his mind after meeting with Gruden a couple of days later.
All Gruden said to his former assistant was, "Take the job and run with it."
That's all Morris has done since. He even kept a positive attitude as he strolled off the field following his team's loss to Dallas on Sunday. While entering the Raymond James Stadium tunnel, Morris waved to fans and slapped a young ball boy on the shoulder before trotting off.
Minutes later, he told his players that every mistake they made -- including several by a porous pass defense that surrendered three long touchdown passes -- was fixable.
Morris certainly would have preferred that his NFL head-coaching debut be as enjoyable as the miraculous 12-7 victory McDaniels savored against the Cincinnati Bengals. But Morris also believes there will be better days ahead, both for him and the younger coaches who likely will follow him.
"The bottom line is that players just want to be led," Morris said. "And I really don't think you can put an age on leadership ability. You just have to be willing to lead them into places they don't want to go. That's what we're all trying to do."
Jeffri Chadiha covers the NFL for ESPN.com.
NFL WEEK 2 PREVIEW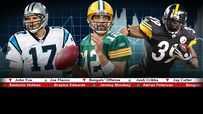 POWER RANKINGS
PICKS
FINAL WORD
STADIUM RATINGS
MVP WATCH
STOCK WATCH: Fallers, risers
COLUMNS/BLOG POSTS
SCOUTS INC.