Commentary
Haloti Ngata bear hugs life, offenses
A foe calls Ravens DT the NFL's "Incredible Hulk;" on-field ferocity inspired by tragedy
Most of the Baltimore Ravens had cleared out of the team's locker room one recent afternoon, leaving defensive tackle Haloti Ngata ample space to attack his latest challenge.
He eyed wide receiver
Donte' Stallworth
with a contemptuous glare, then tossed a lavender beanbag toward a blackboard halfway across the room. When the bag landed on the board and slid within inches of a small, circular hole in the wood, Ngata smirked like a man certain of his talents. Stallworth may have asked for this latest game of Cornhole, but Ngata darn sure planned on ending it with a victory. Still, the most noteworthy aspect of that contest wasn't Ngata's skill at a game that defensive end
Cory Redding
introduced to the locker room this offseason. It was the unadulterated joy Ngata displayed while bonding with a teammate. For all the notoriety the fifth-year veteran has gained for his on-field dominance, Ngata is really a people person at heart. And it's the chemistry on this 7-3 team that has him most excited about a championship run being part of Baltimore's near future.
Ray Lewis
and the brilliance of safety
Ed Reed
, Ngata is steadily emerging as the most vital component in this scheme. He doesn't like talking too much about his success -- "It's great to be talked about being among the best defensive tackles in the game, but I also want to get better," he said -- but his teammates understand his importance. Currently, he ranks second on the team with five sacks and third with 48 tackles. As Lewis said, "I depend on our defensive line in the same way a running back depends on his offensive line. If a blocker is able to get off on me, then 99 percent of the time Haloti is going to make the play. You try blocking him one-on-one and he'll beat you every time, which means all I have to do is just flow [to the ball]."
Foe: 'The only time I've been frightened of another player'
Opposing players already understand the problems Ngata creates for offenses.
Carolina Panthers
center
Ryan Kalil
spent most of last Sunday trying to help contain Ngata in the Ravens' 37-13 win. That effort reminded Kalil of all the times he faced Ngata when Kalil was at USC and Ngata at Oregon. In fact, Kalil recently described one play in college when Ngata stood up over him, then walked back a few yards before charging forward at the snap. If not for the assistance of a guard who chipped Ngata on the play, Kalil might still be shaking off that collision. "That was the only time in my life that I've ever been frightened of another player on a football field," said Kalil, who is listed at 6-foot-2 and 295 pounds. "But that's why Haloti's presence alone is such a big thing. He has the size, the strength and the quickness to do whatever he wants out there."
Matt Birk
. "I'm not saying that's an impossible feat but most guys his size can't do that." As is his way, Ngata credits the people around him for helping his game develop. "The guys in this locker room have meant a lot to me," Ngata said. "I've been around great leaders like Ray Lewis and Ed Reed, who have helped me learn how to study film. I've had the chance to watch a guy like [nose tackle]
Kelly Gregg
play the run and I learned pass-rush moves from [former Ravens and current
New York Jets
defensive end]
Trevor Pryce
. I became a better player by being around all those guys." Such humility has made Ngata one of the most respected and likable players on the Ravens. Just don't mistake that characteristic for softness. Kalil said the word has gotten around the league that Ngata is so quick-tempered that one little cheap shot is capable of taking him off his game. Ngata also recently received a $10,000 fine from the league for hitting
Miami Dolphins
quarterback
Chad Henne
in the chest with the crown of his helmet on a pass play in a 26-10 win on Nov. 7. That aggressiveness even catches Ngata's teammates off guard at times. They've seen the days when he'll lift an unsuspecting Lewis into the air and playfully wrestle him to the ground. They've watched him shimmy in front of his locker when The Temptations' "My Girl" is playing on his iPod. They've even chuckled this week as Ngata kept a bushy mustache that he'd grown to fit into a recent 1980's theme party. What those players see from Ngata during the week is a soft-spoken, unassuming giant. What they see on Sunday is, as Kalil said, "The NFL's version of the Incredible Hulk." Said Redding: "For being as big and talented as he is, Haloti is down-to-earth and he cares about others. If somebody is getting rough-housed on the field, he's the first to jump in. He'll even get on the side of somebody losing a debate in the locker room, just so that person doesn't lose ground." Said Ngata: "The guys in the locker room know I'm a chill, laid-back guy. But once I get on the field, it's a totally different story."
Sports provides no buffer from tragedies
The people who've known Ngata for years have a better understanding of the contrasting elements in his personality. They'll tell you Ngata's fiery nature comes from an intense love of competition and an inner confidence in his skills. The man was talented enough to be a star rugby player during his high school days in Salt Lake City. To this day, Ravens coaches still marvel at the sight of Ngata rumbling through opponents on a game tape that one of his friends sent to the staff.
The Ravens' foundation for the future
Ngata also gained invaluable maturity during those tumultuous times. As Larry Wilson, his former Highland High School coach said, "It made him grow up faster than he would've liked. When he got to the NFL, he understood this was a job to be taken seriously. He understood clearly that you're always one bad play away from being out of the game."
Demetrius Williams
and
Kellen Clemens
during the draft process, he heard a different story. "They both told us that that talk wasn't true," said Newsome, who eventually traded up one spot to take Ngata 12th overall that year. "They said they had to get him off the field a lot of times just so they could practice. He was that disruptive." Ngata was excited about joining Baltimore -- he had wanted to play on a dominant defense and his advisors liked the team's family atmosphere -- but he was sheepish when he first walked into a locker room filled with big, boisterous personalities. When Ngata was in his first training camp, Lewis teased him about not returning a phone call earlier in the summer. Ngata was so unsettled that he shrugged his shoulders and apologized.
"

When I first got here, I watched everybody to see where I fit in. Now everybody knows who I am and what I'm about.

"

-- Ravens DT Haloti Ngata
"I'm sorry," he said, "I didn't know you wanted me to call you back, Mr. Lewis." It wouldn't take long before the Ravens coaches gave Ngata reasons to come out of his shell. Former defensive coordinator Rex Ryan -- now the Jets' head coach -- didn't merely envision Ngata as a massive interior force. He saw Ngata's athleticism and figured he would fit nicely in a scheme known for asking players to line up in various positions to confuse an offense. By his second year, Ngata was lining up at linebacker and even safety as many as 10 to 12 plays a contest. "I thought it was crazy at first," Ngata said. " But [Ryan] helped me see how talented I was. He taught me that it was OK to not be afraid of being a finesse guy at times instead of always relying on power." When the Ravens talk about Ngata today, they see a player who's become capable of hurting defenses in a variety of ways. "He has a lot of natural ability but he's learned to play with better technique and pad level," Newsome said. Added defensive coordinator Greg Mattison: "Haloti has always been a tremendous run player but now he's become a good pass rusher. He's recognizing run and pass faster because he's studying things like down and distance and [lineman] stances." Still, most people think Ngata's recognition has been long overdue. He was selected to his first Pro Bowl last season; many thought he was snubbed by voters in 2008. Fittingly, Ngata didn't use the trip to Miami to club-hop or mingle at parties. Instead, he and Christina focused on caring for their infant son, Sam, and hanging out with relatives. "It was a unique experience," Ngata said. "But the big thing for me was being with my family." Ngata is even more focused on family now that he's watching his son grow. He often shows Sam, now 16 months old, pictures of Solomone and Olga when Ngata is sitting around the house. Before games, Ngata always points to the heavens and whispers "I love you" to the sky to honor his deceased parents. Then there are the days when fatherhood touches his heart. When Sam recently went to the barber for a haircut, Ngata noticed that his son now looked less like a toddler and more like a little boy. Ngata added that being a father has given him a new perspective on life. "Having a son changed me," Ngata said. "It's not just about me anymore. It's about supporting my family."
Terrence Cody
adjust to life in the league and it's apparent that Baltimore will be asking for more leadership from him. Lewis is now 35 years old, Reed is 32. The Ravens have tried to add youth to the mix. "As guys move on, we'll build the defense around him eventually," Newsome said. "I can't get too ahead of myself but I don't see him leaving." Ngata surely feels the same way about being with the Ravens. You could see that when he trotted back out to finish his game with Stallworth following his interview. He looked like a man savoring the fact that his career is playing out like he'd hoped in a place he appreciates. "When I first got here, I watched everybody to see where I fit in," Ngata said. "Now everybody knows who I am and what I'm about." The Ravens also recognize something else: The success of their long vaunted defense may soon rest on his broad, capable shoulders.
Senior writer Jeffri Chadiha covers the NFL for ESPN.com.
SPONSORED HEADLINES
MORE NFL HEADLINES
MOST SENT STORIES ON ESPN.COM
NFL WEEK 12 PREVIEW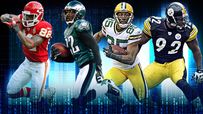 POWER RANKINGS
PICKS
FINAL WORD
HOT READ: RAVENS DT HALOTI NGATA
COMMENTARY/BLOG POSTS
MNF: 49ers at Cardinals, 8:30 ET
FANTASY FOOTBALL
NFL BLOG NETWORK
FOLLOW US ON TWITTER