Unbeatens meet in Indianapolis
It's a battle of unbeatens as the Colts host the Panthers in Week 6's best matchup.
Updated:
October 9, 2003, 5:24 PM ET
By
John Clayton
| ESPN.com
Editor's note: ESPN senior NFL writer John Clayton's weekly "First And 10" column takes you around the league with a look at the best game of the week followed by primers for 10 other games. Here's his look at Week 6.
First ... Carolina Panthers at Indianapolis Colts: Peyton Manning is getting hot at the right time. He's destroyed two NFC South teams -- the Saints and Bucs -- with eight touchdown passes, 54 completions and 700 yards.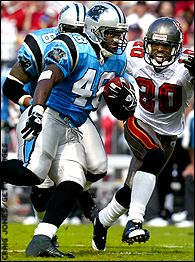 Stephen Davis has rushed for 565 yards in four games this year.
Sunday's game against the Panthers is another test. The amazing part of the past two weeks is that he's performed at such a high level without halfback
Edgerrin James
. James may miss this week's game with a back injury similar to the ones that have sidelined Titans linebacker
Peter Sirmon
and Vikings quarterback
Daunte Culpepper
. Like those two players, James injured a couple of transverse processes, and the team doesn't want to rush him back to service so soon.
Though it's possible James might play, coach Tony Dungy will try to ride the hot throwing of Manning just in case. The Panthers arguably have the second best defensive line in football. Their defensive ends -- Julius Peppers and Mike Rucker -- match up favorably against Colts tackles Tarik Glenn and Adam Meadows and it's possible Glenn might have to miss the game with an injury.
While the Panthers are 4-0, they know that this game will test how good they really are. They've been riding halfback Stephen Davis on offense and their defensive line. Still, there is some wear and tear along the Panthers defense. The past two teams -- the Saints and Falcons -- each have had 100-yard rushers against them. Statistically, the Panthers, who ranked second in defense last season, have fallen to 22nd, allowing 108.5 rushing yards a game and 226.3 passing.
Unlike the other three unbeaten teams, the Panthers have little room for error. They need 100 yards a week from Davis. They can't turn the ball over. And their defense has to play at a high level.
For the Colts, they know they are in the midst of their toughest defensive stretch of the season. Scoring 38 points on the Bucs was incredible. After next week's bye week, the Colts come back with games against the Texans and Dolphins. By then, James should be healthy and they should be able to run the ball again.
With James out, though, Manning needed to step up and play at an MVP level. He has. He's the league's second highest rated quarterback and leads the NFL with 11 touchdown passes. He's also led two impressive comebacks in victories over the Browns and Bucs.
Sunday's game against the Panthers can't be as panicky. The Colts need to be methodical early and build a lead instead of trailing. The Panthers aren't a high powered offense. They score only 19.5 points a game and average only 124.8 yards a game passing.
What the Colts can't do is let the Panthers play a close game until the fourth quarter. By then, they tend to wear defenses down with their power running game. This game won't be a breather. But if the Colts can get to 6-0 by their bye week, thoughts of a Super Bowl run will be more realistic.
And 10. Kansas City Chiefs at Green Bay Packers: Chiefs kick returner Dante Hall is probably the league's MVP during the first five weeks of the season. So the Packers face a tough decision. Do they kick to him or not? Hall has touchdown returns in each of his past four games, including game-winning scores against the Ravens and Broncos. It's up to the Packers to find a way to contain the most explosive special teams player this decade. Hall's big plays are covering up for the problems the Chiefs are having on offense. Their passing game isn't really in sync. They are getting only 186.8 passing yards a game. Trent Green is completing a respectable 61.3 percent of his passes, but he's only throwing 27 passes a game. Part of the reason for the limited passing offense has been the successful running of Priest Holmes. Holmes has seven rushing touchdowns and leads the league with 681 combined yards. Packers quarterback Brett Favre has played well in back-to-back victories over the Bears and Seahawks, and the Chiefs don't have the league's greatest cornerbacks. The Packers are still bouncing back from two losses in their first three games, so they aren't the most confident team if things go wrong in the first half. If they have a good first half against the Chiefs, though, watch out.
9. Tampa Bay Buccaneers at Washington Redskins: Jon Gruden sent a message to the team by cutting three special teams players Tuesday and bringing in a new swarm of special teams hustlers. The Bucs have lost two home games and are showing signs of concern. Gruden is still baffled why his defense faltered in the final four minutes of the Monday night loss to the Colts, and he goes into this game short-handed. Fullback Mike Alstott is out for the season. The Bucs will be thinner at cornerback with Brian Kelly, who has a pectoral muscle problems. Wide receiver Keyshawn Johnson is questionable. So is Redskins coach Steve Spurrier because of penalties. The Redskins are averaging 11 penalties a game, and some players and critics are pointing to Spurrier's audible system for causing a lot of false start flags. Spurrier's retort is there aren't a lot of audibles being called. For the Bucs, this is an important bounce back game. If the Bucs lose to the Redskins and the Panthers beat the Colts, the Bucs will fall three games behind the Panthers in the NFC South. In other words, this is close to a must win. Expect to see an angry Bucs defense.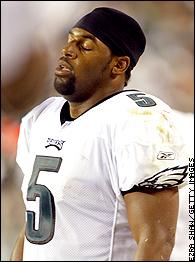 Donovan McNabb has thrown five INTs in four games.
8.
Philadelphia Eagles at Dallas Cowboys
: Are the Cowboys for real? We'll find out Sunday. After an 0-2 start, the Eagles are trying to re-establish their superiority in the NFC East during a three-game divisional stretch. They beat the Redskins last Sunday. Next week, they visit the Giants If they beat the Cowboys on the road, they will have climbed out of the bottom of the division to challenge for the division. But if they lose, panic will again set in. Quarterback
Donovan McNabb
is slowly starting to play better, but he has a long way to go. His completion percentage has bounced back from 45 percent a couple weeks ago to 50.4. Still, he needs more touchdown passes. He has one touchdown pass compared to five interceptions. The Cowboys are getting six big pass plays a game from
Quincy Carter
, who's improved his completion percentage to 56 percent. Bill Parcells expressed that the team's 3-1 start shouldn't be overblown. They have problems on special teams. The running game is inconsistent. The defense ranks third but two of their games were against the backup quarterbacks of the Jets and Falcons, and the Cardinals, whom they beat, rank 29th on offense and lost
Emmitt Smith
during the game.
7. San Francisco 49ers at Seattle Seahawks: There is a lot of revenge in this Sunday night game. The Seahawks defense was embarrassed last season when Terrell Owens took out a Sharpie from his sock and signed a ball for a business associate after a touchdown. Dennis Erickson lost his Seahawks job to Mike Holmgren and wants to prove the Seahawks made a mistake in firing him. And the Seahawks weren't happy about being blown out by the Packers last Sunday for their first loss of the season. The Seahawks need this game to stay ahead in the NFC West race. If they are to be considered a legitimate playoff team, these are the type of home games that they have to win. 49ers quarterback Jeff Garcia comes into this game with only a 54.8 completion percentage and averaging less than 200 passing yards a game. Last year, the 49ers used the Seahawks game to get out of a passing slump, and they did it by stretching the field with Tai Streets. The Seahawks have improved their pass defense with the addition of rookie cornerback Marcus Trufant and are using a little Cover 2 defense to limit the big plays. Bottling up the 49ers passing game is vital to the Seahawks, who lack a quality pass-rush attack.
6. Oakland Raiders at Cleveland Browns: This was supposed to be the easy stretch of the season for the Raiders. The Chargers, Bears, Browns, Lions and Jets were supposed to make life easy for Oakland. Life has been tough. Whether it's age on offense or too much youth on defense, the Raiders barely beat the Chargers and blew a 15-point lead in losing to the Bears. How times have changed. The Raiders won the AFC title last year. Now, they are three-point underdogs to the Browns, who are 2-3. Tim Couch will start again at QB for the Browns. Couch has been impressive, with a 70.5 completion percentage. Think about it for a second. Rich Gannon is only completing 54.1 percent. That's more than 16 percentage points less than Couch. Ouch. If the Raiders go .500 against these teams, they have no hope of catching the rest of the league for the playoffs in the second half of the season. In Week 7, they host the Chiefs on Monday night. If things keep going bad and the Raiders lose their next two games, they could end up being as many as five-games behind the Chiefs heading into their bye week.
5. New York Giants at New England Patriots: The Giants can't keep their kickers healthy. Matt Bryant pulled a hamstring in the second quarter of last week's loss to the Dolphins, so Brett Conway becomes their third kicker since training camp. Of course, they can't complain too much. The Patriots have been down as many as nine starters because of injuries and are 3-2, a half game better than the Giants. No excuses in this one. The Patriots will continue to try to exploit the Giants surprisingly disappointing pass defense, which is allowing 273.5 yards a game. It's nothing new to the Giants, but the Patriots are better at passing the ball than running it. But it will be interesting to see if the Patriots use Mike Cloud more in running situations. He rushed for 73 yards on seven carries last Sunday and brought a spark to the running attack that has been missing for more than a year. The Giants have to cut down their offensive mistakes. Quarterback Kerry Collins nearly has more interceptions than touchdown passes and Tiki Barber is a fumbler. Going on the road, the Giants can't afford to be sloppy.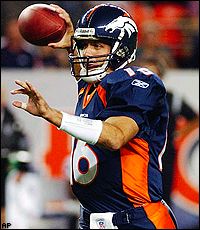 Jake Plummer has eight TD passes and just three INTs this season.
4.
Pittsburgh Steelers at Denver Broncos:
Maybe the Steelers aren't the best team in the AFC North. Talk about misleading statistics. They rank first in defense allowing 243.4 yards a game. Yet, they are giving up an average of 25.8 points a game and their cornerback play has been horrible. The Broncos aren't misleading and are better than preseason forecasts.
Jake Plummer
is settling into his job as starting quarterback nicely. He moves so well in the pocket and seems to have a good relationship with
Rod Smith
,
Shannon Sharpe
and others. But his shoulder separation may be something to watch all year. Quarterbacks with shoulder separations tend to adjust their passing delivery and that could lead to problems for Plummer. Meanwhile,
Tommy Maddox
could be fighting for his job if he keeps throwing interceptions. Sure, he's the perfect quarterback for the quick-release offense run by coordinator Mike Mularkey. But he's thrown seven picks, three that were returned for touchdowns. Bill Cowher hates turnovers and gave Maddox the starting job last year when
Kordell Stewart
kept throwing interceptions.
3. Buffalo Bills at New York Jets: The Jets are coming off a bye week, but they've made a lot of changes. Curtis Conway has been dropped from the starting lineup into the role of third receiver. Coach Herman Edwards is looking at rotating more young linebackers in for aging starters, Mo Lewis and Marvin Jones. LaMont Jordan might see a little bit more time at halfback because Curtis Martin continues to struggle. The Bills, meanwhile, are trying to do better on offense even though they are banged up with injuries. Wide receiver Eric Moulds is doubtful with a strained groin, and that would cause a lot of problems for the passing game. Josh Reed isn't cutting it as a starter, and could be on the verge of losing his job to Bobby Shaw. But no Moulds would mean both Reed and Shaw will start. Travis Henry played despite sore ribs against the Bengals last week.
2. Atlanta Falcons at St. Louis Rams: ABC envisioned a showdown between Michael Vick and Kurt Warner. They get Doug Johnson and a bad Falcons team going against a Rams offense that is doing well with Marc Bulger at quarterback. The Rams used the bye week to get a little healthier. Jason Sehorn could make his debut at free safety. Some of their other players have had a chance to heal so Mike Martz wants to use this game as a springboard to get back in the NFC West rest. For the Falcons, things have become a disaster. They can't stop the run. They can't win with Johnson at quarterback. The running game is good one week and bad the next. Peerless Price has had only one good game at wide receiver. The Falcons know that things will be noisy in St. Louis, but at least they won't get booed by the Rams crowd.
1. Miami Dolphins at Jacksonville Jaguars: The Dolphins defense is coming together. Dave Wannstedt isn't sure Junior Seau will be able to play this week with his hamstring injury, but the coach is feeling good about the play of his cornerbacks and defensive line. Despite the embarrassing loss to Houston to open the season, the Dolphins are on a three-game winning streak and lead in the AFC East. The debate is whether they will use Ricky Williams as much against a Jaguars team that is 1-4. Williams is on pace for an NFL record 460 carries, and the Dolphins don't want to use him up too early. Next week, for example, they have a key home game against the Patriots. This should be a game where the Dolphins use more of their passing offense. The Jaguars are giving up 234 yards a game passing, but they are pretty good at stopping the run. The Dolphins shouldn't have to use Williams too much.
John Clayton is a senior NFL writer for ESPN.com.
NFL senior writer
Senior NFL writer and commentator
Joined ESPN in 1995
Member of the writers' wing of the Pro Football Hall of Fame in Canton, Ohio
SPONSORED HEADLINES
MORE NFL HEADLINES
MOST SENT STORIES ON ESPN.COM
EDITORS' PICKS
After two straight losses, Mark Sanchez and the Eagles are desperate for a victory against Washington.
Preview »

Will the Colts or Cowboys win on Sunday? We pick every Week 16 game.
NFL Nation »

Texans DB Jumal Rolle plays to support his son, who survived brain surgery.
Ganguli »