McNair finally figures out Dolphins' schemes
For the first time in a regular-season game, Titans QB Steve McNair got it done against the Dolphins.
Updated:
November 11, 2003, 3:04 PM ET
By
John Clayton
| ESPN.com
NASHVILLE, Tenn. -- Steve McNair decided to do a little self-scouting this week. He was playing the Dolphins, a team that mentally destroys him.
While the Titans and Dolphins practice against each other in scrimmages each summer, McNair had struggled in regular season outings against the Dolphins. He was 0-3 against the Dolphins man-to-man coverage schemes entering Sunday's game. He had completed only 36 of 75 passes (48 percent) for 432 yards. Even worse, he had one touchdown compared to five interceptions and had been sacked seven times in those three games.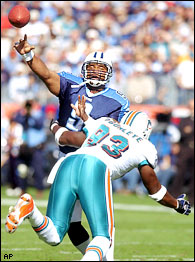 AP PhotoMcNair had few problems against the Dolphins and their secondary on Sunday.
Add the Dolphins to his rapidly growing list of conquests. Self-scouting gave him the smarts to rip apart the Dolphins pass defense during a 31-7 victory on Sunday. If anything, this game had the feel of an exhibition. McNair completed 17 of 23 passes for 201 yards and two touchdowns and rested in the fourth quarter while
Billy Volek
played a mop-up role.
"I'm a lot wiser now," McNair said. "It comes from learning from your mistakes. I learned from those three games. I self-scouted myself."
The Dolphins coverage schemes often lull quarterbacks into mistakes. Dave Wannstedt's cornerbacks love to play man-to-man. They love pressing receivers at the line of scrimmage. Then comes the trap.
"Those guys do a great job of disguising defenses," McNair said. "I didn't want to do the same thing I did the last time when I threw three interceptions in a game. You end up forcing the ball. You see a lot of man-to-man so you think you have a guy on a guy, and then all of a sudden, a guy peels off on another guy."
Of course, these weren't the same old Dolphins of past McNair disasters. For one, cornerback Patrick Surtain, who emerged last season as the team's best coverage specialist, couldn't play because of a right ankle injury. Terrell Buckley replaced Surtain as a starter. That was one difference. Missing in the middle of the defense was middle linebacker Zach Thomas, who excels in dropping back into zones and peeling into coverages.
The hunted became the hunter. McNair came out firing. Jeff Fisher aligned the offense in a three-receiver, one-back, one tight end set to test the Dolphins depleted pass defense. On the opening drive, McNair couldn't believe what he saw. The Dolphins couldn't contain rapidly improving rookie receiver Tyrone Calico, who caught a 10-yard opening-game pass and a 12-yard touchdown on a crossing route. McNair hit Derrick Mason with a 46-yard completion against the Dolphins zone.
McNair wasn't forcing anything. Things were coming naturally. Without Thomas patrolling the middle, the Dolphins were completely lost trying to handle the crossing routes. In the first half, Calico made the catches. In the second half, a defender jumped on Calico, so Justin McCareins slide free in the middle of the field.
"On the crossing routes, guys didn't know who to pick up," Calico said. "Either I was open or Justin was open."
McNair has acknowleded that this is the best group of receivers he's worked with in his nine seasons with the Titans. Mason is McNair's go-to receiver with 50 catches and 690 yards. McCareins is a tall receiver talented enough to work the slots and be a flanker. He had three catches for 53 yards and a touchdown starting for the injured Drew Bennett. But the rising star of the bunch is Calico.
The Titans used him as more than just a split end to take advantage of his speed in the middle of the field and his 6-foot-4, 222-pound frame. He had three catches for 26 yards and his touchdown reception was a lunging grab off a crossing pattern. He almost had another touchdown when he beat Sam Madison into the corner of the end zone on a fade route in the first quarter, but his right foot touched the sideline and a replay challenge took away the score.
"You don't get too many opportunities against a great defense like Miami," McNair said. "We tried to take advantage of it. Unfortunately, he didn't get the second foot down. But those were the things that I wanted to do and we wanted to do. We would take advantage of it when they gave us the deep ball, but not force it at the same time."
Coming off the bye week, Jeff Fisher worried about the team getting off to a slow start against the Dolphins. On Wednesday, he put the team in pads and let them hit. The team hit a little too much, which gave Fisher confidence they were ready.
"We came out on fire," McCareins said. "I don't know how they would came out, but I know we were clicking and playing physical. Our passing game was great."
The passing game has been great. Since Fisher is allowing the air to stay with the "Air" McNair game, the Titans are becoming one of the most potent offenses in the NFL. The Titans set a team record Sunday by having their sixth consecutive 30-point game.
"If you would have asked me, 'Will we set a franchise record for scoring 30 plus points in six games,' I would have said you are crazy, but it happened," McNair said. "It's not just the offense. It's the defense. The defense is forcing turnovers and their scoring with it. What is a better thing for an offense than to see the defense score? That's why we are scoring those 30 points and more."
| | | |
| --- | --- | --- |
| | " | I didn't want to do the same thing I did the last time when I threw three interceptions in a game. You end up forcing the ball. You see a lot of man-to-man so you think you have a guy on a guy, and then all of a sudden, a guy peels off on another guy. " |
| | | — Titans QB Steve McNair |
McNair's right. The Titans defense punished quarterback Brian Griese, forcing five turnovers. Griese was sacked four times and lost two fumbles. He also threw three interceptions, including one dumb pass in the middle of the field in which Andre Dyson returned 11 yards for a touchdown.
"But the offense getting up early helped out our defense," Titans linebacker Keith Bulluck said. "The second time we came out to the field on defense, we were already up 14-0. That allowed us to control the run. We jumped on them so fast. It was different to come out like this, especially after a bye week. … I'm glad we had a lot of fuel in the tank."
This was ugly. The Titans dominated the Dolphins 324 yards to 224 yards, allowing a meaningless 21-yard touchdown in the final minute of the game. The Titans controlled the ball 37:33 minutes to 22:27. They rested starters in the fourth quarter. It was indeed like an exhibition game against a Dolphins team considered to be a playoff contender.
"I thought we were ready to go going out," Dolphins defensive end Jason Taylor said. "The first two series will make people think that we weren't. They made some plays and we didn't."
This game was so much of an exhibition the Titans tried to revitalize their long dormant running game. Eddie George still isn't getting the job done as the feature back. He was held to 43 yards on 12 carries, equaling his 2.9 yard per carry average. Robert Holcombe had seven tries for nine yards.
In the second half, the Titans tried Chris Brown, and his quicker, young legs offered some hope with 46 yards on 12 carries. Over all, the Titans had 38 rushes for 101 yards.
The lack of a running game is the only knock on a team peaking as one of the best in football.
"We still have to work on our running game," Fisher said. "We knew we were up against one of the best teams in the league in run defense. Still, we are not satisfied with that. But there is a glimmer of hope."
McNair was satisfied. He finally found the way to beat the Dolphins. The team gathered in the locker room and watched the Jaguars upset the Colts. Suddenly, they are tied for the AFC South lead again.
The Titans are rolling.
John Clayton is a senior NFL writer for ESPN.com. Click here to send John a question for possible use on ESPNEWS.
NFL senior writer
Senior NFL writer and commentator
Joined ESPN in 1995
Member of the writers' wing of the Pro Football Hall of Fame in Canton, Ohio
SPONSORED HEADLINES
MORE NFL HEADLINES
MOST SENT STORIES ON ESPN.COM
EDITORS' PICKS
If Marc Trestman is on his way out, he'll do so with a QB unlikely to take the risks that doomed Jay Cutler.
Wright »

Big-name QBs lead off Todd McShay's first 2015 mock draft. Is RB Melvin Gordon far behind?
McShay

Drew Brees and his contemporaries have obliterated the numerical feats of Johnny Unitas and his peers.
Seifert »