Jags get offense clicking in second half
Byron Leftwich's leadership was apparent down the stretch as the 3-0 Jaguars rallied to knock off Tennessee.
Updated:
September 26, 2004, 9:01 PM ET
By
John Clayton
| ESPN.com
NASHVILLE, Tenn. -- Fred Taylor calls Byron Leftwich the most positive person he's ever met. But unless the game is on the line, Mr. Positive has had a difficult time gaining yards on offense this season until the final seconds.
For 10½ quarters spread over three games, positive was getting the Jaguars nowhere. Leftwich's first 28 possessions produced only two touchdowns, two field goals and two tired units -- the punt team and the defense. Chris Hanson had 21 punts in 28 of Leftwich's first possessions, and the magnificent Jaguars defense was on the field 52 plays more than the offense.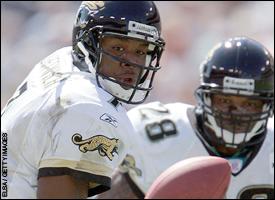 Byron Leftwich threw for 124 yards and a touchdown.
Undaunted, Leftwich stayed positive in the huddle and told his offensive players to dig deep. On Sunday, the Titans dominated the number of plays but not the game. Leftwich warned them to cut out the dumb penalties. He emphasized focus. And the Jaguars believed as Leftwich marched his offense to two touchdown drives in a stunning 15-12 upset of the Titans.
"Byron's a competitor," Taylor said. "He really wants to win. I think you can will yourself to do something good as long as you keep thinking positively and being a positive person. He's the most positive person I've been around."
And the Jaguars should be positive. Despite scoring only 35 points in three games, the Jaguars are 3-0, including remarkable last-second wins in Buffalo and Nashville. The most important part of Sunday's victory over the Titans is the offense won it, doing so in part because of Leftwich's calm, cool and collective way of running the offense.
Apparently, Leftwich knows he's a work in progress as a quarterback and the offense is the same way. On first downs, offensive coordinator Bill Musgrave had Leftwich working out of shotgun to give him more of a comfort level. Most of the game, the Jaguars went almost exclusively to three-receiver sets and sometimes tried five-receiver formations.
The Jaguars defense is becoming so good that even the Nutty Professor could have the time to experiment and come up with something that works on offense. In three games, the Jaguars have allowed only 28 points and just two touchdowns. Meanwhile, Leftwich and Musgrave kept tweaking their game plan until they finally hit on something in the third quarter.
On a first down from the Jaguars 22-yard line, Taylor, running off that three-receiver spread, took an inside run and bounced it to the outside. Then he made a cut to his left and went for nine yards. On the next play, he busted a similar run to the same side for 25 yards.
The Jaguars offense was finally on a roll. Positive things were happening.
"We were just hurting ourselves," Leftwich said. "Everytime we would look up it would be third and 12. I just said, 'Let's play and let's move the ball.' That's all it takes. I'm telling you, we are so close to having a great football team. If we start making the plays we need in the fourth quarter, we are going to be a dangerous football team. All it takes is getting the team going."
Though the offense made a few plays to win games against Buffalo and Denver, Sunday's victory was a graduation of sorts. Jacksonville's defense has been controlling opponents all season. That's becoming a given. But Leftwich's positive leadership and the simple execution of 10 other players on offense could make the nation believe in the Jags. They are 3-0 and face the Colts in Jacksonville next week for early control of the AFC South.
"Last week against Denver, it was the defense, and this week it was the offense," wide receiver Jimmy Smith said. "Everybody was calm. Coach Jack Del Rio stresses being a poised football team. Now, we are finishing games. In the past, we didn't finish. I think it's a matter of believing."
The Jaguars believed in themselves so much in the second half that they gained yards no matter who was on the field. Quick backup halfback LaBrandon Toefield broke a third-quarter run over left guard for 15 yards. Three plays later, Leftwich tossed a 7-yard touchdown pass to tight end George Wrighster to give the Jaguars 7-6 lead.
Steve McNair and the Titans produced their only touchdown drive of the game in the fourth quarter, needing two third-down runs to extend the drive and McNair just watched as Chris Brown capped the drive with a 26-yard run. After missing the two-point conversion with an overthrow, McNair, aching from a bruised sternum that required post-game hospitalization, watched in pain from the sidelines as Leftwich moved his offense for what turned out to be the game-winning drive.
The Titans led 12-7 with 5:33 remaining. Tennessee's sellout crowd made it as noisy as possible for Leftwich, who stepped into the huddle at the Jaguars 31 and said, "Let's dig down deep."
| | | |
| --- | --- | --- |
| | " | Byron's a competitor. He really wants to win. I think you can will yourself to do something good as long as you keep thinking positively and being a positive person. He's the most positive person I've been around. " |
| | | —RB Fred Taylor |
Being positive, Leftwich marched the Jaguars 69 yards in 13 plays. He drew defensive end Carlos Hall off sides on a third-and-4 from the Titans 22 with 46 seconds left. On the next play, he sent Jimmy Smith from the slot and, with a quick move to the inside, Smith was in position to catch a 17-yard touchdown or draw an interference call. Safety Lamont Thompson mugged him to avoid giving up the touchdown and the Jaguars had a first-and-goal from the Titans 1 with 42 seconds left.
Taylor eventually scored the 1-yard touchdown to win it and Leftwich connected with rookie Reggie Williams for the two-point conversion and the victory.
"I remember telling everyone last year how good he was," Taylor said of Leftwich. "I remember his first game in Houston, the first time he was in the huddle. There was a sense of urgency there. He was enunciating his word. He didn't play like a rookie. It seemed like he's been there for a while."
The two Jaguars who feel the best about Leftwich's presence are Taylor and Smith. They were part of the 1999 team that went to the AFC Championship game and lost to the Titans in Jacksonville. The team went 14-2 during the regular season, but the Titans beat them three times.
"We were only 30 minutes from the Super Bowl," Smith said. "Now, we believe. We believe in our defense. We believe our defense will hold opponents under 14 points. We've got three wins without hardly scoring any points. Byron is just in his second year and is a young quarterback, but he's got all the tools."
Said Taylor, "This is a different Jaguars team than the one in 1999. Last year, we played a lot of close games, so we have the mentality to do it. All these games now come down to a field goal or something happening. We are now finishing games better. We believe."
Leftwich brings a new level of positive thinking to Jacksonville. At 3-0, it's working.
John Clayton is a senior writer for ESPN.com.
NFL senior writer
Senior NFL writer and commentator
Joined ESPN in 1995
Member of the writers' wing of the Pro Football Hall of Fame in Canton, Ohio
EDITORS' PICKS
How much longer will the Adrian Peterson-Vikings union last?
Goessling »

Tampa Bay is latest team getting little bang for its buck.
Clayton's mailbag »

Seattle's surprising Week 2 loss means there's a new No. 1. Any guesses?
Power Rankings »