Big Ben pressured, but responds
Ben Roethlisberger struggled for the first time as a starter this season, but still led the Steelers to victory.
Updated:
November 22, 2004, 10:23 AM ET
By
John Clayton
| ESPN.com
CINCINNATI -- Ben Roethlisberger knows he's lived a charmed life. Of his first seven NFL victories, four of the games were at home. He's worked with the lead so much that he only trailed for 14 minutes of the previous three games.
Sunday, the clock stuck midnight and Cinderella didn't have the slipper. Pass protection broke down against a relentless Bengals pass rush. Wide receiver Plaxico Burress pulled a hamstring in the second quarter, robbing Roethlisberger of his best deep threat. Penalties bogged down the offense.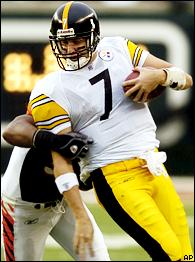 APRoethlisberger was sacked seven times in the victory over Cincy.
Roethlisberger needed some adversity, and he responded in a big way. More than anything, he kept his composure and ran the offense even though it didn't look pretty. Afforded good field position most of the day, Roethlisberger won the game in the third quarter in what appeared to a simple drive. He avoided Bengals defensive tackle
John Thornton
on a scramble to his right and lofted a 26-yard completion to tight end
Jerame Tuman
. Three plays later, before being hit, he lofted a soft touch pass to fullback
Dan Kreider
to give the Steelers a three-point lead in what turned out to be an adventurous 19-14 victory.
"You all are waiting for Ben to have a (bad) game," Steelers coach Bill Cowher said. "I guess this was his game. I'll say this about Ben. This was the first time I have seen him have a little bit of adversity. He handled it well. This guy never lost his composure. He was fine. He worked through it, and he never really lost any confidence. I think he grew tremendously today."
The stats were misleading. He completed 15 of 21 for 138 yards and had a 104.9 quarterback rating. Stylistically, judges would have given him a 4.2 on a scale of 10. Things that had been easy were suddenly tough. Under Roethlisberger, the Steelers were one of the leagues better red zone offensive teams. He had four trips inside the Bengals 20-yard line in the first half and didn't get a touchdown. In fact, those four red zone trips netted only three offensive points.
"He had situations where guys made mistakes, and that put some pressure on him," offensive coordinator Ken Whisenhunt said. "Still, he didn't get discouraged. A couple of times, he went out of the pocket too early. If he would have taken the first read, he would have made plays. He got off the guys for whatever reason."
On the first trip to the Bengals 14 in the first quarter, a false start call against Pittsburgh was followed by a 1-yard loss by halfback Jerome Bettis, and then back-to-back sacks by defensive end Duane Clemons, who beat right tackle Oliver Ross. Instead of getting a field goal, on fourth-and-33 from the Bengals 37 the Steelers punted.
"I take the blame for the sacks," Roethlisberger said. "On a lot of those sacks, I probably should have gotten rid of the ball. It was one of those things that you have to laugh off and come back and make something happen the next time."
The next trip into the Bengals red zone, Roethlisberger got rid of the ball too soon. Standing in the pocket on a second down, Roethlisberger thought Burress was going to run to the left corner of the end zone. Burress instead ran to the right, and the ball went to the back of the end zone for a grounding penalty. The Steelers settled for a field goal.
Palmer loses poise
After going eight for 12 for 120 yards and two touchdowns in the first half, Carson Palmer unraveled under numerous Bengals offensive mistakes and went four for 13 for 35 yards in the second half. Holding penalties destroyed offensive continuity. Before long, his passes went way off the mark, not near receivers.

He kept the Steelers alive in the second quarter by throwing a dumb interception into the hands of linebacker James Farrior on a play in which three defenders surrounded wide receiver T.J. Houshmandzadeh.

"The read on the interception obviously wasn't a great read," Bengals coach Marvin Lewis said. "He knows better. We just can't guess where to throw the football. It wasn't very timely at all."

If that wasn't bad enough, Palmer was caught throwing out of the end zone to an area in which there was no receiver. The result was a safety that killed any chance of a Bengal comeback.

"I don't want to comment on the safety, but we have to get the ball out of our hands and do the right things there," Lewis said. "We have to understand where we are in the game."
-- John Clayton
Even the third time in the red zone wasn't a charm. Roethlisberger made a nice scramble on a third down from the 20 and found
Antwaan Randle El
wide open in the end zone. The play was called back because of a holding penalty and another sack again put the Steelers out of field goal range.
"I wasn't flustered; I was disappointed in myself," Roethlisberger said. "We're a great offense. We definitely didn't play our best today, but that's the sign of a good team. You can win when you don't play good."
Before the half, Roethlisberger fumbled on a third down sack from the Bengals 18, killing another scoring threat. The Steelers went into the locker room at the half trailing, 14-10, and searching for answers.
"I just like the fact he got off the sideline and he wanted to look at the coverages," Cowher said. "He said, 'Give me the pictures, let's take a look.' We were talking about this guy being open and that guy being open. It's easy for us to say on the sidelines. He had a chance to look at it and understand it."
In the second half, Roethlisberger fought through the mistakes while his Bengals counterpart, Carson Palmer, looked like the rookie. The Steelers rallied to Roethlisberger's aide. The defense punished Palmer with confusing blitzes that eventually turned Palmer into an inaccurate quarterback. Bettis pounded out 129 yards on 29 carries to make Roethlisberger's life easier.
"As our leader, he's got to take the bitter with the sweet," said Bettis, who had his third consecutive 100-yard game. "He did a great job of that today. He stayed poised. He stayed with a level head. If you stay with a level head, it gives you a chance."
That's where Roethlisberger showed more field savvy than Palmer. Though Palmer has two more starts than Roethlisberger, the Steelers rookie looks more like the second-year quarterback and the second-year quarterback (Palmer) looks more than the rookie.
"Ben definitely has a better supporting cast than Carson," said Steelers safety Troy Polamalu, Palmer's college roommate. "He's got a great offensive line, great wide receivers and great running backs. I think it's unfair to compare them. Both are great quarterbacks. For the most part, though, Pittsburgh is a running team."
The Bengals lacked enough offensive threats that the Steelers secondary squatted on routes, not fearing they would be beaten deep. The Steelers offense controlled the clock, having 40 running plays and having the ball 38:56 minutes.
"It's lovely," Roethlisberger said. "Having veteran guys around me, takes a lot of pressure off me. I'm out there and all I had to do is have the cadence, make handoffs and throw close to guys. My job is easy out there because of the guys around me."
Next week, Duce Staley, who averaged 100 rushing yards a game before pulling a hamstring, is expected to return and take back the starting job from Bettis. Burress says his hamstring is fine, but Cowher said his tall receiver might miss a week or two. What can't be taken away is that Roethlisberger is 8-0 and he survived adversity Sunday in Cincinnati.
"It's a learning experience, so you learn from it and move on," wide receiver Hines Ward said. "We're 9-1 and we're excited about coming home next week."
At 4-6, though, Palmer and the Bengals have no excitement. Their season -- for all intents and purposes -- is over.
John Clayton is a senior writer for ESPN.com.
NFL senior writer
Senior NFL writer and commentator
Joined ESPN in 1995
Member of the writers' wing of the Pro Football Hall of Fame in Canton, Ohio
SPONSORED HEADLINES
MORE NFL HEADLINES
MOST SENT STORIES ON ESPN.COM
EDITORS' PICKS
NFC divisional matchups grab the spotlight.
Week 14 Previews »

The 49ers have to prove they can still play with Seattle.
Chadiha »

The Cowboys have changed since Jerry Brown's death.
Taylor »