Alexander ties TD mark
One year after missing out on the rushing title, Shaun Alexander got the chance to put his name in the record book Sunday.
Updated:
December 27, 2005, 12:51 PM ET
By
John Clayton
| ESPN.com
SEATTLE -- A year ago, Shaun Alexander was caught off guard by a reporter with a microphone. He had just lost the NFL rushing title to Curtis Martin by 1 yard after Matt Hasselbeck scored the winning touchdown against the Falcons on a 1-yard run and the Seahawks failed to get the ball back.
He made his infamous "Stab in the back" comment, making it sound as though he thought coach Mike Holmgren stabbed him in the back by not letting him get the rushing title. Though Alexander tried to say his thoughts were misinterpreted, the damage was done.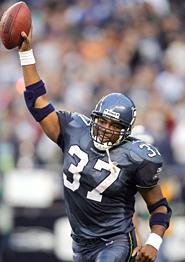 AP Photo/John FroschauerShaun Alexander has now scored 99 TDs in his career.
But this year, on the Christmas Eve of his best season as a pro, Alexander got a Christmas gift from his coach.
Though he had already been taken out of the 28-13 blowout over the Colts with four minutes left, Alexander was sent in by Holmgren to score a 1-yard touchdown run, allowing him to tie Priest Holmes's record for touchdowns in a season at 27. Alexander celebrated by kneeling in the end zone and then waving the football to the Seahawks fans as they cheered him.
"Mike had just come up to me when the defense was on the field and told me that if they get under five minutes to go, your game is over," Alexander said. "I said, OK. Right at the time he turns around and Craig Terrell (a Seahawks defensive tackle) intercepts a pass with 5:27 on the clock. I was saying, 'Yeah.' Then [backfield coach] Stump Mitchell tells me that we're done and there's no more hits. I told him that no matter what, I'm going to do what they do."
Maurice Morris ran the ball to the Colts 1-yard line with just over four minutes left. Now the pressure was on. Fans started chanting "Shaun, Shaun, Shaun."
At first, it appeared the Seahawks were going to run the first-down play with Morris. The Seahawks called a timeout and after a little delay, Alexander went onto the field. Fans went crazy.
"I'm just laughing," Alexander said. "Coach turns around and said, 'I'm giving you one play to score, and if you get hit and get hurt and go to the hospital, I'm not visiting you.' I said Okay."
Alexander did on one play what he usually does. He scored the touchdown. He's scored touchdowns in eight consecutive games. Not only was Alexander happy, but so were the fans.
"We were all very aware of how close he is to the touchdown record," Holmgren said. "He's had a great year. He's done everything we've asked him to do and more. I didn't want him to miss out if I could help it like he did last year. Last year no one wanted that to happen to miss the rushing title by a yard. I just didn't want that to happen again."
The chance of getting No. 27 could have passed. After all, the Seahawks victory clinched home-field advantage through the NFC playoffs. There is a good chance Alexander and many Seahawks could be rested in a meaningless season-finale in Green Bay. So if Alexnader hadn't gotten to 27 this weekend, there's a good chance he wouldn't have had a chance in the season finale.
"I think even last year was made more dramatic than it really was to me and Mike," Alexander said. "Our communication from top to bottom, everybody has been really good at communicating goals and being up front. When it's like that, it's really easy for them to say, 'All right Shaun, you're not going in, we're going after the big bowl,' and everybody just says that's it. I didn't think it would be anything like last year at all."
"I'm happy for Shaun," Hasselbeck said. "That's great. I think his success this year has been a great thing. It's a credit to the offensive line, to our fullback [Mack Strong] and I know that those guys take a lot of pride in his success like I do. It's been fun to see."
No one is saying whether or not Alexander will play next week. He leads Tiki Barber of the Giants 1,807 to 1,665 for the rushing title. With 350 carries, Alexander is due rest, but it's still possible for him to get 2,000 yards.
"I don't know how many yards we are from 2,000," Alexander said. "Hopefully we can get that in one drive. We want to keep our streak of winning to get 12 in a row. That would be cool. That would be a great feat. I know it's never happened for us."
After the game, Alexander, Hasselbeck and Holmgren did a victory lap around Qwest Field, high-fiving and celebrating with the fans. Alexander has his name on the NFL touchdown record. He may have the rushing title, too.
So, Holmgren had his back.
John Clayton is a senior writer for ESPN.com.
NFL senior writer
Senior NFL writer and commentator
Joined ESPN in 1995
Member of the writers' wing of the Pro Football Hall of Fame in Canton, Ohio
EDITORS' PICKS
The league's extensive analysis of in-game data may yield endless possibilities for the future of the game.
Seifert »

Odd jobs and a stint with NFL Europe's Rhein Fire prepped Jim Tomsula for his role as the 49ers' coach.
Gutierrez »

If Adrian Peterson's court victory doesn't mean he's been reinstated, what does it mean? We sort it all out.
Seifert »
Nike Men's Home Elite Jersey Seattle Seahawks Russell Wilson #3 Shop »

MOST SENT STORIES ON ESPN.COM