Speedy WLBs coveted during draft, free agency
The popularity of Cover 2 defenses has teams putting emphasis on finding fast and undersized weakside linebackers.
Originally Published:
May 10, 2006
By
John Clayton
| ESPN.com
An interesting evolution is happening at the outside linebacker position.
Thirteen of the 25 teams playing 4-3 defenses made moves to acquire weakside linebackers this offseason. Much of the change relates to the popularity of Tony Dungy's Cover 2 defense, which asks for more speed and playmaking ability from defenders. The entire NFC North, which features three new head coaches, is going to the Cover 2 to keep up with Bears coach Lovie Smith, a Dungy disciple while an assistant at Tampa Bay.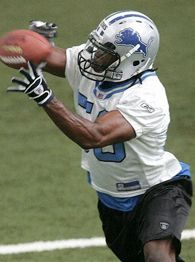 AP PhotoThe Lions took Ernie Sims with the No. 9 overall pick in the draft.
With what was considered the best draft class of linebackers in years, the Packers selected
A.J. Hawk
, the Lions took
Ernie Sims
and the Vikings drafted
Chad Greenway
. All three are natural weakside linebackers because of their speed. In today's game, the prototype outside linebacker destined for the weakside is about 235 pounds and runs a 4.6 in the 40-yard dash. In the case of Sims, the Lions didn't care that he was only 5-foot-11. In the Dungy Cover 2, lack of height means nothing. Speed is everything.
Defensive coordinators have nicknamed the weakside linebacker the "Will." Well, where there is a Will, there is a new way.
"You want as much speed as possible on defense," Panthers general manager Marty Hurney said. "Overall, speed at the linebacker position has been increasing. Speed is the name of the game now."
Speed is the reason the Panthers took James Anderson of Virginia Tech in the third round. He runs a 4.59 in the 40 and weighs just 229 pounds. Coach John Fox will use Anderson's rookie season to groom him to be a weakside linebacker. The Raiders drafted Thomas Howard of UTEP in the second round. He has 4.42 speed, ideal for the Will. The Redskins traded up in the second round to get their weakside linebacker of the future, Rocky McIntosh, who has 4.63 speed.
Because the weakside linebacker plays on the opposite side of the field as the tight end, he isn't bothered as much by big blockers. Offenses tend to run plays to the tight end side, away from the weakside linebackers, which is why faster linebackers can make up more ground and make plays. Plus, they are a threat to blitz and are used to cover the deep zone in pass defense.
"I see a time pretty soon where you are going to see three linebackers on the field who will pretty much all look the same," Titans general manager Floyd Reese said. "Those old 6-4, 255-pound strongside linebackers are being weeded out and being replaced by faster guys. Pretty soon, you are going to see three linebackers out there who aren't going to be as big but are out there because of speed."
The change is happening at a lightning pace. The Panthers scratched their heads when their weakside linebacker, Will Witherspoon, went to the St. Louis Rams and was installed at middle linebacker after signing a six-year, $33 million contract. He's 6-1 and 231 pounds, but he's fast. Speed is needed to cover that deep zone, and the Rams already have a weakside linebacker: 5-10, 231-pound Dexter Coakley. Pisa Tinoisamoa (6-1, 235) plays on the strong side.
St. Louis is one of the first teams to have three weakside-type guys starting at all three linebacker positions. But it won't be the last.
Reese is guiding the transition with his Titans. He drafted 235-pound Keith Bulluck in 2000 even though he had that dreaded tag of not taking on blocks. Bulluck made plays because of his speed and quickness and established himself as a Pro Bowler, the ideal weakside linebacker. During the offseason, the Titans signed former Colt David Thornton, whom Dungy groomed to be a Derrick Brooks-like weakside linebacker.
What do you do with two weakside linebackers? Simple. Bulluck plays right outside linebacker and Thornton plays on the left. They can make plays from either side of the field regardless of what offenses do with the tight end. Coach Jeff Fisher knows he has two quick linebackers who can make plays on the outside.
"The Tampa 2 enables a team to play with seven defenders in the box and be able to play coverage," Reese said. "It becomes demanding because the linebackers have to have speed to help with the coverage. When you hear people talking about needing more speed on defense, they start at linebacker, and that usually means the weakside linebacker position."
Dungy's defense is revolutionizing the league because it's allowing coaches to use personnel in a variety of ways. A big college safety can put on a few pounds and be a weakside linebacker. The Colts won 14 games last season with a 5-11, 235-pound middle linebacker, Gary Brackett.
And the evolution isn't stopping at linebacker. Weakside linebacker bodies are taking over the strongside position. Those 6-4, 255-pound strongside linebackers are getting a try at defensive end if they have the quickness to get to the quarterback. Dungy is taking some 265- to 275-pound defensive ends and putting them at tackle to take advantage of their quickness. Dungy, like Bill Belichick and others, has turned cornerbacks into safeties and switched them back when necessary.
NFL defenses are geared more toward speed, and the pace is quickening. When in doubt, teams will draft a quick defender ahead of an offensive skill player because speedy defenders are harder to find as the draft proceeds. Still, the weakside linebacker position is the gateway to beginning the process of overhauling a slow defense.
If that weakside linebacker is slow, he better move to the strong side. And if he's still too slow at strongside linebacker, he better move off the field.
Julian Peterson
Linebacker
Seattle Seahawks

Profile
2005 SEASON STATISTICS
Tot
Ast
Solo
FF
Sack
Int
83
58
25
1
3
0
The Seahawks spent $54 million to get a weakside linebacker,
Julian Peterson
, who has the speed to cover a tight end or a halfback. The Giants are thinking about putting
LaVar Arrington
on the strong side, but he's one of those rare weakside linebackers who is big enough to knock down tackles yet fast enough to get to the quarterback.
Whether it's weak side or strong side, the evolution at linebacker has everything to do with speed, and in reality those positions are becoming interchangeable. It won't be long before moving to the strong side will be considered a sign that a player is losing a step because of the extra speed required on the weak side. But, eventually, offenses will adjust to the increasing speed and smaller defensive bodies running around.
"Eventually, teams will line up in two-tight-end sets and pound the ball with the running game," Reese said.
Until then, enjoy the speed.
John Clayton is a senior writer for ESPN.com.
NFL senior writer
Senior NFL writer and commentator
Joined ESPN in 1995
Member of the writers' wing of the Pro Football Hall of Fame in Canton, Ohio
EDITORS' PICKS
Nick Foles showed the kind of toughness under pressure that could define his future.
Sheridan »

Russell Wilson led the Seahawks' winning drive in OT, outdoing Peyton Manning.
Blount »

The 49ers imploded in the second half again as the Cards rallied to stay unbeaten.
Gutierrez »